Thanks to its location on the Inside Passage's southern edge, Ketchikan is an incredibly convenient stop for Alaskan cruise vessels. But it's not just convenience that makes Ketchikan an unforgettable port of call. Not only is Ketchikan surrounded by phenomenal rainforest scenery, it's also home to incredible architecture and many fantastic cultural institutions.
If you're cruising to Ketchikan, here are a few fun ways to spend your day. Just be sure to bring a good raincoat with you, because rain isn't uncommon in this coastal town.
Take A Walk Back In Time On Creek Street
The first thing most tourists do once they arrive in Ketchikan is admire the lovely timber architecture along Creek Street. Once home to scandalous speakeasies, Creek Street is now a clean & quaint seafront boardwalk near the Ketchikan Cruise Port. You'll find plenty of excellent restaurants, touristy shops, and art studios worthy of a perusal on your Creek Street tour.
FYI: those who are curious about Creek Street's seedier side should prioritize a tour of the Dolly's House Museum. Once an infamous prostitution den, Dolly's House now preserves fascinating relics from the steamy 20th century.
Appreciate Native American Artistry At The Totem Heritage Center
Anyone interested in the art and history of Alaska's indigenous tribes will be happy to know Ketchikan houses one of Alaska's most comprehensive collections of Native American totems. Indeed, Ketchikan once served as a meeting ground for the Haida, Tsimshian, and Tlingit tribes, all of which left their mark with remarkable totem poles.
One of the best places to appreciate the many contributions of these tribes is at Ketchikan's official Totem Heritage Center. Here you'll find one of Alaska's most extensive collections of authentic totem poles. As a bonus, the Ketchikan Totem Heritage Center now houses many precious works by contemporary Native American artists.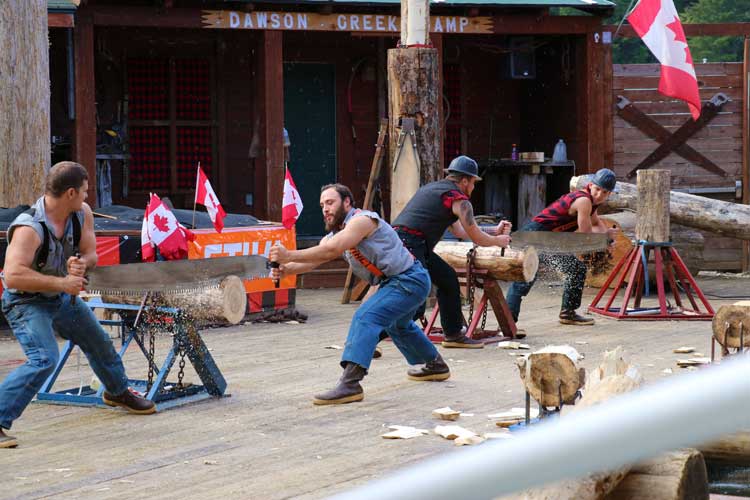 Watch The Great Alaskan Lumberjack Show
Only one block from the cruise port, the Great Alaskan Lumberjack Show is the most exciting way to spend an hour in Ketchikan. At this highly-rated show, audience members can witness dynamic feats of strength and agility from a group of daredevil lumberjacks.
In-between log sawing competitions and tree climbing, you'll also learn dozens of incredible facts about Alaska's logging industry. So, if you like high-quality entertainment with a good dose of education, you can't pass on this spectacular performance.
Eagles, Bears, And Whales…Oh My – Book A Ketchikan Scenic Tour
There's no shortage of natural splendor all around Ketchikan. Anyone traveling to Ketchikan in the summer could easily spot a few whales, black bears, and bald eagles on a guided nature excursion.
Whether you're interested in traveling by boat, bike, or kayak, there are plenty of nature tours to choose near Ketchikan's cruise port. Heck, there are even a few helicopter and zip-lining excursions for those who aren't afraid of heights.
If you have extra time to spare, keep in mind Ketchikan offers dozens of fishing charters. Although summer is the best season to fish for Ketchikan's famous salmon, you could fish for halibut anytime between May and September.
Explore The Alaskan Rainforest At The Southeast Alaska Discovery Center
Located in the heart of downtown Ketchikan, the Southeast Alaska Discovery Center is the best place to learn about this region's complex history. In addition to dozens of colorful Native American artifacts, this museum works hard to share information about Southeast Alaska's unique ecological history.
Be sure to take your time admiring the many exhibits and films available in this easy-to-reach museum. Families could also take advantage of the museum's many fun junior ranger programs.
Munch On Tasty Snacks At Ketchikan's Salmon Market
They don't call Ketchikan the "Salmon Capital of the World" for nothing. Even if you're not into fishy flavors, it's well worth your time to walk through downtown's famed Salmon Market.
Here you'll come face to face with the fins that put Ketchikan on the map. If you don't feel like picking up an authentic cut of Alaskan salmon, then perhaps you'd like to sample a few other items at the Salmon Market. Besides seafood, you can usually find plenty of local sweets, preserves, and even reindeer meat in this lively market.