Sea Days can be the most fun days on a cruise. While new cruisers typically look at cruises as a floating hotel taking you from one place to the next, one of the most fun and unique parts of the experience is known as a sea day. Here's why this can be one of the most fun parts of your total cruise experience!
Depending on the ship and itinerary that you are sailing on, you will generally find at least one sea day on the itinerary. Typically this is found at the beginning or end of the route. Even though many cruises on the west coast are going to port less than a day's journey from home. For instance, a typical 3-day cruise on Carnival from Long Beach spends the first day at sea, then visits Ensenada and then returns home to Long Beach. Obviously the ship can travel fast enough to get you home, so why spend this extra day at sea?
The answer is simple - cruise lines need to give you opportunities to spend your money on the ship!
Ok, so that's the cynic in me but in all seriousness, it isn't too far from the truth for most cruises that are visiting stops that are close together. In other situations such as traveling from San Diego or Los Angeles to Hawaii, sea days are a necessary part of the journey since you simply can't travel fast enough to get from San Diego to Honolulu in one day. Don't worry though, even though many west coast cruise itineraries are designed to include one or multiple sea days for the ship to turn a profit, they can, in fact, be some of the most fun days on your trip.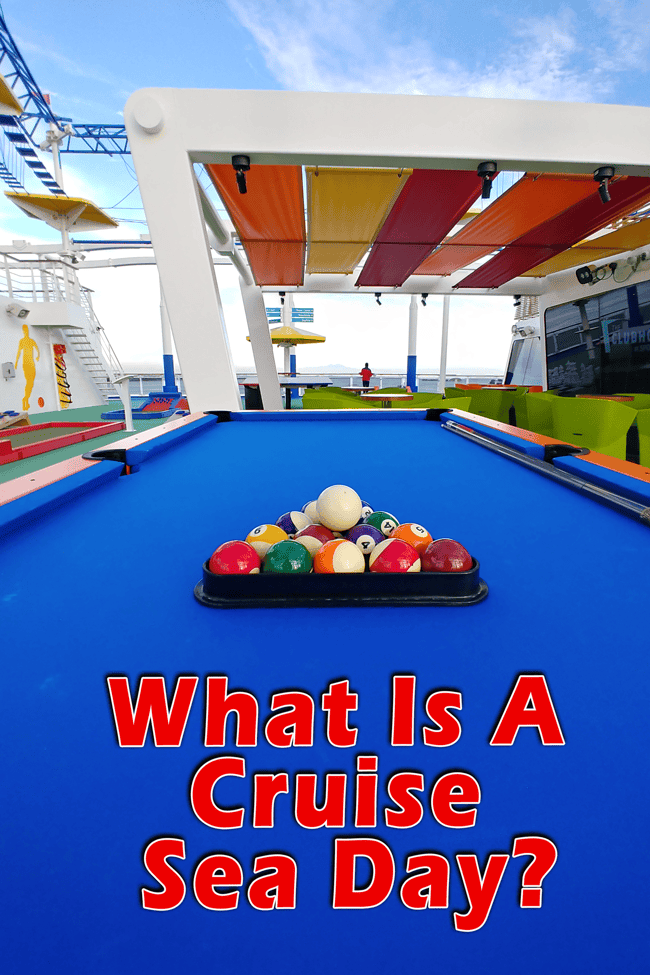 Here's What To Expect During a Sea Day
In contrast to a port day, you are going to find that all the shops are open and the casino is in full swing too. That's because the captain generally plans sea days on a cruise around times when they can be outside of US, Mexico, or Canadian territorial waters. That isn't always true however on Alaska cruises and similarly, Hawaiian cruises on Pride of America have different rules too. Here are some of the things that you can expect to do on a sea day!
Rest and Relax!
While I LOVE port-intensive cruises, sometimes it is nice to know that I don't need to wake up at dawn and stand in line for the tender while holding my shore excursion ticket. On a sea day, the only reason to wake up is if you want to get breakfast or a morning game of trivia or other onboard activity. Well, that and making sure you get a good chair up on the lido deck by the pool!
Go Shopping!
Remember what I said earlier about sea days being designed around revenue goals? Well, you're going to find that all the shops will be open and most will have some sort of special deal. Towards the end of the cruise, you might even have "clearance" sales to get deal-hungry-shoppers even more excited.
Explore The Ship!
I actually like it when I have a sea day towards the beginning of a cruise since it allows me to decompress from getting on the ship and gives me a chance to explore all the cool parts of this ship compared to others that I've sailed on. I'm a cruise nerd but seriously, take this chance to walk around and look at the art, visit the bars, say hi to crewmembers, or check out the ship's collection of awards and trophies earned by visiting various ports around the world.
Check Out Casino Gambling Classes!
The casino is going to be full of action during a sea day and they always want to attract new gamblers. To help with this goal, cruise ships will often create special offers and incentives to get people to spend their money here. This, of course, includes slot tournaments but also classes on how to play table games like blackjack and roulette.
Get Some Exercise and Play Some Games!
Carnival does a great job with their SportSquare area on newer ships where they offer not just the classic shuffleboard but also pool, corn hole, and foosball. However, even small ship cruises generally have a fitness center as well as a library where you can play games such as chess, checkers, or a board game.
Attend a Seminar or Art Auction!
Depending on your cruise ship and itinerary you might have different types of seminars. On some such, as Carnival, you'll likely find these seminars focused on shopping guides for your next port. However, on others such as Holland America Line, Princess, and Viking you're going to find enrichment seminars ranging from computer tips to cultural explorations. Carnival Panorama and some Holland America Line ships even have cooking classes for those foodies out there and almost all ships will offer mixology and wine tasting classes too. Of course, you can't miss out on the art auction either!
Bingo and Trivia Games!
Bingo and trivia games are ubiquitous with sea days on a cruise ship. While I find that different lines do bingo better than others this is always a great way to pass an hour.
Bellyflop, Strong Man, Newlywed Show, and Other Competitions!
While more common on mainstream lines, there's almost always going to be some physical, psychological, and emotional contests for cruisers to compete in.
No matter how you choose to spend your sea day, remember that it is your vacation and you don't HAVE TO DO anything! The first few cruises that I went on were frantic during sea days. I felt like I was missing out if I didn't do this or that and the reality is that I got exhausted with FOMO. There's nothing wrong with chasing down every opportunity to have fun but you don't have to. Just check your cruise's daily newsletter or app and mark down the activities that most appeal to you. Then, just have fun!