All of the major cruise lines offer art auctions and other opportunities to explore art and maybe buy something. While initially, this might seem intimidating to some people, these art auctions are actually a lot of fun ... and no you don't even have to buy anything!
The Park West Gallery is by far the most common company that you will see running art auctions on cruise ships and frankly they do a great job. I am generally skeptical of anyone trying to sell me stuff on a cruise ship but on our trip aboard the Norwegian Sky last month I had the chance to spend time with the couple running the art auctions there. Unlike my negative impression, I had previously - this couple from South Africa was completely transparent and open.
While not all cruise lines or ships offer a full art auction, almost every cruise line from Carnival to Viking Ocean Cruises offers an art feature. For instance, Holland America Line partners with London gallery, ArtLink to showcase works from emerging artists including hosting lectures, cocktail parties, and visiting artists that some times will join the cruise to talk about his or her work. Viking Ocean Cruises doesn't offer a traditional art auction but integrates Nordic art into the overall ship design in a natural way. Art helps bring an air of luxury and mental as well as emotional journey of learning that I welcome in any format.
What Did I Learn About Cruise Ship Art Auctions?
During the four days that I spent on Norwegian Sky out in the Bahamas (the formal is essentially the same regardless of the ship), I learned quite a bit and came to respect the concept of cruise ship art auctions in a way that I didn't expect I would. In fact, while I started the week looking at them as silly time-wasters at best and a scam at worst, I left the cruise with a positive impression.
These Are Real Pieces Of Art!
While most of the art that you will find in a cruise ship art auction are prints and lithographs, they are genuinely collectible. You will often have the auctioneer present at least one EXTREMELY high priced item - on our ship it was a $30,000 piece to talk about and set the tone. Then they will follow-up with more affordable pieces in the hundreds and thousands as well as "specials" where you will bid on a secret bundle.
You can even "bid" on a chance to buy something. I really enjoyed that since it gave us a chance to raise our hand ... without actually being forced to buy something.
Don't (Purposely) Waste the Art Auction Team's Time!
To an extent, the auction team knows that certain activities are designed simply to bring you to the gallery office so that they can talk with you one-on-one. While there's no problem with you raising your hand for the chance to buy something, don't waste the people's time. If you truely have no intention of buying something then tell them right upfront and don't have them create an appointment to meet in person.
However, I did find that I learned a lot about both the art as well as art auctions and even what it's like to work on a cruise ship by talking with the team
You Will Get Some Cool Free Stuff!
Free stuff is what has drawn my wife and I to cruise ship art auctions in the past and it will be why we attend one in the future as well. Generally speaking, everyone who attends will get a small print and a glass of champaign - though some lines are more liberal with the bubbly than others.
You also have a good chance to win an actual print if you follow the giveaway instructions completely. This might include getting extra entries by visiting the gallery office, or bringing the invite you received from your cabin steward the night before.
In our case on this past cruise, we actually won a couple different pieces and bought one as well for less than $100. Shipping was $29 so I found that many people who win, actually decline the prize thinking that it is a scam. You will also get the opportunity to have the art certified for (my opinion), an INSANE amount of money. However, if you are into this then maybe that fee is worth it. For me and Heather, she liked the art and that's all that matters. I don't care if an art expert says it is valued at $500 or $5.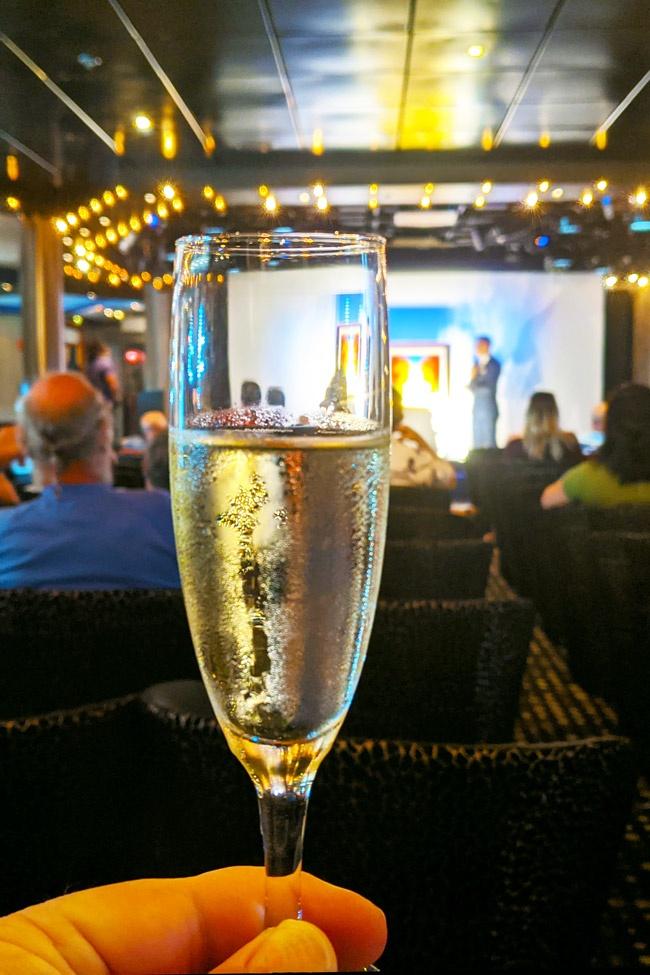 You Can Get A Free Glass Of Champaign!
I already mentioned this above, but yup ... you get a free glass of champaign and sometimes more than one. This generally isn't the greatest bubbly on board but it isn't terrible and a free drink on a cruise ship is something special in its own right. So, let's raise our glass to this standing tradition!
You Will Learn Something About Art At The Auctions!
While various art auctioneers have different skill levels and scripts to work with, these guys generally are pretty good. This is especially true for the folks I've met at Park West Gallery. Often there will be at least one auction focused on a specific artist and in the case of Norwegian Cruise Line, there's almost always art from Guy Harvey, Wyland who designed the bow artwork on two of their ships. There will also be short documentary videos highlighting certain unique techniques used by the artists and occasionally more in-depth opportunities to see the evolution of an artist's style by comparing different pieces of art.
Cruise Ship Art Auctions Are Designed To Make Money!
While these auctions absolutely have an entertainment and educational value, they (like everything on most cruises) is designed to make money. Some cruisers who attend will spend hundreds and thousands of dollars on art that they see at the auction or while browsing the gallery, but for most, it is a way of buying a souvenir of the trip. There are dozens of options priced affordably under $100 if you simply want to buy something pretty.
The art auctions also make money by offering framing and appraisal services as well as shipping fees. Even that free piece of art we won might have cost us more than $100 if we had accepted the shipping, appraisal, and framing options.
You Don't Have To Buy Anything At the Art Auction!
However, you can go to the art auction and not spend a dime too! There's absolutely no obligation to do anything except enjoy your free champagne and be polite. I actually asked the couple running the auctions on our cruise about this and they said that most people never buy something but they appreciate anyone who attends with an open mind and some intellectual curiosity.
Yes, You Should Go, Relax, Enjoy Your Champaign, and Learn Something New!
Ultimately, you'll get what you put into it. You can attend one action and then leave. If that's your intention then ask the auction team if there are specific days where they will focus on one artist or another. Otherwise, make the auction part of your daily routine and you're certain to learn something. At the very least, it is great people watching, you'll typically get a free print, you might even win something that they can ship home to you (extra fee), you can enjoy your free champaign and a comfy chair.
It's that simple, so have fun and maybe you'll learn something new!