It's a sad reality for many people but covid tests and masks have become a required traveling companion for most folks these days when we cruise. While governmental guidelines and cruise line requirements have changed to open everything up so we can go "back to normal", a search of any cruise "roll call" group will show that COVID is still widespread on cruise ships right now - and that will only increase this fall and winter. As such, we like to have the best test and be able to get fast, accurate results as well as a pathway to get appropriate treatments prescribed quickly. That's why we love this new Lucira Health rapid COVID test.
This article contains affiliate links for Lucira Health's rapid COVID test.
We've been using various "rapid antigen" tests for the better part of two years now and with all of the cruises that we have taken in the past year, Heather and I can pretty much do them in our sleep now.
One thing that I didn't quite understand until I got sick with COVID during the summer was just how inaccurate those tests actually were. While rapid antigen tests were a very important tool in helping to curb the pandemic, they worked well in aggregate ... but not necessarily wonderful for an individual who may only be showing minor symptoms.
Rapid Antigen tests are designed to detect and report on the presence of COVID-19 antigens that are present in the sample. This means that your infection must have already proceeded to a significant level before you can confirm you are sick and isolate or treat it.
Molecular tests on the other hand - also known as "Nucleic Acid Amplification Tests" or NAAT detect COVID-19 by amplifying genetic material found in your sample. In other words, they are actually identifying the virus in your sample, not just your body's response to the virus. As such, this can be a much more accurate result and one that can be detected earlier in the body's response to SARS-CoV-2.
If you want more information about the various types of COVID tests out there, John Hopkins has a great resource.
For the rest of you, the important thing here is that the technology used by Lucira Health is highly accurate and able to detect results earlier.
We have no way of testing the specific accuracy claims but the technology that is used in this test is solid and proven. Lucira claims a 98% accuracy rate. This is a difficult claim to compare but for me personally, the fact that the technology is more accurate sooner in the course of potential exposure, is important.
For instance, I don't like to wait until I feel crummy to confirm what I already know!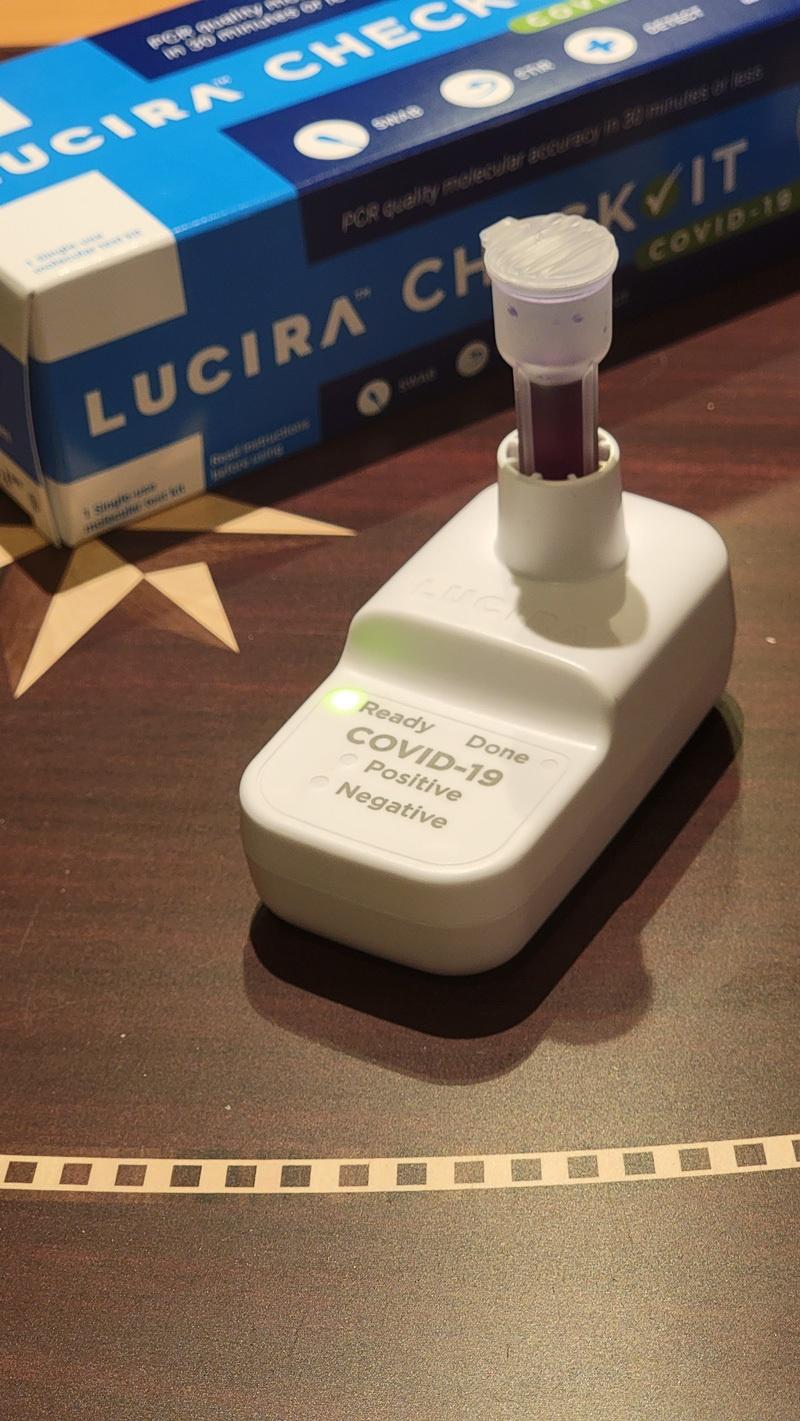 Things I Like About Lucira Health
The sample collection process of this test was very easy with the standard, now all too familiar, nasal swab that you then place into the serum. However, what makes this test special is that the output is digital and so it is extremely easy to read. My parents for instance, have had trouble reading the lines in various antigen tests.
Additionally I really like having a higher level of confidence that the test is accurate more quickly.
Finally, while the proctered tests may be no longer required for most travel, it is nice that Lucira has the ability to upload results directly to their team and they can then connect you with a healthcare worker who is able to prescribe treatment quickly.
Heather and I learned the hard way that this is something that is very important since our own health insurance company and HMO declined to prescribe us Paxlovid or any treatment because it was several days after our first test when it was reported. Our COVID symptoms lasted for the better part of a month where as my parents got diagnosed quicker and received treatment faster. Their symptoms were gone in just a few days.
While your insurance company may or may not cover treatments like this, it is a huge benefit that Lucria has a system like this since antivirals are most effective when taken within five days of the initial infection.
Things I Don't Like About Lucira Health
The biggest thing I don't like about the test that Lucira has developed is that there's a lot of waste. All of the covid tests that I've tried involve a considerable amount of packaging but in this case it's a bit excessive.
For instance, the core of this test is a plastic testing unit that has batteries. Once you are done, this unit - along with box, swab, serum container etc. are all discarded. They do remind you in the instructions to properly dispose of the batteries but let's be honest ... nobody will.
I'm not an engineer so I don't know what can be recycled here but it seems like this could be a re-usable device where I could simply purchase new swabs and serum for future tests and use the base unit multiple times. Even if this added an extra upfront cost, I'd be happier with that scenario rather than throwing away the entire testing apparatus.
Second, as you can imagine - this is not a cheap test. You get what you pay for and for me I'm completely ok buying a premium product. However, with a list price of $68 for one test (currently on sale for $29.00) this is far more expensive than the traditional rapid antigen tests that are widely available.
Is Lucira Check It COVID-19 Test Right For You?
That is a question that only you will be able to answer. For me, it is and especially at a price of $29.00 that it is currently priced at. However, I would likely use this as a backup for when I really need the most accurate result possible without going to a doctor.
Similarly, I would heartily recommend this to my parents or others who have issues reading the lines on traditional "pregnancy test" type covid tests. The results here are extremely easy to read so that should be taken into consideration as well.
If you are interested in learning more, make sure to visit Lucira Health's website where you can also purchase the Lucira Check It Covid-19 test for your next cruise.