Going on a cruise vacation with your loved ones is exciting, exhilarating, and entertaining. While you will enjoy your much-anticipated time, your phone can be distracting. So, it's good to refrain from using your phone on such once-in-a-lifetime excursions.
Now, you're on a deck, enjoying some marvelous moments, and wishing your friend to join you who is sitting inside the ship cabin. Here come the roles of a walkie-talkie. The best walkie-talkies for a cruise ship will make your communication smooth sailing and much more fun during the trip.
In this post, we will discuss the five best walkie talkies for a cruise ship and the necessary guidelines for using them.
Let's get into it!
5 Best Walkie Talkie for a Cruise Ship in 2023
We considered factors like range, size, waterproofing, shock proofing, battery life, and distinctive features for our list of the top five cruise ship walkie talkies. Read out and find the best walkie-talkies as per your needs.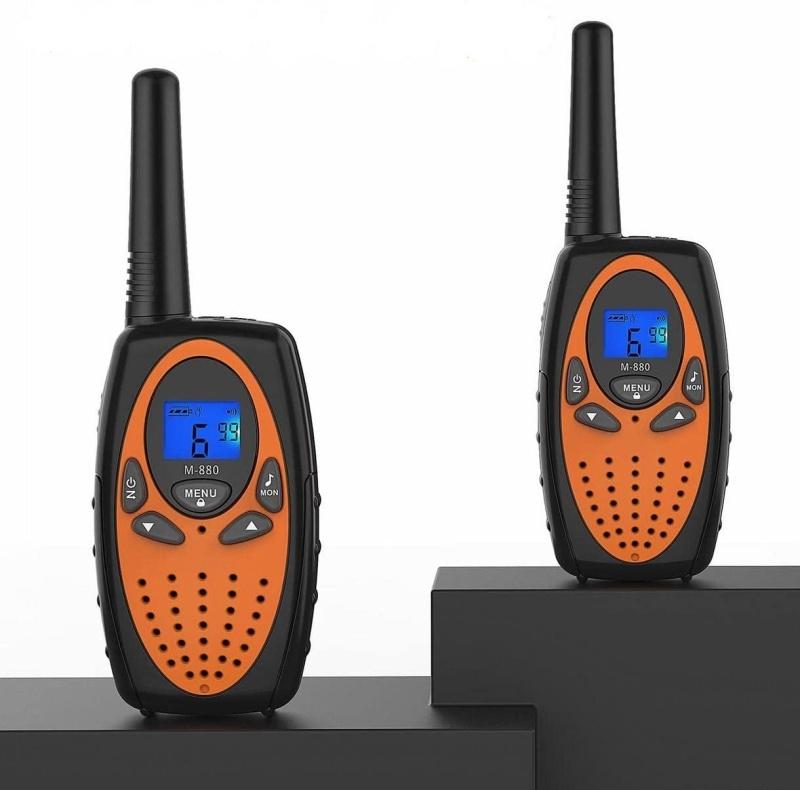 1. Topsung M880 FRS Two Way Radios- Compact Walkie Talkie
Overview
The auto-squelch feature of the Topsung M880 FRS Walkie-Talkie makes it the perfect choice for a cruise, and it guarantees that no one will interrupt your chats. M880 two-way radio is stylish, strong, well-built, and offers painless usage.
Also, the auto-scan feature allows you to choose the most reliable transmission in your current area.
This palm-size Walkie Talkie only takes 60 seconds to learn how to navigate with the button usage. After using it, you'll undoubtedly appreciate its crystal-clear sound quality. Moreover, the Topsung M880 FRS supports reliable transmission up to a range of 16 kilometers.
Pros
Auto monitor function
22 channels and 121 privacy codes
16 miles range
FCC certified
Cons
Non-rechargeable batteries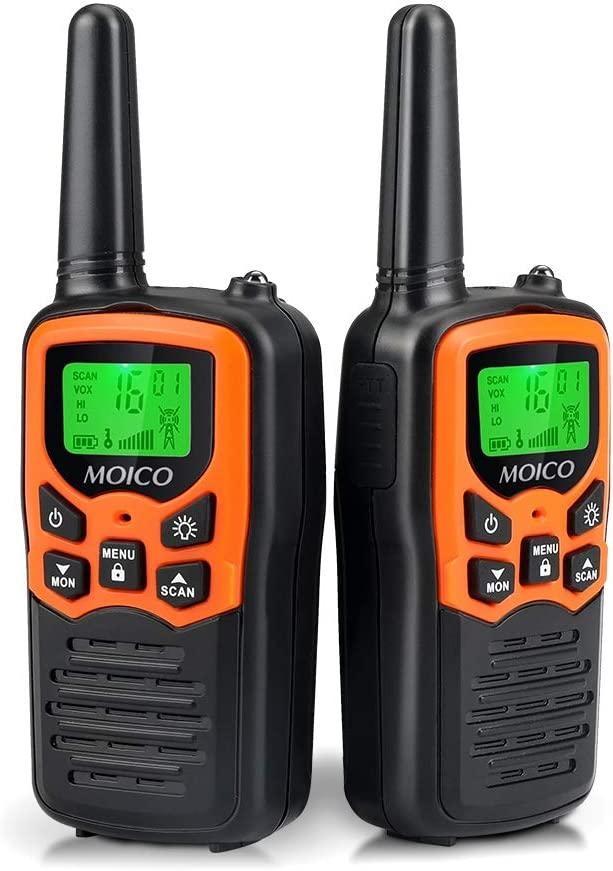 2. MOICO Long Range Walkie Talkies - Amazon's Choice
Overview
The long-distance range of up to 3-5 miles of MOICO walkie-talkies in open areas makes them a perfect fit for seaside settings. They provide hands-free operation and three sensitivity levels for speech and sound activation transmission.
Furthermore, thanks to the built-in LED flashlight and backlit LCD screen; you can use them in low light. Also, its robust and sturdy exterior guarantees that it can survive challenging weather.
Overall, they are a pronounced option for grownups who want to stay in touch with friends and family while enjoying outdoor activities like a trip to Alaska.
Pros
Hand free function
Drop-proof
Best performance in open areas
LED flashlight to function in dark
Cons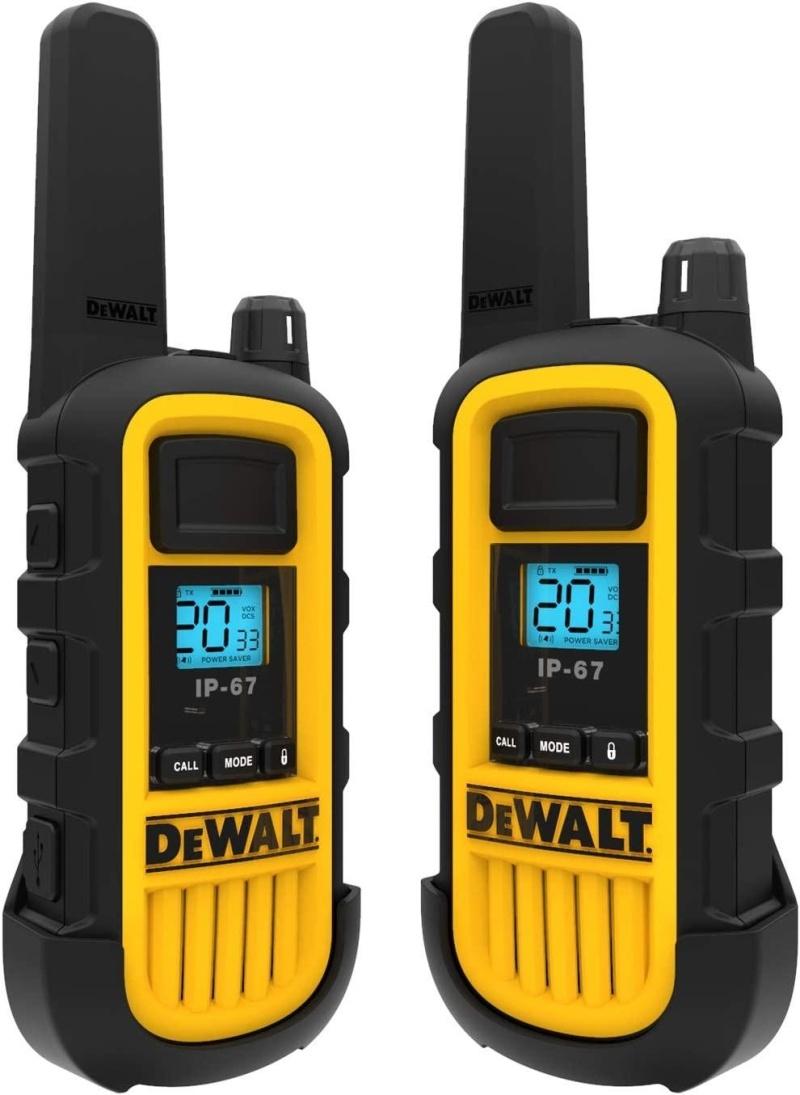 3. DEWALT DXFRS800 2-Watt Heavy Duty Walkie Talkies - Waterproof Walkie Talkie
Overview
With a 2-Watt RF output and a range of up to 300,000 sq. ft or 25 floors, The DXFRS800 walkie-talkie is the ideal solution for a cruise trip. This two-way radio is robust and enduring, appropriate for use in any environment, thanks to its IP67 classification for water and dust protection, shock resistance, and anti-slip design.
Also, this product clips into your belt and has a suitable size for holding. You can effortlessly "lock" it so that channels don't change.
Due to battery-saving technology, you can use DXFRS800 constantly for up to 18 hours. Further, 121 privacy codes and 22 preset channels will ensure you experience the minimum unwanted interruption.
The DXFRS800 walkie-talkie radio offers a dependable and adaptable communication option for travelers in harsh terrain. Its far-reaching reception, robust construction, and variety of practical functions never disappoint you.
Pros
Long range
Shock resistant
Long-lasting
Waterproof
Versatile
Cons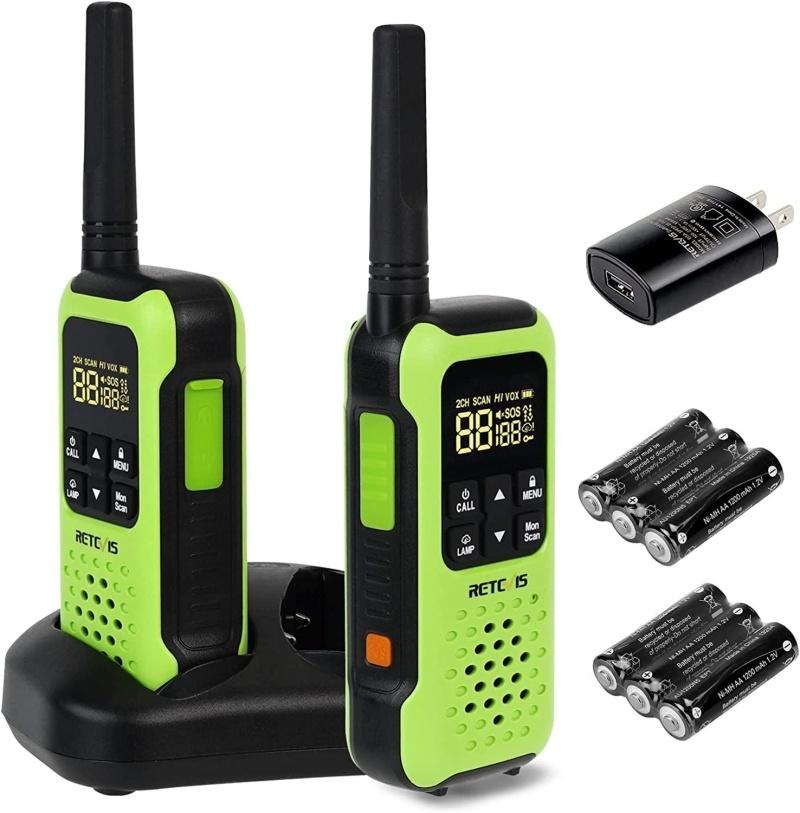 4. Retevis RT49P Walkie Talkies - Rechargeable Walkie Talkie
Overview
If you're an outdoor enthusiast or need reliable communication in harsh environments, the Retevis RT49P waterproof walkie-talkie is a must-have option. Due to its unique microphone speaker configuration, these IP67 two-way radios deliver crystal clear sound even in noisy outdoor conditions.
One of the promising things about this walkie-talkie is that it allows you to talk with other radios. For instance, you can talk to other FRS radios regardless of the manufacturer. This compact walkie-talkie also comes with rechargeable batteries, so you have no restriction on their usage.
Your safety while participating in outdoor activities is ensured by RT49P walkie-talkie 11 weather channels, which provide you with up-to-the-minute weather information.
In conclusion, if you don't get the RT49P walkie-talkie, you will miss out on the best features of walkie-talkies because it offers robustness, compatibility, long-range communication, crystal clear sound, weather alerts, emergency capabilities, and much more.
Pros
Weather Alert
Rechargeable
Long range
Durable
Flashlight
Cons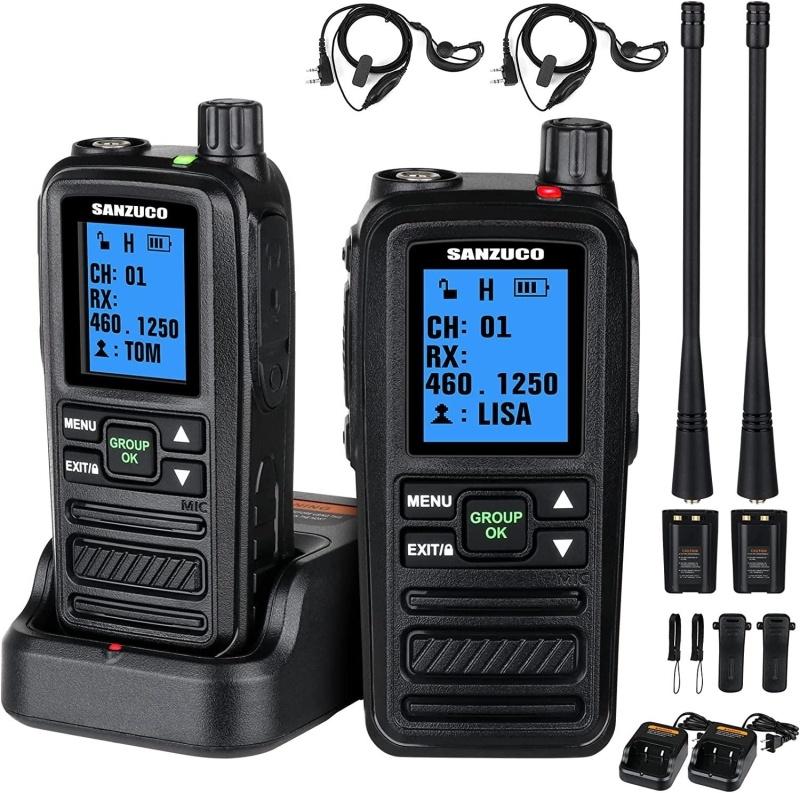 5. SANZUCO Long Range Walkie Talkies-Compact Walkie Talkie for cruise ship
Overview
The SANZUCO two-way radio is unquestionably something to consider if you require a reliable, sturdy, and secure walkie-talkie for your maritime voyage. This walkie-talkie has a durable, small design that can handle all situations, and it is robust and has a long service life thanks to its aluminum plate structure. It's long range makes it a perfect option even for communicating with family if they are on a shore excursion or in a tender coming back to the ship.
Furthermore, this compact walkie-talkie group option lets you contact multiple people simultaneously. It is possible, even if they are on different channels. With this walkie-talkie, privacy protection is also a top consideration.
Pros
High Capacity
Customizable
User-friendly
Rechargeable
Cons
Do Walkie-Talkies Work on Cruise Ships?
Walkie-talkies do function on a cruise ship, to put it short. They serve as the primary means of communication for the cruise staff. The degree of signal interference may vary depending on several factors. A person's position on the ship, weather, and electric obstacles are a few of the contributing elements. However, even as mobile phones and internet packages have become more easy to use while on a cruise vacation - the simplicity of a two way radio ... a "Walkie Talkie" is something that many people still prefer when trying to keep in touch with family and friends on a cruise ship.
Now, see how walkie-talkies function in different locations of the cruise.
Do Walkie-Talkies Function Inside Cruise Ship Cabins?
It is possible to have clear communication if you are using the walkie-talkie within the cabin and the other party is outside the hallway.
There might be a communication issue; If you're talking to your friend inside the cabin while they're on the deck above, there might be a communication issue. You can have difficulties communicating due to obstructions such as walls, ceilings, or metal components.
Do Walkie-Talkies Function Outside of Cabins on a Cruise Ship?
It's not difficult to communicate using a walkie-talkie outside the cabin. The device continues to flawless function even if you are at the opposite ends of the ship, perhaps 800 feet apart.
In essence, a walkie-talkie operates as long as both communicators are outside the cabin and within the range of the device.
Do Walkie-Talkies Function on a Cruise Ship's Top Deck?
The upper deck is among the ideal places to utilize a walkie-talkie. If both parties are on the upper deck, they can speak uninterruptedly from any distance.
Benefits of Using Walkie-Talkies on Your Cruise Vacation
Using walkie-talkies on a cruise vacation can be a fun game with your friends and family. Here are some benefits:
· Stay Connected
Everyone has a smartphone in this age of technology, and we can now converse via various phone apps. You are, indeed, on point. But do you think you want your phone to be a source of distraction on a trip like a cruise?
Now, if you want to communicate with your kid roaming on the deck, you are in the hallway. Hence, a walkie-talkie allows you to chat with others on a cruise without the phone.
· Convenience
You can use walkie-talkies wherever on the ship. Compared to cell phones, walkie-talkies don't need Wi-Fi to work. They are also more robust and can survive the rigours of travel.
· Emergency Communication
On a cruise, you may encounter Inclement weather or other potentially dangerous circumstances. In such scenarios, walkie-talkies are helpful tools for coordinating contacts with other passengers or the ship's crew.
· Cost-Effective
On-board communication services are available on many cruise ships, although they can be pricey. If you already have walkie-talkies, they are a more affordable choice.
· Fun
Using walkie-talkies to communicate with your travelling buddies can be entertaining, giving your journey a sense of adventure.
Understanding Walkie-Talkie Channels and Frequencies on Cruise Ships
The walkie-talkie frequencies most frequently used on cruise ships are RS (Family Radio Service) channels and GMRS (General Mobile Radio Service) channels.
The GMRS has 30 channels, whereas the FRS has 22. The FRS and GMRS share channels 1–7 and 15–22. Therefore, 30 channels are accessible to devices supporting FRS and GMRS.
While using walkie-talkies on a cruise ship, it's preferable to keep to channels approved for general usage by the Federal Communications Commission (FCC), such as channels 8-14 on the FRS.
Different Types of Walkie-Talkies for Cruise Ship Use
On your voyage, you can use four different walkie-talkies.
· Radio FRS
Family Radio Service radios employ FM wavelengths in place of AM waves. Compared to GMRS radios, they are much less expensive and easier to operate. The maximum permissible power for these radios is 2 watts; everyone in the family can use one while on vacation.
· GMRS
Generally, GMR systems are more powerful. The maximum permissible power for these radios is 60 watts. Furthermore, these radios have a wide range of up to 5 kilometres. A license for GMRS systems is necessary, and GMRS license costs between $60-$80.
· eXRS Radios
eXRS radios, or extreme radio service radios, are a new addition to wireless communication. They are even more potent in connectivity and range than current GMRS radios.
· UHF Radios
Radios with ultra-high frequencies run between 400 and 512 megahertz. They may so readily pass through obstacles like the walls and waterproof steel doors of ships.
Walkie-Talkie Features to Look for on Your Cruise
These are six features to consider when selecting a walkie-talkie for a cruise.
· Range
Choose a walkie-talkie with a wide range of up to 30 miles, so you can effortlessly communicate with other parts of the ship.
· Size
To avoid taking up too much room on the ship, try to select talkies with compact sizes.
· Weatherproofing
Weatherproofing is one of the most crucial qualities to look for in walkie-talkies for a cruise ship. So, select walkie-talkies that can endure inclement weather.
· Floating
The ability to float is also a must-have quality in walkie-talkies for a cruise liner. Such walkie-talkies stay afloat if they fall into the water.
· Rechargeable Batteries
Last, you must confirm that the walkie-talkies you select have rechargeable batteries.
· Privacy
With walkie-talkies, anyone with the same channel selection can hear your conversation. Using privacy codes will help you avoid this. A combination of channels and privacy codes leads to countless sub-channels. So, it increases privacy.
Proper Walkie-Talkie Etiquette for Your Cruise Vacation
Walkie-talkies are a pleasant way to stay in touch with your close ones on a sail. Yet, it's crucial to follow proper etiquette to avoid disturbing other passengers. Here are some tips:
Select Channel
Most walkie-talkies have several channels. It's crucial to select one particular medium. Further, make sure your family members are on the same one.
Maintain a Low Voice
Don't bother other travelers. Therefore, exercise caution when speaking and try to avoid shouting. Hold the talk button down only when speaking.
Be Succinct and Speak Clearly
Keep your communications brief and to the point because walkie-talkies are not for lengthy chats. Also, refrain from jargon or slang that could be unethical to others.
Be Considerate to Other Travelers
Remember that other people may be talking on walkie-talkies as well. Be respectful and refrain from using vulgar language or jokes. Also, avoid using this device in the dining room or pool area.
If Not in Use, Turn Off the Radio
Turn off your walkie-talkie when not in use. This action will save your walkie-talkie's battery life and prevent unintentionally sending undesirable sounds.
For more information on proper cruise behavior, read things that will get you kicked off a cruise ship.
5 Safety Tips for Your Cruise Walkie-Talkie
Consider the following protection rules for walkie-talkies on a ship trip:
Some cruise cables don't allow the usage of walkie-talkies. So, double-check the ship's policies before bringing walkie-talkies on the cruise ship.
Avoid disclosing critical or confidential information.
When using walkie-talkies on the ship, abide by any guidelines established by the cruise line.
Avoid using walkie-talkies near the ship's communication devices because doing so could interfere with their operation.
In the case of an emergency, always follow the crew's instructions. Make use of the specified emergency communication systems rather than walkie-talkies.
Troubleshooting Common Walkie-Talkie Issues on a Cruise Ship
The following are some solutions to typical walkie-talkie problems on a cruise ship:
· Weak Reception
Your walkie-talkie needs a better signal. Now how to solve this issue? In such circumstances, try to move to a different cruise ship area.
· Low Power
Walkie-talkie shows a signal in case of low battery. So, always spare batteries or a charger with you.
· Noise
Your walkie-talkie may experience static or noise due to interference from other gadgets. You can improve reception by switching to a different channel or location.
· Range Issue
In enclosed spaces, walkie-talkies often have a short range. Try relocating to an open area if you're having problems conversing with someone on the ship for a better signal.
· Channel Discordance
If you can hear other discussions on your walkie-talkie, it means you might be on the wrong channel. Be sure to switch to the appropriate channel allocated for personal usage.
Wrapping Up
In a nutshell, having a handy walkie-talkie on a cruise ship is a fantastic pleasure. This tool is a go-to option if no reliable signals are available, and it is a cost-effective replacement for pricey Wi-Fi. Further, you can use your walkie-talkie again and again for other outdoor activities.
In this post, we covered every aspect of a walkie-talkie to increase your joy on your cruise ship trip. All the walkie-talkies discussed in this manual are outstanding. If you're looking for a high-end product with a wide range of functions, our top pick, the Retevis RT49P Walkie Talkie, is what you need.
Have you ever used a walkie-talkie on your cruise ship trip?