Planning your visit to Alaska, then get ready to experience once-in-a-lifetime experiences such as a black bear standing in a dense forest, a humpback whale breaching at dawn, or an iceberg falling into the water. Of course, if you want to look at nature at its closest, why not invest in a first-rate pair of binoculars?
Without a set of travel binoculars, it might be challenging to make out the subtleties of some views, which one can only appreciate from a distance.
Binoculars will enable you to obtain a close-up view of amazing animals while you are far away. Such binoculars will improve your ability to observe these wild nature activities.
If you are considering ordinary binoculars for travel, their weight and size make them unsuitable for cruising. Further, they might not fit in your backpack. So, it's best to opt for binoculars best for traveling.
In this article, you will find the best travel binoculars for Alaska Cruise and all the necessary guidelines to use them correctly.
Let's get into it!
5 Best Travel Binoculars to Take on Alaska Cruise in 2023
We considered optics, portability, toughness, and unique features for our list of the top five binoculars for Alaskan cruises. Read out and find the best binoculars according to your needs.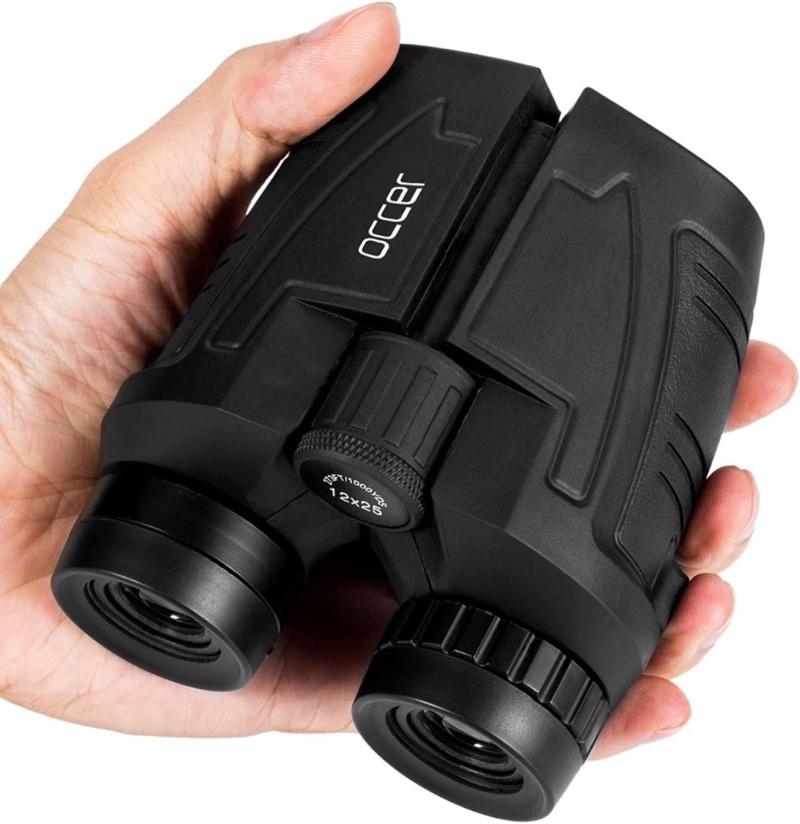 1. Occer 12×25 Compact Binoculars – Amazon's Choice
Overview
It is undeniable that Occer binoculars stand out due to their innovative design and affordable price. These lightweight binoculars have a case, lens cover, thin economy-style neck strap, and lens cleaner. The rotating eye cups on the Occer 1225 binoculars, which stretch outward as you rotate them in contrast to traditional binoculars, make them an ideal match for people who wear glasses.
Further, with a 12x magnification, these lenses contain FMC broadband coating technology, which provides a precise image focus and a realistic color experience.
What's more, you can effortlessly adjust all the functions of these binoculars with one hand.
Pros
Water and trauma-resistant
Unique design
Reasonable price point
Lightweight
Cons
An issue with focus adjustment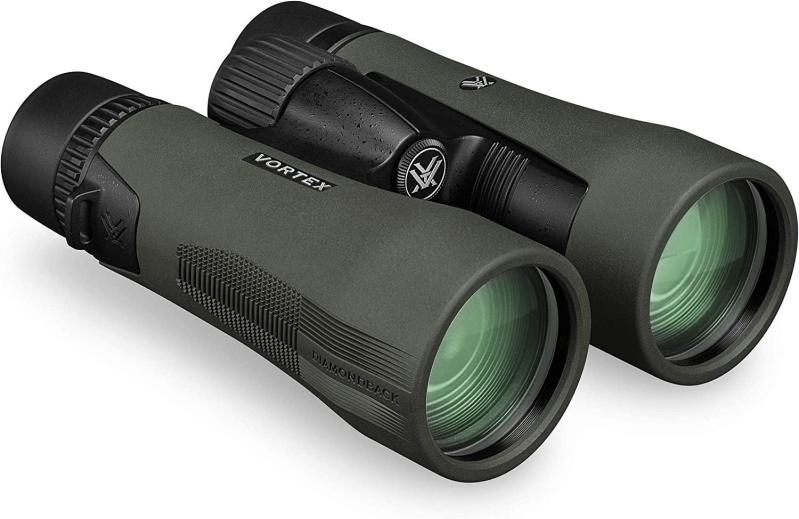 2. Vortex Optics Diamondback HD Binoculars 12x50- Waterproof Binoculars
Overview
As sharp as your photos are shot with mirrorless camera lenses, the 12x50 compact binoculars are ideal. You may carry them anywhere because of their portable size and weight. They come with a stylish carrying case with a neck strap for the binoculars and a shoulder strap for the case.
Also, the rubber eye cover loop has a split design; you may take it off and still have the rubber cover attached to the neck strap on one side. These binoculars are something other than what you'd want while trekking, but they're small enough to tell them apart from a sizable set.
Pros
Tripod compatible
Magnificent clarity
Water and fog proof performance
Affordable
Cons
Some pincushion distortion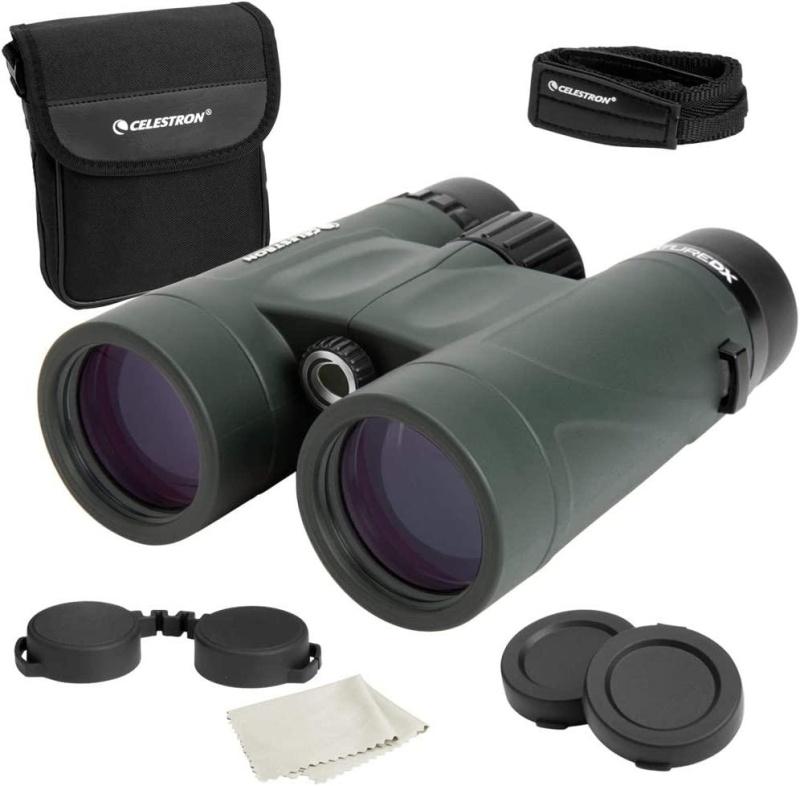 3. Celestron Nature DX 8x42 Binoculars-Top Pick Optics
Overview
The Nature DX 842 waterproof binoculars will unquestionably enhance your Alaska cruise journey in various beautiful ways. The improved contrast by the phase-coated Bak-4 prisms makes the wildlife stand out. You can observe wildlife, including bears, eagles, and whales, up to 1,000 yards away.
They are a well-liked option among outdoor enthusiasts because of their ergonomic design and premium building materials. Also, those who wear glasses can use these optics without them. Because of their design, these optics are unaffected by inclement weather or heavy rain. No moisture, mist, or water may enter them thanks to the o-ring sealing and nitrogen gas purging.
Binocular holding can be exhausting; thus, having tripod flexibility is a fantastic feature in these circumstances. The tripod aids in maintaining these binoculars and provides a clear view.
Pros
Water and shockproof
Offer Strong grip
Compact weight
Cons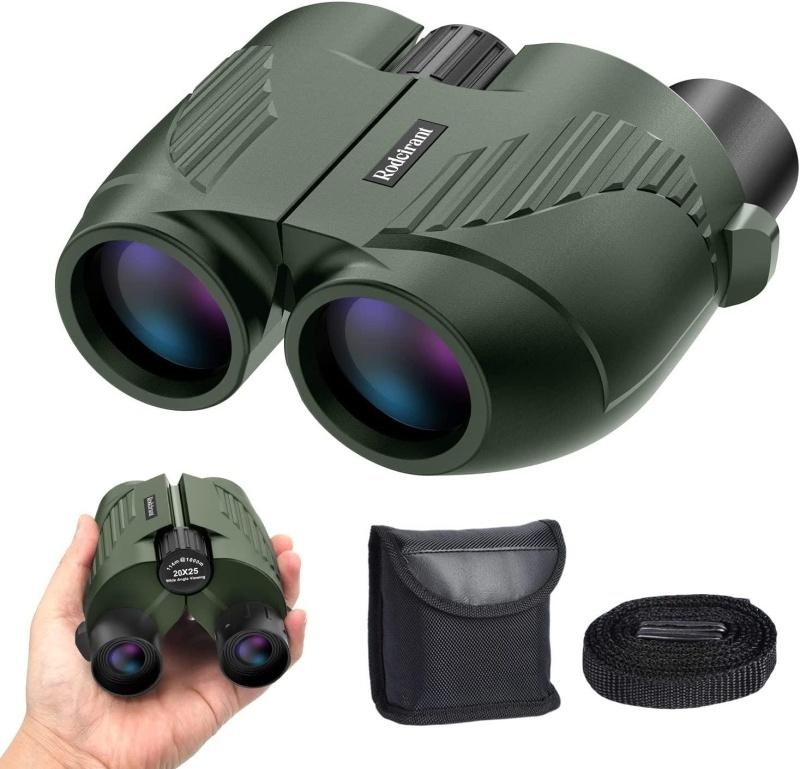 4. Rodcirant 20X25 Compact Binoculars-Best binoculars for Bird Watching
Overview
The 20X25 masterpiece binoculars offer sharp, color-unchanged images without any image blur. The viewing field of 399ft at 1100 yards makes them perfect for bird watching, hiking, and concert. If you want a pair of binoculars with small, light, and simple-to-adjust features, Rodicrant is your best choice.
Furthermore, their additional light for low light vision capabilities allows them to provide brighter, clear images and more comfortable observation for you. Even the priciest binoculars on the market now need more visual clarity, magnification, compactness, waterproofing, and ease of use.
So, with an inclusive package, 20X25 optics are excellent and helpful means of enjoying any outdoor activity like a cruise trip to Alaska.
Pros
Easy-to-adjust
Small size
Additional light for low-light vision
Reasonable price
Cons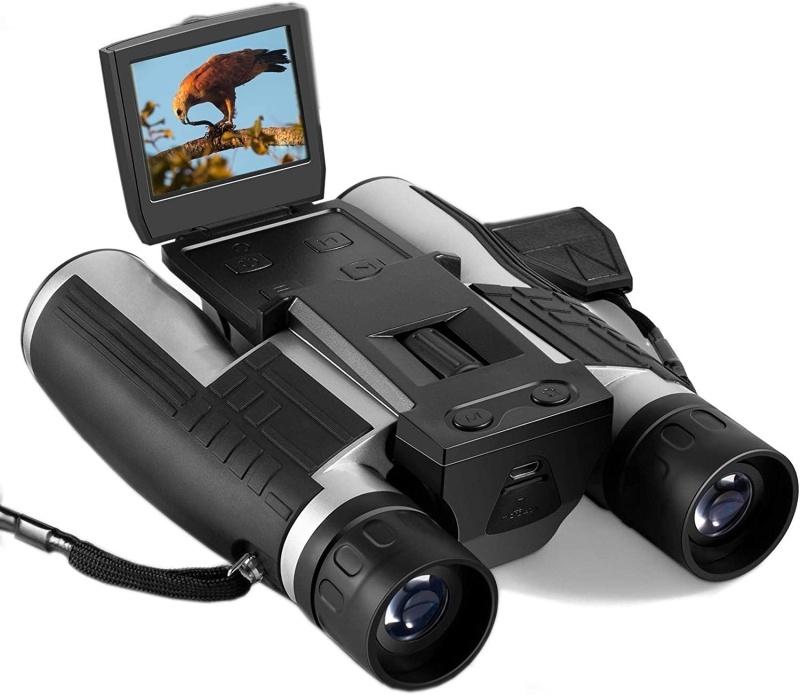 5. Vazussk 2" LCD Digital Binoculars-Best Binoculars for Whale Watching
Overview
The HD Digital Binoculars combine a top-notch all-optical binocular system with a high-definition digital camera, supporting image capture and video shooting at 1280 x 108 resolution, installing this digital binocular camera on a computer and using it as a webcam is straightforward.
The sturdy rubber armor structure gives these lenses a longer lifespan and increased durability. Also, you adore having their tripod adaptability on your cruise to Alaska.
These camera binoculars come in an all-inclusive package and are ideal for amateur outdoor enthusiasts. You can utilize them for various activities such as birdwatching, hunting, camping, traveling, wildlife scenery, and more.
Pros
Camera for pictures and videos
SD memory
Great quality
Lightweight
Cons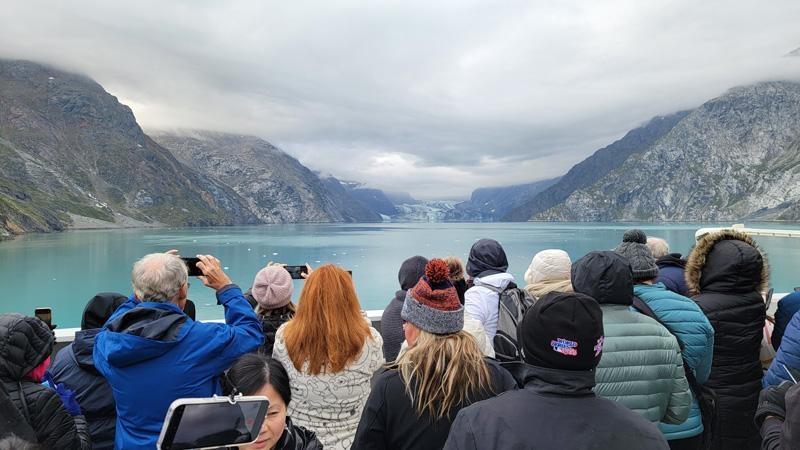 Understanding Binocular Specifications: A Guide for Travelers
Binoculars are magnifying devices that offer enlarged views of far-off objects. They consist of a single frame with two telescopes attached to it, allowing the use of both eyes.
What Do the Binocular Numbers/Specs Mean?
Different model numbers are used to describe binoculars, such as 8X 45. Here, the first number represents the level of magnification, while the second number represents the objective lens's diameter. Keep in mind that binoculars with smaller lenses are lightweight and more portable.
Magnification: allows you to know how near the subject is to you - for example, 5 times, 8 times, 10 times, etc.
The size of the objective lens will determine how much light the binoculars can effectively collect for viewing. A large size number gives a big lens and a brighter view.
Zoom Binoculars: allow you to modify the power to get different magnification ranges. For instance, a pair of binoculars with a specification of 10-24x42mm means you can adjust the zoom part to a minimum viewing power of 10x and a maximum of 24x power.
The 42 mm depicts the size of the objective lens. Remember that a larger objective lens will provide the lightest gathering when choosing zoom binoculars.
What Does the Term "Exit Pupil" Mean?
The diameter of the circle of light that emerges when you gaze through a pair of binoculars while holding them close to your eyes is known as the Exit Pupil. It concerns a binocular's ability to see clearly in low light.
You can calculate the exit pupil by dividing the objective lens by the binocular magnification.
What Does BAK-4 Prism Mean?
A prism is a reflective coating applied to glass. It bends and refracts light to focus light on the objects you are viewing. Prisms rectify the upside-down image produced by binocular lenses. High-grade glass is used to manufacture the BAK-4 prism. As a result, it generates sharp images with good edge-to-edge sharpness.
What Do Lens Coatings Mean?
The lens coatings reduce glare and let as much light as possible into the optics. There are four different levels of coating, including coated, fully coated, multi-coated, and fully multi-coated.
Coated is a single layer on at least one lens.
Fully-Coated is a single layer on all air-to-glass surfaces.
Multi-Coated refers to a lens with various coatings.
Fully Multi-Coated refers to many layers covering every air-to-glass surface.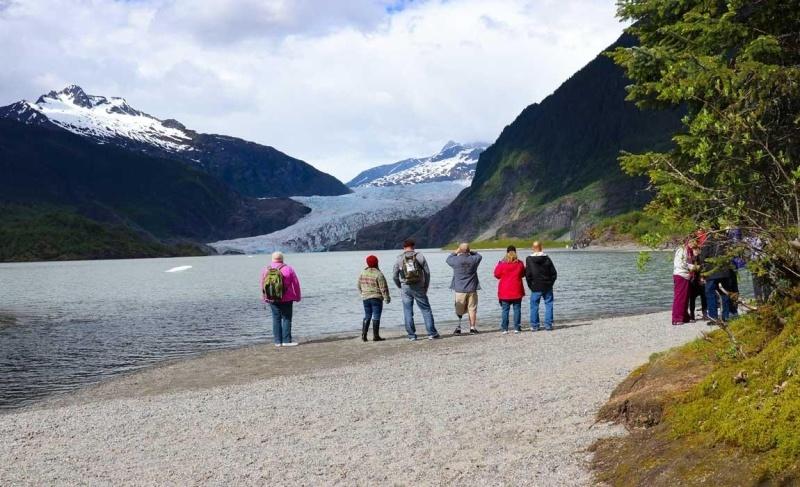 What Size Binoculars are Best for a Cruise?
High-magnification binoculars will be utterly worthless for a cruise trip. Binoculars magnify every move you make as much as the image itself; this is a downside of them.
As a cruise ship is a moving platform, it is almost impossible to acquire a stable image at any magnification greater than 7x or 8x. This issue is significantly more critical when the waves are strong; the boat is trembling.
Since the end of World War II, 7x50 has been the de facto standard. It provides the perfect ratio of light gathering and magnification. Furthermore, 8x binoculars are considered the best for ship tours; because they are excellent for wildlife watching.
Benefits of Bringing Binoculars on an Alaska Cruise
Taking your binoculars on a cruise may be a fantastic activity for anyone, regardless of age. Binoculars make it possible and fascinating to see a view that the human eye cannot. For instance, they enable you to interact directly with the flora and scenery you encounter while traveling. Moreover, binoculars let you take in breathtaking mountain vistas, glaciers, and amazing spectacles like icebergs calving.
The binoculars allow you to go closer to nature and appreciate Alaska's majesty from a hundred-foot distance. You can identify different sea creatures like whales that swim in Alaska water. So, binoculars are must-have things on your Alaska Cruise Packing List. Along with getting binoculars, here are some more tips to make your Alaska cruise even better.
Ethical Wildlife and Whale Watching: Guidelines for Using Binoculars
Here are some guidelines for using binoculars to watch wildlife from the cruise.
Be sure to wear your binocular neck strap. It keeps your binoculars at your fingertips and snugly around your neck and up against your chest.
If you wear glasses, wear them while using binoculars. For glasses wearers, binocular eye cups should be bent downward or twisted. Keep the eye cups extended if you don't use glasses.
Before focusing, check that the binoculars are at the proper width for your eyes. Then choose something to concentrate on, like a tree limb. Now adjust the central focus wheel while keeping both eyes open. Close your right eye and use only your left to turn the focus wheel to fine-tune your focus. Afterward, shut your left eye. Now, using the diopter adjustment, concentrate on your vision. Now, Open your eyes to check your focus point.
To observe wildlife, first, locate a distant point and fix your gaze on it without the binoculars. Keep your eyes locked on the location while you align the binoculars with your eyes. In this way, you'll see the wildlife without losing focus.
Differences Between Binoculars and Spotting Scopes for Wildlife Viewing
Binoculars and spotting scopes differ primarily in the following ways:
Binoculars are perfect for handheld applications. However, spotting scopes are typically installed in tripods for added stability.
Binoculars have a larger field of view than spotting scopes, which have a lower field of view. However, still spotting scope allows you to concentrate on details.
Binoculars are more portable, lightweight, and small. A spotting scope, however, requires assistance, making it less convenient to use while traveling.
The magnification power of binoculars is less powerful, ranging from 1x to 12x. A spotting scope may magnify objects up to 100 times.
Binoculars are perfect for getting a wide-angle perspective of wildlife because they use a variety of lenses and prisms to produce a more vivid, sharper vision. They make it possible to closely see distant objects with both eyes open.
Binocular Maintenance: Tips for Keeping Your Optics in Top Condition
Here are some suggestions to keep your optics in top shape.
When the binoculars are not in use, first cover the eyepiece and objective caps. You can keep them in the backpack that comes with the binoculars.
For long-term storage, remove batteries from binoculars with built-in batteries.
Moisture can harm optical components and lead to rust, which is problematic for binoculars. Thus, keep your binoculars in a dry place.
To clean your optics, use a soft brush or compressed air to remove dirt or dust. After that, gently wipe the lenses with a lens-cleaning cloth dipped in a lens-cleaning solution. Finally, use a dry cloth to dry them.
Periodically check your binoculars for signs of wear and tear. If any repairs are required, get in touch with an expert.
Wrapping Up
You don't want to leave anything behind when you take an exciting journey to Alaska that offers a delightful experience. Using a pair of binoculars will enable you to take in spectacular and unique views of wildlife such as whales, polar bears, and much more.
In this post, we covered every aspect of binoculars to increase your enjoyment on your Alaska trip. The optics examined in this manual are all of a high caliber. If you want to buy a high-end product with an all-encompassing bundle, our top choice Occer 12×25 Compact Binoculars will probably be to your taste.
Remember, Your personal preferences will determine whatever brand you choose.