Los Angeles is a great place to board a cruise and explore the world. With two cruise ports, San Pedro and Long Beach, and ships from all of the popular cruise lines available for booking, you can find an array of exciting itineraries to destinations ranging from the Mexican Riviera and Baja Mexico to California Coastal cruises, Panama Canal, even cruises to Hawaii. Whether you're looking for a short getaway or an extended journey to somewhere exotic, cruising from Los Angeles is sure to provide plenty of memories that will last a lifetime.
Let's take a look at what you need to know about taking a cruise from Los Angeles!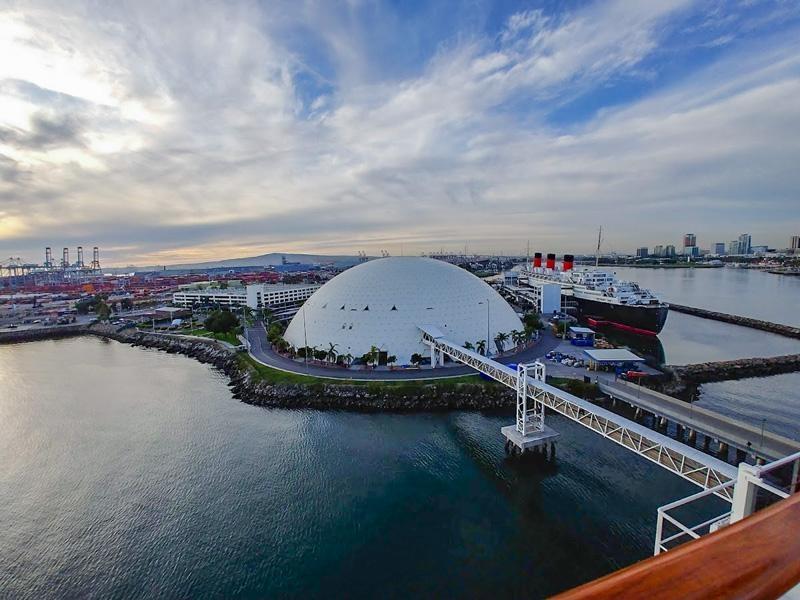 Cruises From Los Angeles: San Pedro vs. Long Beach
One thing that makes planning your cruise from Los Angeles a bit confusing for folks from out of town is that there are two distinctly different cruise ports here. While Long Beach and the Los Angeles World Cruise Center are located just a few miles apart, they are separated by the Port of Los Angeles cargo port and the Long Beach Fuel Pier.
As a result, while you can look at both cruise terminals as "Los Angeles", when planning where to stay before or after your cruise as well as potentially even what airport to use when flying to Los Angeles, it is important to consider which terminal you are going to.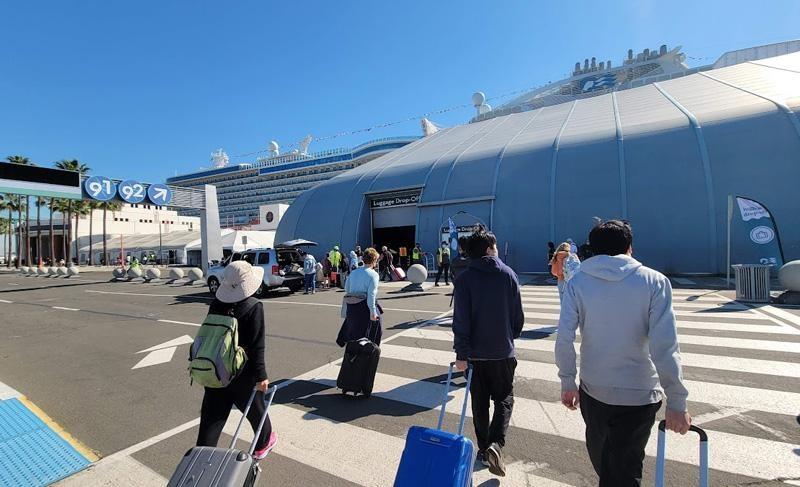 San Pedro: Los Angeles World Cruise Center
This is the OG of west coast cruises and you may have seen this port featured in the opening credits of "The Love Boat". There are two berths here that can handle the largest cruise ships sailing Pacific coastal waters. This includes Navigator of the Seas, Discovery Princess, Norwegian Encore, and Celebrity Solstice. However, it is also where small ship cruise lines such as Viking Ocean, Regent, and Oceania dock as well.
The port facilities here are much older and more industrial than what many cruisers may expect compared to ports in Florida and compared even to Long Beach.
The good news is that there's plenty of secure parking here (2,560 spots), and it is fast to get from the ship to your car since they have expedited customs security clearance and baggage handling.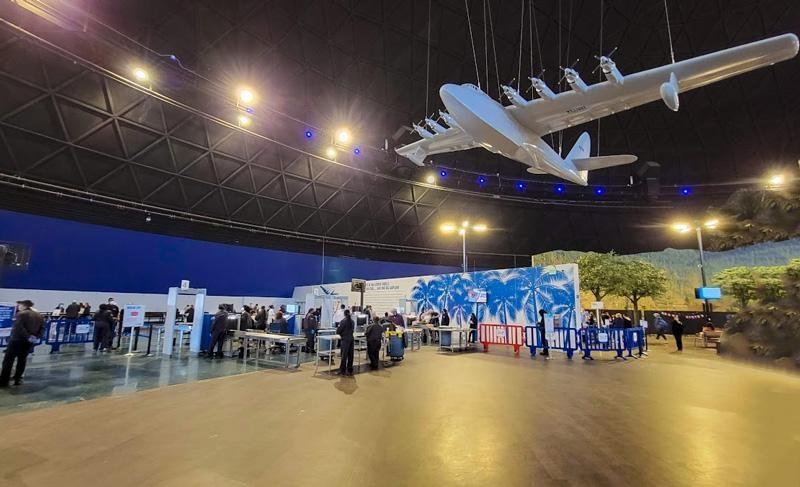 Long Beach: Carnival's Home Port
Carnival Cruises will all leave from the Port of Long Beach, located right next to the classic oceanliner, Queen Mary. They have converted the famous "Spruce Goose Dome" into one of the nation's busiest cruise ship terminals. Built originally in 1983, this dome originally housed the Hughes H-4 Hercules (a model of which still hangs from the ceiling) and has served as a soundstage, roller derby rink and now Carnival cruise line uses it as their home port for Los Angeles cruises.
It was expanded and modernized in 2018 and is among the nicest cruise terminals on the west coast. If you are planning a cruise vacation with kids, this facility will not disappoint since it is beautifully appointed with palm trees and even some arcade video games.
Where Do Cruises From Los Angeles Go?
For those looking for something quick and convenient, several cruises from Los Angeles embark on three, four, and five-day cruises to Ensenada Mexico, San Diego, and Catalina Island. Princess Cruises, Celebrity Cruises, Royal Caribbean, and of course - Carnival all offer short cruises from Los Angeles. These also tend to be a great option for folks looking for cheap cruises. If you are looking for Los Angeles cruise deals - make sure to contact your travel agent or fill out or cruise form and we'll get back to you quickly.
Suppose you are looking for week-long cruises to the Mexican Riviera or Pacific Coast cruises. In that case, there are also plenty of options when it comes to finding cruises leaving from here to ports including Puerto Vallarta, Cabo San Lucas, Mazatlan, Ensenada, and coastal cruise destinations like San Francisco and Santa Barbara as well.
Additionally, cruises from South America, Panama Canal, trans-Pacific cruises to Australia, and occasionally repositioning cruises to Alaska visit here.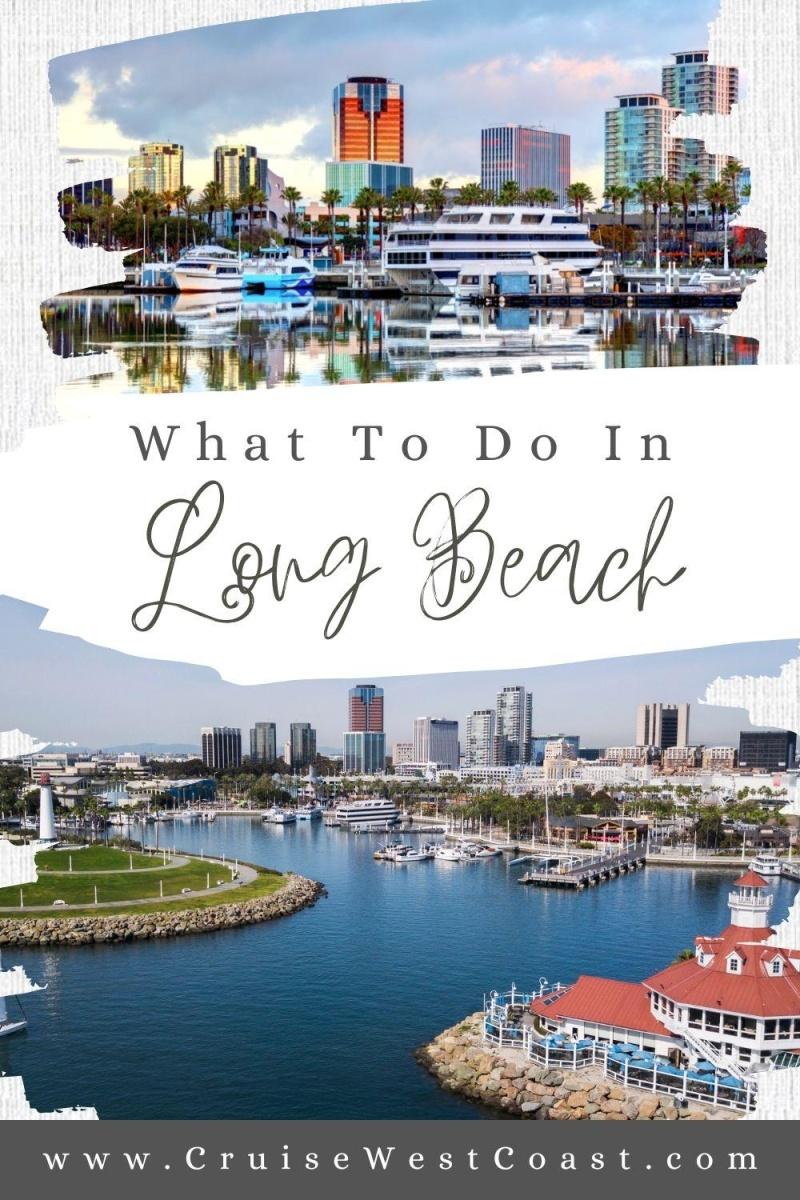 What To Do Before Or After Los Angeles Cruises
Southern California is a fabulous vacation place due to the great weather and diversity of cultures and history to explore. Whether you're interested in a fun beach day in Santa Monica or Venice Beach, action and excitement at Disneyland, a movie in Grauman's Chinese Theater, or Celebrity Sighting, there is something for everyone to do as an add-on to your Los Angeles cruises.
Additionally, while Los Angeles may be the destination you are most familiar with, right by the cruise ships, there's plenty to do as well!
San Pedro things to do:
San Pedro is a hidden gem in Southern California. When you take a cruise from here, it is a great opportunity to see sights, including the Battleship USS Iowa Museum, Cabrillo Marine Aquarium, and Korean Friendship Bell, as well as enjoy one of the restaurants here such as the legendary San Pedro Fish Market for some fresh seafood and their "World Famous Shrimp Tray".
Long Beach things to do:
Long Beach is a great place to visit as well and while the Queen Mary is still temporarily closed, there are plenty of other options to do including a visit to the Aquarium of the Pacific, leisurely swan boat rides on Rainbow Lagoon, or even take a day trip out to Catalina Island on the Catalina Express.
Hotels For Your Los Angeles Cruise
Of course, when it comes to saving money on vacation expenses such as hotels and flights before/after your cruise from Los Angeles, many cruisers find that booking a hotel by LAX airport can provide them with great savings compared to staying closer to the ports. However, that's not always the best option here since LA traffic is legendary and this is your vacation... it's worth it to spend a little extra so you can consider Los Angeles among the cruise destinations that you are excited to visit.
This is how we look at things anyhow. Some of the best cruises that I've ever taken have involved exploring the port where we departed from and certainly on a cruise vacation from a place like this ... well ... there's absolutely no shortage of things keep you going back for more!
No matter what you choose to do, cruises from Los Angeles California are a great option for a family vacation or a romantic getaway. Make sure to experience all this city and its surrounding towns have to offer before or after your cruise. Whether it's five days around Mexico on a quick getaway or an extended journey exploring distant shores around the world, cruising out of Los Angeles is sure to provide you with an unforgettable experience!