Let's take a look at cruise ship butlers and look at how the offerings on various cruise lines differs from one to another. Just like every other aspect of cruising, the butler service from one line to the next can be completely different. While west coast cruises have fewer options than what you might find in the Caribbean for instance, the good news is that in recent years we've gotten some of the newest and most luxurious ships at sea visiting our waters. Let's take a look at cruise butlers and if selecting a suite with butler service for your next cruise might be the perfect choice.
What Do Cruise Butlers Do?
Cruise butler services vary from one cruise line to the next but generally speaking, your cruise butler is your single point of contact to make whatever you want happen. Some folks may imagine their butler to be like those they've seen on TV while watching Downton Abbey but there is quite a range of how they will interact with guests. This includes classicly-styled professional english butlers on Silverseas to a more fun and modern Royal Genie on a Royal Caribbean cruise.
Depending on the ship, cruise port, and cruise line, this can range from making arrangements for a special celebration, meeting you at the pier and escorting your and your bags onto the ship so you can avoid getting sweaty while bording the ship, setting up your in-room dining experience, and providing concierge type services so that you will never have to worry about getting that reservation for dinner or a show.
Another important role that many people like having a butler for is handling all the details for a private party in their suite.
While some butler services are more formal and reserved - as you might expect from a traditional English manor house, others try to be more fun and family friendly such as Royal Caribbean's Royal Genie.
Cruise Butlers Vs Concierges
At higher loyalty levels as well as various suite categories on most lines, guests will have access to a concierge who they can call to make reservations. While this is an absolutely fantastic service, a cruise butler is an active helper vs a passive one waiting for you to ask a question.
Think of it this way. On the first day of your cruise, a butler might meet you in the shore-side VIP lounge, recognize you and already know your name. He will then carry your bags onto the cruise ship, bypass other people in line, and have access to a private elevator so you don't have any waiting. During this time he will be listening for cues as to what type of muffins you like in the morning, if you prefer drip coffee or capiccino, and what shows you are hoping to attend while onboard. By the time you have freshened up, he might have already made reservations for you and just need your confirmation for any details.
On the other hand, without a butler, once onboard you can call the concierge or visit the suite lounge and introduce yourself. Most concierges on cruise ships are absolutely fantastic and very talented at both making you feel welcome but also making reservations and arranging services.
However, a concierge won't be there in the morning to make sure you don't have any last min requests or to provide an umbrella for your excursion since there was an unexpected rainstorm overnight.
Both may be able to offer similar types of help such as assisting with booking dinner reservations or reserving seats for a show, the level of service is not the same. While a concierge might be able to do some of these helpful tasks, they are not dedicated to you and are shared with other suite guests. Plus, a butler does way more than simply being your personal concierge since they are truely part of your overal vacation experience.
Butlers Are Not Cabin Stewards
Some people think that cabin stewards are butlers and that butlers take care of cleaning your cabin. While cabin stewards can often find basic items such as toiletries that you might have left at home or making sure that your ice bucket is always filled, their job is to clean your room and make your bed etc. Similarly, a butler may go into your room and set up a vase of flowers or a display of cookies, he (or she) isn't there to clean.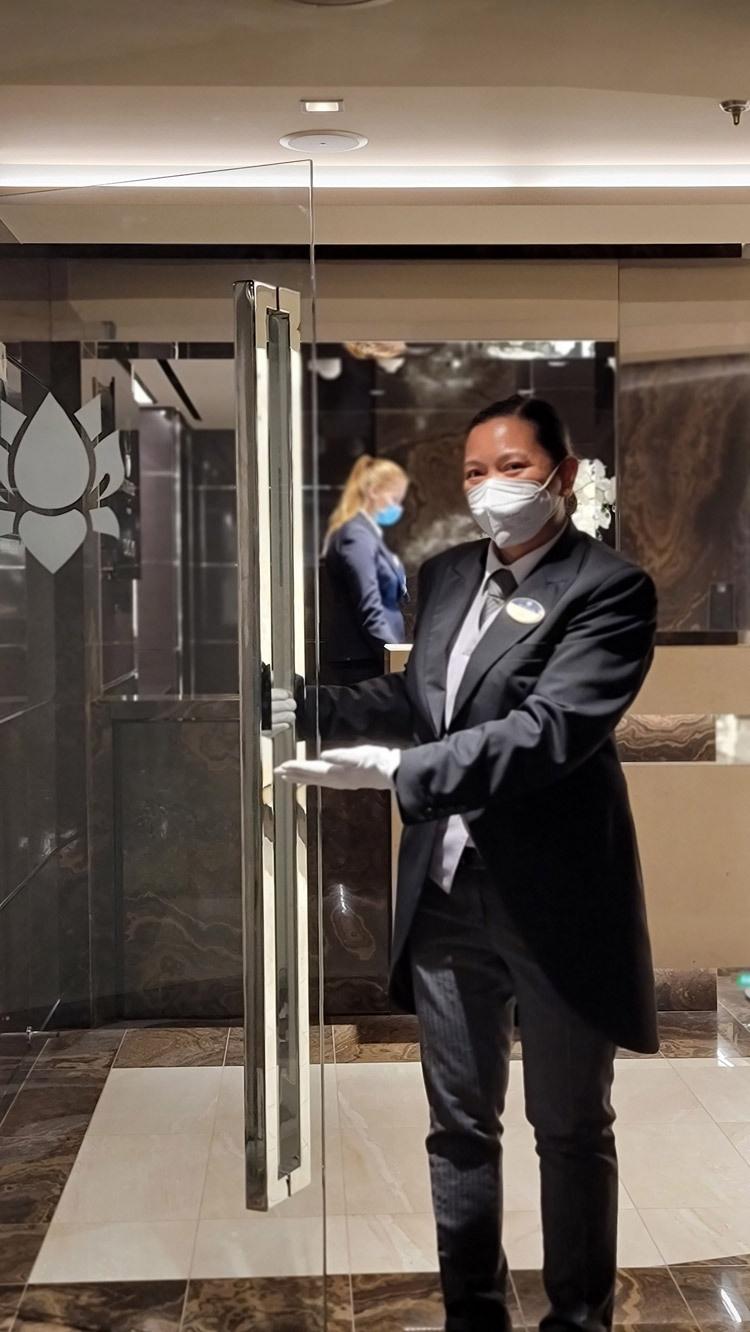 What Cruise Lines Have Cruise Butlers
Butler service is most commonly found on small ship luxury cruise ships such as Regent and Silversea. However, they are also increasingly found on ships that have "ship-in-a-ship" concepts like Norwegian Cruise Line's The Haven and MSC's Yacht Club. One key difference between butlers on big ship lines like Royal Caribbean, Norwegian, Disney, Celebrity, and MSC and those found on smaller ships
Here are some lines that have cruise butler services available:
Royal Caribbean
You really do enjoy the "star" treatment when you book an upgraded suite on Royal Caribbean. The "Royal Genie" is part butler, part concierge, and is only available to guests booked in a Star Suite on one of the line's 24 ships. The star treatment starts before embarkation, where your genie will whisk your luggage away to be waiting in your suite when you arrive. Once onboard, your Royal Genie will book your dining reservations, arrange for your high-end shopping experiences and arrange for you to have the best seats in the house at entertainment venues. Celebrating a birthday, anniversary or honeymoon? Your Royal Genie will arrange for a special celebration just for you. Whenever you need the high-touch to make your cruise extra special, the Royal Genie is there to cater to you.
Norwegian Cruise Line
Norwegian Cruise Line's "ship within a ship", The Haven, offers a high-end luxury experience exclusive to guests booked in its suites. The Haven offers a 24-hour suite butler who will unpack your suitcase, pour your champagne and make your dining reservations. This butler serves all of The Haven guests, and is more like a suite-wide concierge than a personal in-suite butler. The Haven offers courtyard attendants who bring cold towels, fresh fruit and poolside refreshments in the suite's private pool area. In addition, Norwegian Cruise Line Haven's butlers offer in-suite dining service and evening turndown service for your enjoyment.
MSC Cruises Yacht Club
Butler service is an integral part of your experience when staying in one of the MSC Cruises Yacht Club suites on ships like MSC Seashore. Along with the assistant butler or cabin steward, your cruise butler offers services ranging from prepareing your room, delivering room service, ensuring that your mini-bar is stocked correctly as well as coordinating other details such as dinner reservations, laundry service or even helping to book shore excursions. Additionally, they will escort you to different destinations on the ship as well as assist you with debarkation by carrying your bags to the gangway.
Disney Cruise Line
Disney offers a sort of butler service for its concierge-level guests. While this is not a true pro-active butler service, it is a major step above a loyalty lounge concierge. The magic starts before you even board the cruise. Concierge guests get priority reservations for cruise excursions, dining and onboard activities. They also receive priority boarding on embarkation day and express debarkation. The onboard concierge will help book your dining reservations, make entertainment recommendations and greet you as you board and disembark in ports of call. While some cruise lines offer a personal, in-cabin butler, Disney's concierge is more of a service that concierge-level guests can access when needed.
Azamara Club Cruises
This high-end boutique luxury line is known for its upgraded amenities, and suite guests enjoy English butler service unparalleled on other cruise lines. Your personal stateroom butler will unpack your luggage, pick up your laundry, pour glasses of champagne upon your arrival and serve you in-suite afternoon tea. Your butler will also remember your preferences and attend to your every need. Did you mention that you love grapes? You may arrive to find a fresh bowl of grapes in your cabin after a long day ashore.
Celebrity Cruise Line
You will really feel like a celebrity with the butler service on this mid-luxury cruise line. In addition to packing and unpacking for you, your butler on Celebrity cruises will serve your meals, course by course, to you in your suite. Fancy enjoying breakfast while taking in a sunrise over the ocean? Your butler is there to make it happen. Available to suite guests, the butler will also handle shoe shining, dry cleaning and bring coffee.
Crystal Cruises
If you book a Penthouse deck suite on a Crystal cruise, you can enjoy the services of a personal, in-suite butler. Your specially trained butler will book your spa appointments, arrange cocktail parties for your group and offer a complete tea service in your stateroom. The butler will deliver your multiple course dinner to your cabin, and book your shore excursions, specialty dining and entertainment seating.
Cunard Line
Cunard Line has long since held the reputation for being the premier in British luxury, so it is no wonder that their butlers are so highly regarded by guests and critics alike. Guests in the Grill-level suites enjoy high-end service, and are assigned personal butlers who do everything from serving champagne on your verandah to helping you put on your cuff links for a formal dinner.
Regent Seven Seas
Trained by the Guild of English Butlers, the butlers on Regent Seven Seas cruises are second to none. If you make friends on the cruise and want to invite them back to your cabin, your butler will arrange for a private cocktail party in your suite, complete with champagne and chef-prepared delicacies. After the party, they will clean your suite while you enjoy the ship. The butlers on Regent Seven Seas cruises also book your spa appointments and basically take care of all of your needs during your voyage.
Silversea
Silversea was the one of the first cruise lines to introduce butlers, and the service is available to guests on all of the line's nine ships. Silversea, a luxury boutique cruise line, trains its butlers in England before deploying them to ships that sail to every continent on the globe. These Guild of Professional English Butlers are among the best anywhere at sea. Silversea offers a pillow menu, and your in-suite butler will help you to select the right one for your sleeping comfort. The butlers serve breakfast, handle dry cleaning and book private sessions with the ship's personal trainer. Your butler will also serve your meals on your private verandah, offer you a choice of luxury bath accessories and discuss your dining preferences with the ship's chef. One of the most highly sought after experiences, Silversea has perfected the art of luxury at sea with its butler service.
Oceania
Known for high-end luxury voyages to the most exotic and far-flung ports on the globe, Oceania cruises overlook no detail when it comes to high-class service. Each suite guest is assigned a personal butler who will take care of their every need, from drawing their bath for a relaxing soak after a long day, to pressing their tuxedos for dinner or helping them into their formal gowns. They arrange shoreside dining, arrange for your port tenders or host an in-suite cocktail party for you and your selected guests. With Europe-trained butlers, there is no request that is to challenging for them to handle.
Many other mass market cruises offer butler service for parts of the experience, for instance, we had a butler for our private beach villa at Half Moon Cay while sailing on Holland America Line. However, suite guests even in the very premium Pinacle Suites on that line do not offer butler service the same way as the brands listed above do.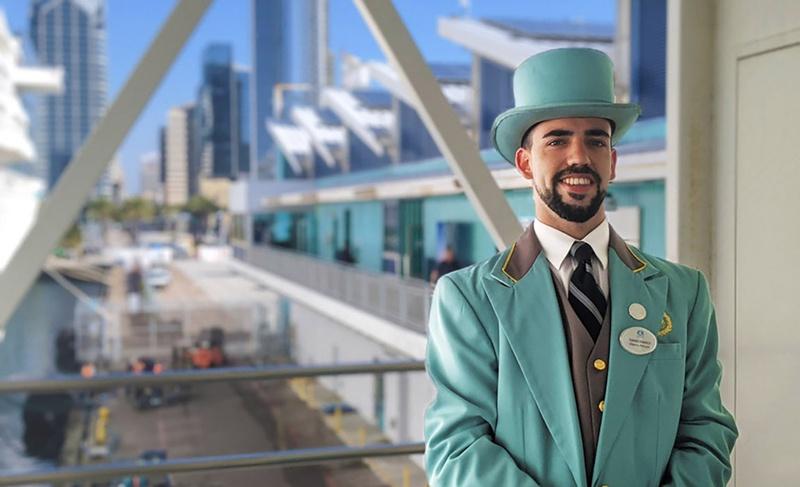 Tiping Protocol For Cruise Ship Butlers
Any discussion of tipping on a cruise will bring out a wide variety of opinions. In part, this is because many services that you recieve on a cruise ship should honestly be simply built into the price of the experience. In many ways, this is the case with cruise lines establishing a protocol for "prepaid gratuities" where only the stingiest guest would consider ways to remove the tips even though it is really the crew members wages that are for some reason labled as gratuities. Even for these people - cabin stewards, bartenders, waiters, cruise excursion leaders, entertainment staff etc. - you should always consider paying more if they did something special for you that made your cruise more enjoyable.
However, when it comes to cruise butlers, and to a less extent concierges we're talking about a premium level of service that is actively designed to make your cruise experience special. Additionally, the typical cruise passenger that enjoys butler service is in a completely different financial category than the family of five packed into an inside cabin looking for every opportunity to save a buck.
As such, there is no specific guideline on how much you should tip your butler. However, the generally accepted minimum is $10-15 per day. From here, the sky is quite litterally the limit. It is not uncommon to tip $300, $500, or even more if you are actively using butler services and they are providing extrodinary service.
Some factors to consider with tipping your cruise butler:
Butlers (and concierges) are generally not part of the pre-paid gratuities pool. They are generally salaried employees and depending on the line may have a salary of between $2,500-$4,000 per month with tips adding to that number considerably.
While you can tip at virtually any point during your cruise experience, the common tradition is to tip at the end of your voyage the same way you would with any other crew member.
In some instances, your cruise ship butler may be shared by an entire group of suites and in other instances your butler is assigned just to you. This will greatly affect the level of tips that you are expected to reward their service with. It will likely also be in accordance with the level of personalized service that you recieve.
One note that confuses some people is that you may see notes such as that provided by MSC Cruises stating that crew do not need to be tipped. This may be something that is a difference between European standards and American. While it is true the your cruise butler does not "need" to be tipped, it is common curtesy to reward exhemplary service in this way.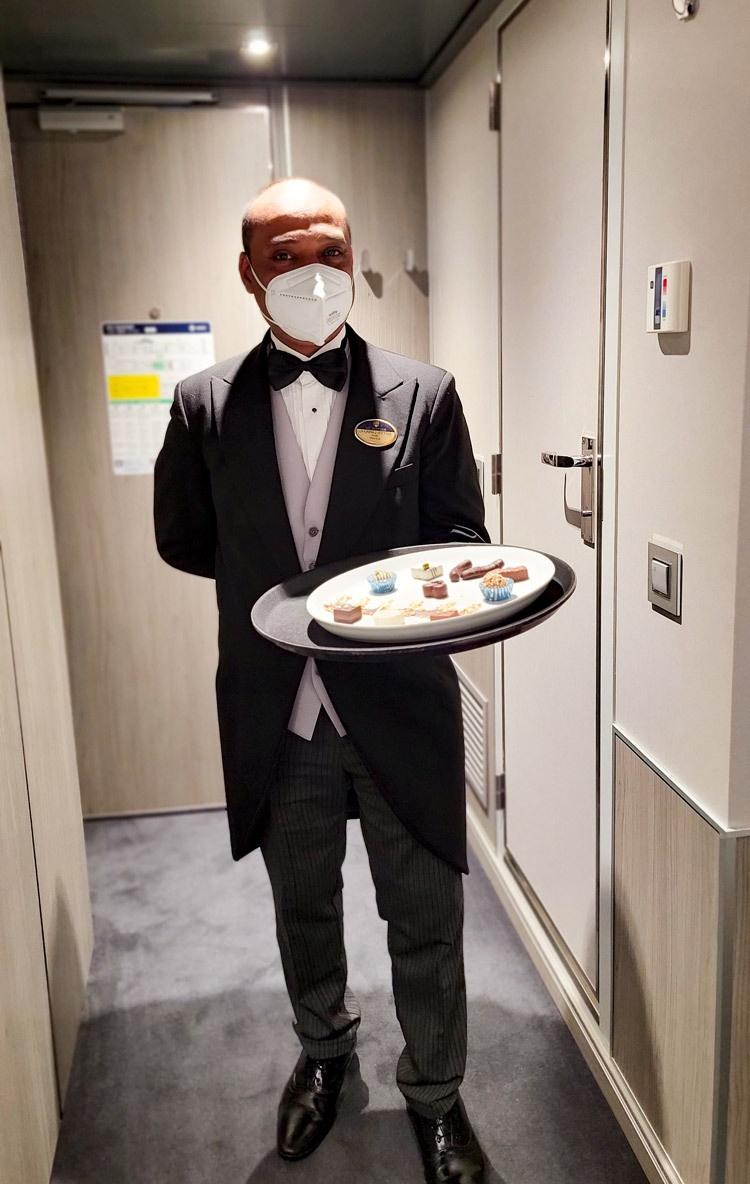 Having A Cruise Butler Can Transform Your Cruise Experience
Cruise butlers aren't magicians and they sadly can't cause seas to be less rough or clouds to go away. Similarly, they can't make the ships stay in port longer or travel faster to the next destination. What they can do though is virtually everything in between.
While some folks expect a level of service that is like what they have at home with a butler, personal chef, driver and other staff, for others this is an opportunity to splurge. Having a staff to take care of your every whim at home might cost hundreds of thousands of dollars but for a one week vacation it might be worth it to live like a VIP and never have to lift your finger.