We have loads of content coming soon from our Pacific Coastal voyage on Viking Orion - one of the Viking Ocean Cruises small ship vessels but this topic is at the top of my mind because it was a missed opportunity that could have resulted in cruise guests getting a bucket-list opportunity instead of the inevitable disapointment caused by a missed port due to rough seas and the complications due to tendering. To be clear, I'm writing this from our perspective on this trip but this is the second time in the past few months that we've been forced to miss Santa Barbara, though just one of many over the years in various parts of the world that has been dropped due to issues related with tendering in general.
What Causes A Ship To Not Be Able To Tender?
There are a variety of reasons why a ship may not be able to tender guests to a port of call. This includes political or social disruption, weather, and sometimes simply the port of call saying they aren't available that day. The top reason however is that seas are too rough or the current is too strong. In many cases, while it looks "calm", weather reports forcast those conditions call for conditions to worsen. In this later situation, that could result in dozens or hundreds of guests stranded on land with no safe way to get back to the ship.
That was the case during this visit to Santa Barbara and our captain absolutely made the correct decision as conditions did get worse later in the day, despite looking calm in the morning.
Tendering In Santa Barbara Can Be A Challenge
I love visiting Santa Barbara on a cruise and I'm thankful for the many opportunities to have visited it over the past few years by car during road trips as well. Unfortunately it can sometimes be challenging to tender to because of the distance that the ship must be from the shore and the facilities aren't as good as other more popular tender ports such as Avalon, Catalina Island.
So, instead of just driving the ship in circles for a day like we did last week ... there is a solution!
Let's Cruise The Channel Islands
One of the challenges with cruise lines that are new to a certain part of the world is that they aren't always the most experienced and knowlegable about options that would allow them to achieve maximum guest satisfaction. Viking has MASTERED European river cruising. They are the undisputed king there and as a huge fan I want to help them master the Pacific too!
The channel islands area is a remarkable marine sanctuary that includes the channel between Santa Barbara and Ventura as well as the eight channel islands that sit about 50-70 miles off the California coast.
During the spring and late winter, it is one of the best places on Earth of whale watching.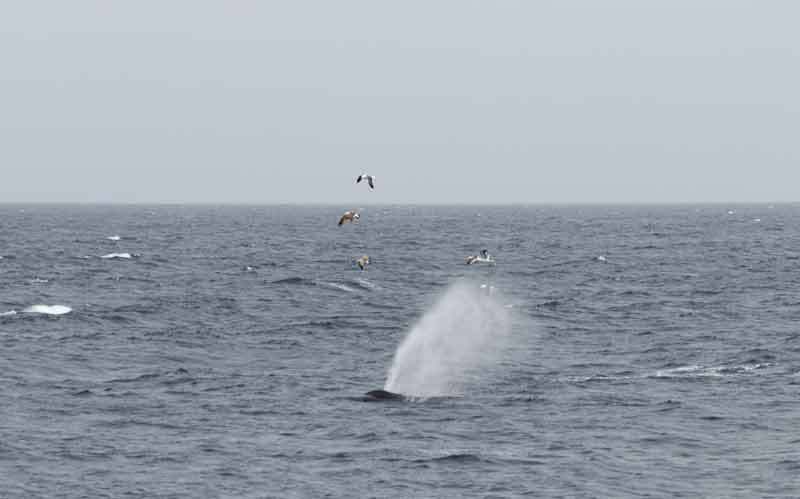 Photo of whale spouting from our channel islands whale watch tour a year ago.
For example, according to Island Packers (one of the best whale watching cruise operators for the Channel Islands area), on the day before our visit, they observed:
Cow / Calf Pairs: 1
Humpback Whales: 26
Gray Whales: 3
Common Dolphins: 6,440
That's just during their cruises that day and not from a vessel like we were on with Viking Orion hat was out there, quite litterally all day long.
Other marine mammals that they tracked during the weeks on either side of our visit include multiple: Blue Whales, Fin Whales, Minke Whales, Bottlenose Dolphins, and Risso's Dolphins.
The story isn't just a matter of seeing marine mammals and birds though. Each of the channel islands has a unique personality that could have been narrated to guests in a similar way to what you might experience on Norwegian's Pride of America as it cruises by the Napali Coast on a Hawaii Cruise ... or what guests experience on Viking River as they sail Rhine while guests relax on the top deck enjoying hot drinks, wine, beer, and German treats while learning about the castles.
You could do a very similar experience with a Channel Islands cruise too ...
While the obvious nature of a whale watching boat being closer to the water vs a cruise ship, a small vessel like Viking Ocean Cruises offers at only 58,000 gross tons and the lower decks being very close to the water while the spacious upper decks offer a stunning view of both sides is also a great option.
So, imagine standing at the edge of the ship with a glass of Santa Barbara wine in one hand and your binoculars in the other while listening through your audiovox as the naturalist talks about the islands and spots for whales to watch for or points out unique sitings.
Minus the guided narration and the crew creating an experience with the drinks and food, this is EXACTLY what we did that day. In fact, we also helped other guests similarly experience it while sharing what we saw and helping them watch for it too. It was a fantastic experience ... especially compared to the grumbling from some fellow guests.
With proper integration between the sensors and radios that the captain has and perhapse a partnership with Island Packers or some similar group the way other whale watching vessels do in places like Cabo San Lucas for isnteance, this could be an experience guests will want to talk about and share with friends and family.
Ultimately, this is not a replacement for the experience of being on a dedicated whale watching excursion. Those boats are going to be quicker and closer to the water than this Viking Oceans cruise ship. Despite this though, there's a sense of luxury and enrichment that would have been relatively easy to implement here that I hope we - and other guests - can enjoy in the future.
Viking Ocean Cruises does an incredible job of cultural enrichment on their voyages so I'm sure they can take my ideas and make it even better for future Pacific Coastal cruise guests!