While many people think of Napa and Sonoma as the top wine regions along the Pacific Coast, Baja California's Valle de Guadalupe or Calafia Valley is ready to challenge that preconception. Located just north of Ensenada offers a fun and unique perspective on the rapidly maturing Mexican wine industry. While Baja wine doesn't quite have the same ring to it as other regions of the world such as Bordeaux or Napa the truth is that this area is rapidly maturing and now produces some excellent vintages. This makes doing a wine tour as part of your Ensenada cruise a fantastic opportunity to escape from the downtown area and explore a bit of baja's rolling hills and sun-drenched vineyards.
Before we begin, I want to share some notes about the various names used to describe this area. Generally, most cruise visitors refer to Baja wine country tours as either Ensenda Wine Tasting or Valle de Guadalupe Wine Tasting Excursions. However, you will sometimes see it called Valle de Calafia as well. This refers to the same region of Baja California, is located about 45 minutes north of Ensenada. There is also a second wine region located south of the cruise port. Valle Santo Tomas is also a fantastic region to explore for wine lovers but most cruise excursions focus on the northern region as it is better developed and more well known.

Cruise Excursion or Private Wine Tasting Tour?
This is a tough decision since it depends on a combination of different factors.
- What do you want to get out of the tour?
- What's your budget?
- How comfortable are you working with local tour operators?
As someone who is comfortable navigating in Mexico, I can tell you that my next visit to Ensenada wine country will be with a private tour operator who is better suited to my knowlege, interests, and expertise. The excursions provided by the cruises are understandably aimed at a very casual audience who simply wants to see some fun stuff, sip some wine, and take some photos and memories home. That's totally fine. However, you won't really learn much or be able to explore the nuances of what makes Valle de Guadalupe special.
However, one BIG consideration is that the wineries are 45-minutes to an hour from the cruise port in Ensenada. As with any private tour this means that if there is a mechanical issue or accident and you are late returning, you may risk missing the ship. Luckily, for most cruises that visit Ensenada, the port is only a short two-hour drive to San Diego or four hours to Long Beach should the worst happen.
One thing I really appreciate about visiting Baja Mexico is that compared to other parts of Mexico and certainly those places we've visited in the Caribbean, most people are very nice, speak English well (or know someone who can), and aside from some areas - Baja California is also very safe for tourists. This means that while I wouldn't nessisarily recomend that you hire your own guide in some parts of Caribbean Mexico, I feel extremely safe in Ensenada.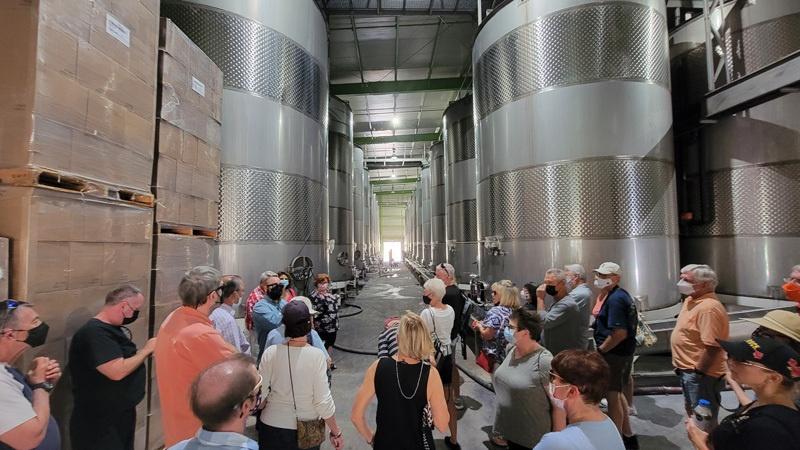 This Is A Typical Cruise Excursion Wine Tour
We've now done the standard cruise ship organized Ensenada wine tour excursion twice on two different lines, several years apart. They were both visited the same wineries and each provided a good survey of both large and small scale wine production in Baja California. While I have no complaints, it is a very basic exploration of the wine being produced in this region.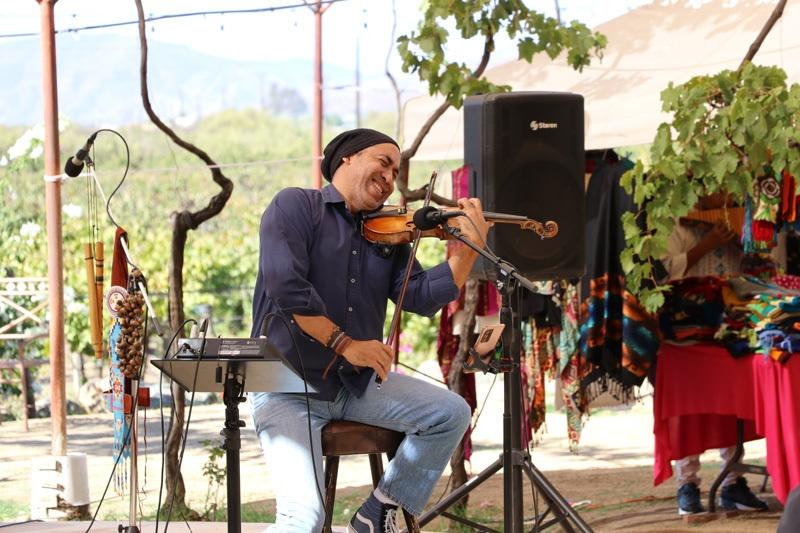 Tours Typically Include Two Valle de Guadalupe Wineries:
La Casa de Dona Lupe is a smaller winery (though is MUCH larger now than when we visited six years earlier). It offers a large outdoor wine garden and live music as well as shopping and a chance to try some local food, jams, and honey. While you can ask questions, this is more of an opportunity to sample from their large wine list. Guests are given a card that they redeem for four wine samples and then you sit down with your flight and enjoy a beautiful day while sipping wines. It is a very nice experience and they offer a wide variety of wine varietals for tasting.
LA CETTO is the largest winery in Mexico with multiple locations including this one that was the first winery to open in Valle de Guadalupe. For those who have never been to an industrial wine producer, this is a fascinating experience that includes a tour of some production facilities followed by a wine tasting and a complimentary bottle of wine to take home.
During the wine tour, the guide on our bus did an excellent narration of both the history of wine production in the area as well as sharing fun facts about wine. However this is clearly aimed at a very casual wine consumer who is probably visiting a winery for the first time.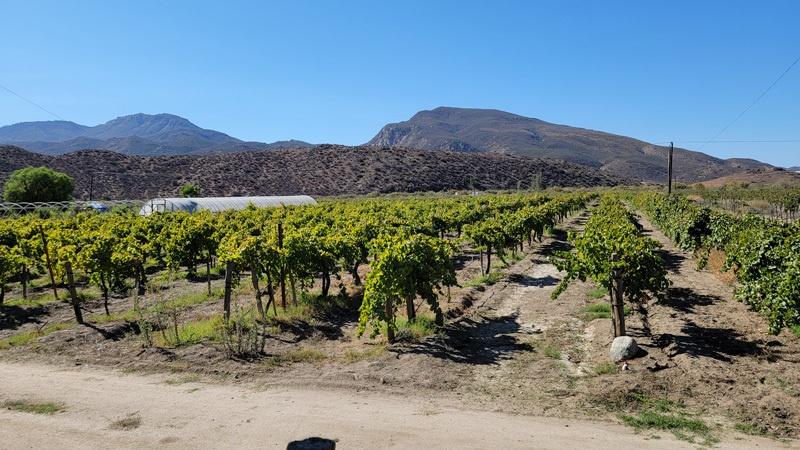 Benefits Of A Private Ensenada Wine Tour
The biggest advantage of booking a private Ensenada wine tour is that you get to customize the experience to match your level of interest and knowlege of wine.
Additionally, the comfort of a private air conditioned car or van can not be ignored. While the tour busses used by the cruise excursion operators are well maintained, being with 30+ people packed on a bus is a much lesser experience compared to being able to have a conversation with your guide while relaxing in a private vehicle.
Additionally, there are more than 100 wineries in Ensenada yet the cruise tour wine tastings only feature two of them. Just as you would find in similar tours in other wine regions, the standard wineries aren't always the best. While I've enjoyed wine from LA CETTO and Dona Lupe, I'd much rather be able to associate Monte Xanic and Pedro Domecq Vineyard with the region's large scale producers and El Cielo Winery & Resort or Decantos Vinicola with modern chic wine producers that rival wineries found north of the border.
A private wine tour guide will be able to customize your experience exploring Valle de Guadalupe so that you get the best experience possible.
Some Private Ensenada Wine Tour Operators:
The following operators may not be able to meet inside of the cruise terminal but they will all be able to meet you in town or just outside the cruise port gate. Depending on various options such as number of guests, you should be prepared to spend between $150-500 plus tip for a private tour compared to $49.99-$59.99 per person depending on your cruise line.
If you are traveling as a couple, this could make a private Calafia Valley wine tour much more expensive, but if you are joined by friends it could even be the same price but a much better experience.
Tours By Locals - visits Valle Santa Tomas as well as Valle de Guadalupe wineries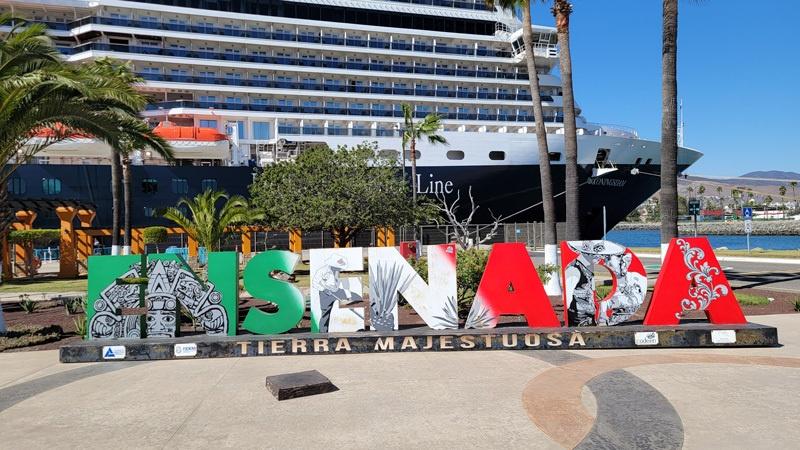 Ensenada Wine Tour Excursion - Great For Wine Lovers!
Many people look at a cruise visit to Ensenada as an obligation on their otherwise California Coastal Cruise because they never venture outside of the bars and shops downtown. The reality is that Baja California is just as beautiful as any other part of the Pacific Coast and in particular this cruise port is right between two excellent Mexican wine regions - Valle de Guadalupe (north) and Valle Santo Tomas (south).
While the phrase "Napa of Mexico" might elicit a smirk on many people's faces, the truth is that this area is rapidly maturing and the wine is getting better each year as it transitions from a cheap wine producing area to one where people are willing to invest in premium production and cultivation methods.
If you are on a cruise to Ensenada, this is one excursion you should absolutely consider!