Puerto Vallarta, Mexico is a fabulous cruise port that is safe for American visitors and offers a wealth of cultural, eco-tourism, and foodie excursions that you won't want to miss.
Located on the East end of the Bay of Bandaras, is a resort town that serves as the gateway to Jalisco - the home of tequila. Because of its location and its role as a year-round resort town for Americans as well as Mexican tourists, visitors here will find a robust economy that can be navigated easily on your own speaking only English. While We recommend taking a bus from the cruise port and walking the Malecon looking at sculptures, enjoying local artists, dining in waterfront cafes, or venturing into the foothills to explore sites such as the villa once owned by 60's movie stars Elizabeth Taylor and Richard Burton.
Once you visit, you'll understand why this is a hidden gem that most people don't think about when they consider taking a cruise to Mexico. This is a city where culture and natural beauty convene to offering a unique and unforgettable experience. From the white sand of the beaches to the sharp bite of the tequila, there's so much in this town that sets it apart. Here are the top seven activities to check out in the limited time you've got.
Take a Walk on the Boardwalk
Puerto Vallarta's boardwalk, or "malecón" in Spanish, is a supremely beautiful spot for a stroll. You'll have a stretch of shops and restaurants on one side of you and the dazzling waters of the Pacific on the other. The dining options are as varied as they are delicious, and the walkway is full of cultural and artistic delights. The Hotel Rosita, the oldest such establishment in town, is among the highlights of this remarkable walkway.
Stroll Through Downtown
Once you've made your way inland from the boardwalk, you'll be right in the midst of the gorgeous downtown. The area is considered a cultural heritage sight, and once you're there you'll see why it deserves this distinction. The cobblestone streets, old churches, and colorful buildings give the city center a unique, charming feel. Between the murals and prominent sculptures, the downtown is another great spot for lovers of the arts. If you're a foodie, you can't go wrong with a lunch at one of the many restaurants and cafes.
Check out the Marina
If you're into boating, fishing, or seafood, then you might want to head down to the Marina Vallarta, a relaxing corner of the city with a massive whale statue and a pleasant atmosphere. If you have time for a fishing excursion, then this is where you'll leave from. Even if you're remaining on shore, the marina is still worth the trip. The restaurants are excellent, and the markets are perfect for meandering and buying souvenirs.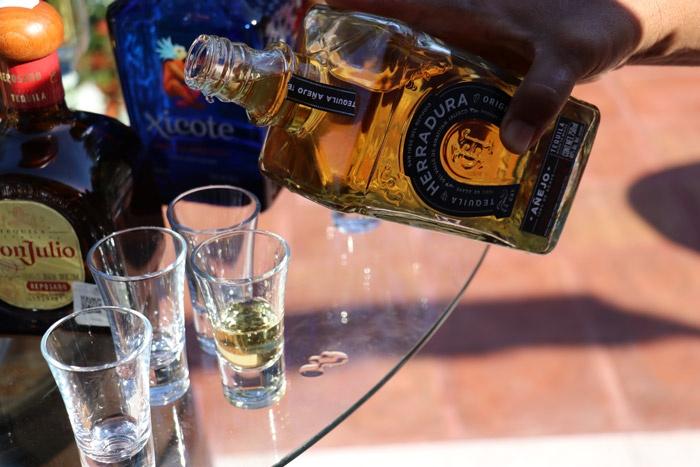 Drink Some Tequila
Puerto Vallarta is located in Jalisco, the same state as Guadalajara. Not only is that city a cultural and economic hub, but it is also the home to one of Mexico's most famous exports: tequila. It should come as no surprise, then, that Puerto Vallarta is Mexico's coastal town with the best tequila-drinking opportunities. Try tossing a few back in a local cantina, or, for a more comprehensive experience, book a tour of local distilleries. Tequila might be famous worldwide, but it tastes much better in its natural habitat.
Listen to Mariachi Music
Mariachi music is another hallmark of Jalisco, and you should make a point of hearing it while you're in Puerto Vallarta. If you've got time, consider attending a mariachi show. If you're in too much of a rush, try to catch a song or two in the city center. Don't worry that you're missing out on the real experience; a quick listen is more in keeping with the spirit of these itinerant troubadours, anyway.
Take the "Art Walk"
In addition to the public art downtown and along the boardwalk, there are also a number of galleries showcasing the work of local, national, and international artists. Pop in to check out the artwork, or, to truly immerse yourself, consider booking an "Art Walk" tour. The service includes a stop in over a dozen galleries, along with explanations and descriptions. You might not need this background information to appreciate art, but it certainly makes the experience more interesting.
Chat with Locals
Puerto Vallarta has been named the "friendliest city in the world," and once you interact with the locals you'll agree full-heartedly with this designation. The people are generally happy, outgoing, and eager to show off the city they're so proud of. Take advantage of this generosity of spirit by chatting up the waiters, bartenders, and tour guides you come in contact with. There's really no better way to experience a place than through its people.
What To Do In Puerto Vallarta: