Scenic Eclipse made a quick stop in San Diego yesterday and we were invited aboard to take a tour of this incredible "Discovery Yacht". I was first introduced to Scenic at Cruise World in 2019 but never thought I'd actually have a chance to visit this incredible ship in person. At the time I was simply wowed by the visual beauty, features like having both a helicopter and submarine, as well as the technology features like being able to hold a position without an anchor due to it's industry leading technology. What I didn't quite "get" was that as any experienced cruiser knows ... the hard product is only one part of the equation.
While our experience expoloring Scenic Eclipse is limited to what we saw while walking around the ship for a few hours and talking with crew, it is clear that the reason you pay the premium for a cruise on Eclipse isn't just those features listed above. Instead, it's the benefits that those features offer from a practical perspective. In a world where everyone can copy each other's features, true luxury is delivered through the ability to experience exclusive things that nobody else can deliver.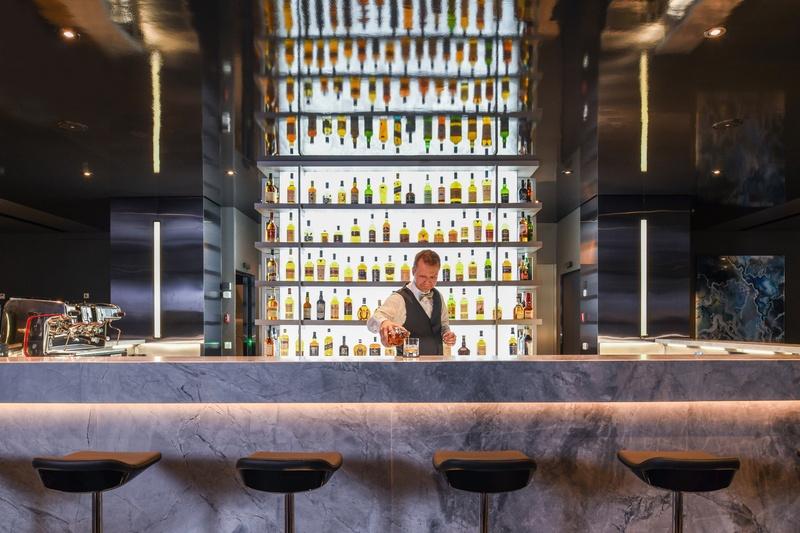 Scenic is clearly the leader in this space - so much that they've created their own category, "Discovery Yacht'. While others maintain the moniker of "expedition ship" or call themselves a "luxury expedition ship", Scenic is trying to do something different here.
This isn't to say that offerings by Viking Expedition Cruises aren't going to be extremely well equipped and able to offer similar features and services. However, the impression I got from the captain and crew on Eclipse was that they are reaching that same point by coming at it from the perspective of having developed a true "yacht" experience that then also has those expedition features in a budget-be-damned point of view.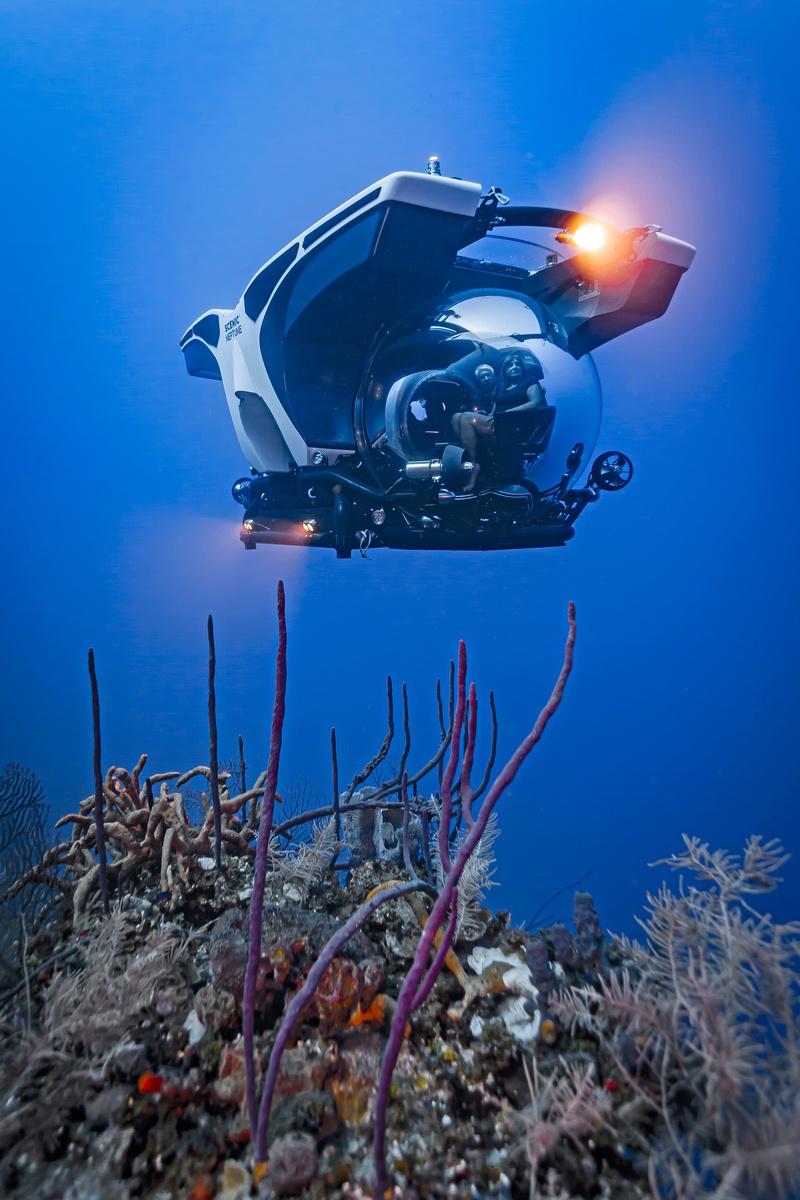 This level of luxurious yacht-like service was clear in three ways that were immediately noticable compared to other vessels that offer more of a expedition or small-ship experience.
Every few weeks it seems like someone else launches a new expedition vessel as that segment rapidly moves away from offerings where guests are willing to sacrifice creature comforts to experience bucket-list experiences. Scenic Eclipse though seems to prioritize the small intimate yacht-like experience of friends traveling together, not "we're all friends now since we're traveling together" feel that other expedition cruises offer. That's not to say that one is better than the other but if I were planning a 50th birthday party, retirement celebration, or college reunion ... having something like this just makes it feel that much more exclusive and special.
truly intimate dining venues
Scenic promotes that there are "up to 10" dining options on Eclipse and on paper this sounds great but on a 17,085 GT ship with only 228 that seems like overkill and nearly impossible. What they've done is though is construct very intimate venues where you might only have 6 or 8 guests dining together at a time, However, they also have larger dining venues and private spaces where a couple can enjoy a romantic dinner by themselves of course too. This was evident at the Night Market (formerly a teppanyaki restaurant but now a pan-asian experience which seats fewer than 10 guests at a time) and the invitation-only Chef's Table, which truly feels like you are in a private dining room with your guests on your own yacht.
To put this in comparison, when dining in the private restaurants on MSC Yacht Club or NCL Haven, you are in a very nice ... but very public space. While there are premium restarants in the rest of the ship, well ... it's a different group of people and not nearly as exclusive or the same level of service that you might get from a true yacht experience.
features driven by how they can deliver exclusive expereinces
Let's face it - virtually every new build in this space now features a helicopter and/or submarine. This is no longer an exclusive feature like it was when Scenic first launched Eclipse in 2019. However, like any tool ... it's how you use it that makes a difference. Here on Eclipse those features such as massive zero-speed stabilizers, bottom facing sonar, and GPS Dynamic Positioning combine to allow guests to explore sensitive but beautiful spots around the world that others can't. For instance in the Red Sea, Eclipse was able to visit a tiny private island surrounded by coral reef. Since they didn't need to anchor and could map the bottom with their special sonar to avoid reefs ... they could, where as other cruise ships were prohibited. Similarly, in the polar regions they can actually pull along side mobile chunks of sea ice and let guests off. Normally this would be impossible since both the ship and ice are moving. However, because of the way the azipod thrusters are connected to the ships Dynamic Positioning system it is possible.
Finally - one of the hidden rules of Antarctic expeditions is that similar to how ships are limited in fjords and Alaska glacier spots, in Antarctica, vessels are usually limited to only five-hours per stop. This means that ships that can unload and re-load the quickest offer the most value to their guests in terms of time experiencing the wonders that they are paying an enormous amount of money to see. Scenic Eclipse has a loading bay for their Zodiacs inside the hull, instead of having to hoist various water toys from top decks taking up precious minutes.
The same is true for the stabilizers, propulsion, and Polar Class 6 design which combine to also allow Eclipse to get through the Drake Passage faster and in a higher level of comfort than most other expedition ships.
ocean-friendly design at a level exceeding it's guests own sustainability efforts
At the end of the day, just like having a driver take you around town in a Cadillac Escalade or a Bently isn't exactly the most eco-sensitive transportation option, sailing around the world in a giant yacht isn't going to earn you any points from Green Peace. However, I was extremely impressed that short of offering battery-hybrid systems like on Hurtigruten's newest ships, Scenic Eclipse addressed pretty much every point they could practically do without sacrificing the "Six Star" experience they strive to offer guests. For instance, they even treat water used for their ballast systems before returning it to the ocean. Additionally, they are using advanced engines that the captain said offers a 30% fuel economy benefit over similar vessels and they run on low-sulphur marine diesel fuel, which is decidedly the best option and I think is still a better option than LNG despite being much more expensive.
Inside the vessel they don't use plastic water bottles or single use glass and instead deliver water to the rooms in carafs similar to Virgin Voyages. Additionally, almost all of the materials used inside Eclipse are sourced with the objective of finding items that are sustainable and eco-friendly.
A Quick Tour Of Scenic Eclipse
Short visits like this are tough to capture the true beauty of Scenic Eclipse but just like how our tour whetted my appetite for a true cruise with Scenic at some point in the future ... I'm sure this video will inspire you as well.
Ship Visits Like This Are Why It's Important To Work With A Travel Advisor
I'm fortunate to be married to Heather from Flow Voyages and so we tag-team on our ship visits and compare notes so that her clients and our readers are always are aware of the best options. This is easier to do on big mass-market lines since they are similar and frankly far less expensive to simply travel on ourselves so that we can share our experiences with you guys.
With the luxury small ship space however, the industry is becoming increasingly more crowded. Most of these newer ships seem very similar but once you spend even a few hours walking around and talking with the folks that create the experiences that draw guests to sail with them on repeat voyages, certain things become clear. Service is the differentiation between luxury brands - not bullet points on a website.
That was true here as well. In this case it was the sense of relaxed confidence that will immediately make guests feel comfortable. Not just that a guest can relax with a Scotch from their main bar that contains over 100 different whiskies, but confident that they will take care of everything you need or want and probably do so even before you know who to ask if it can be done.
If you are interested in more information about sailing on Scenic Eclipse, please contact Heather at FlowVoyages.com or fill the contact form in the article above so she can reach out to you.