Aside from the Golden Gate Bridge, there is nothing more iconic than the historic San Francisco cable cars. This cable car system dates back to 1869 when the inventer Andew Smith Hallidie came up with the idea as a replacement for the then standard horse-drawn streetcars that were being used in the city. Over the next 150 years this system became both an urban nessecity to move people throughout the city and later one of the most popular tourist attractions in California.
I know that some people coming to San Fracisco on a Coastal California cruise will probably head north on wine tours in Sonoma and Napa Valley or head out on tours to "The Rock" to see Alcatraz, perhaps America's most infamous prison, while others might do a food tour through China Town. However, a visit to the San Francisco Cable Car Museum and a chance to ride these restored cable cars up and down the hills is probably one of the most overlooked shore excursion ideas when visiting the City By The Bay.
What To Expect During A Visit To the Cable Car Museum?
As you can see from the video above, this is a dynamic museum that is far from a bunch of static displays. While a walk through the museum will usually take less than an hour, it is an excellent opportunity to learn about the history and technology behind how these cable cars work.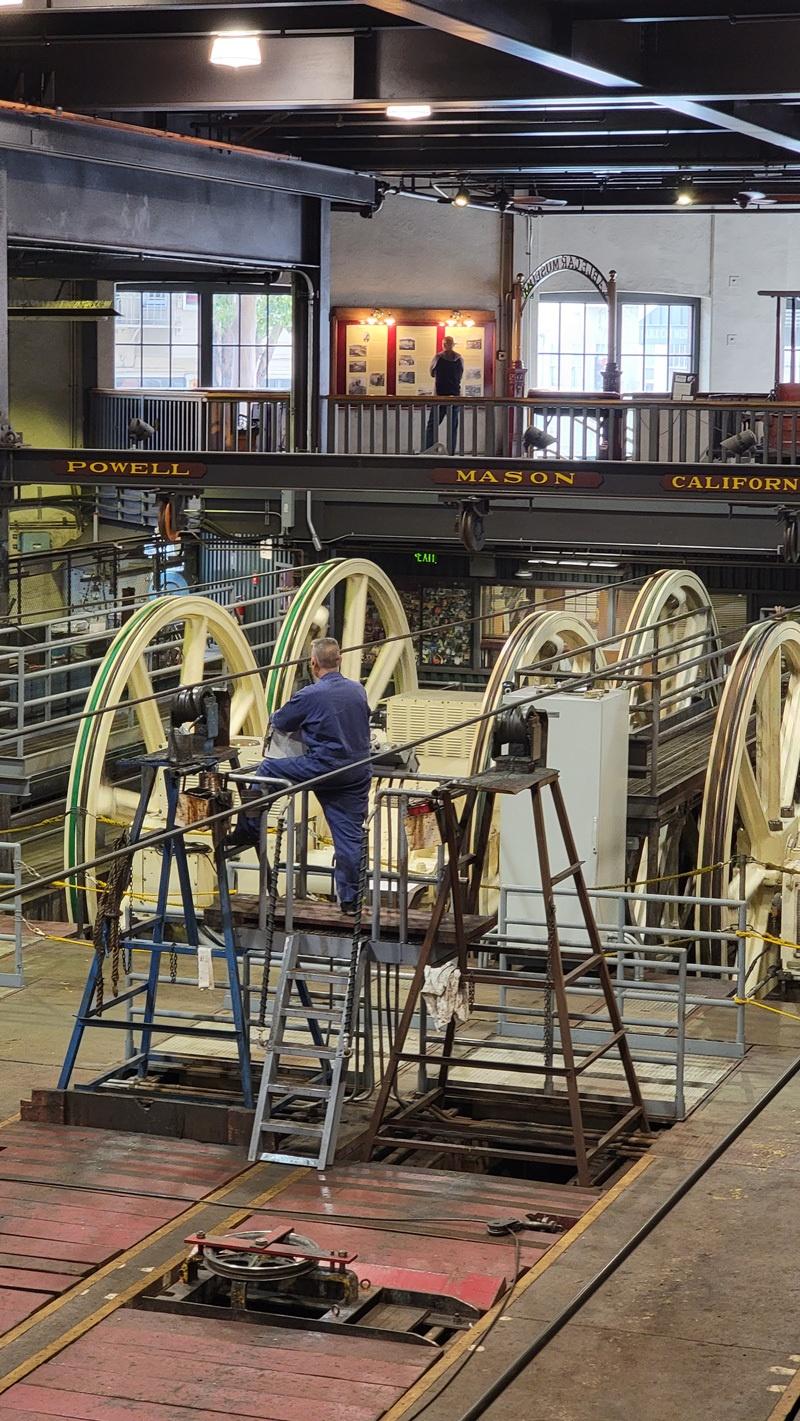 Located in the historic cable car barn and powerhouse at Washington and Mason streets, the the centerpiece of the museum is the giant electric motors that pull the miles of cable through the city. The cable car system was original powered by steam engines but were eventually replaced with electric ones but don't expect a quiet experience. These are big antique machines and absolutely an industrial environment so if you have trouble with high levels of sound, you may want to bring ear plugs but for most people the noise will not be a problem.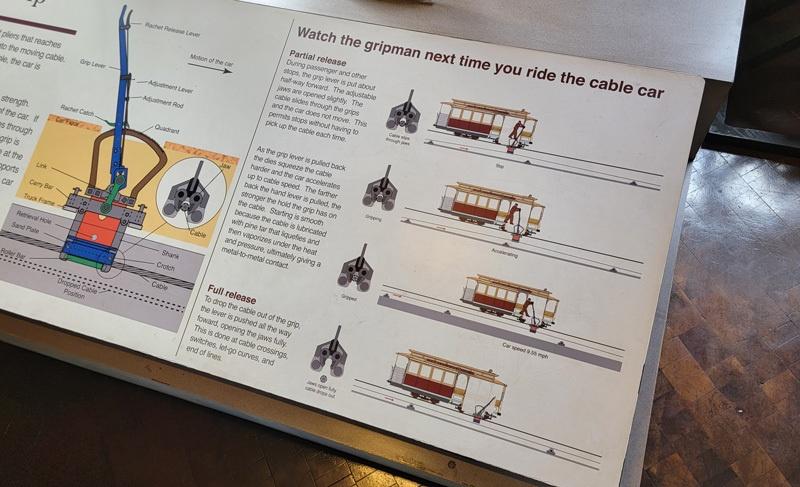 Around the deck located on the second level of the building is a series of exhibits including three antique cable cars from the 1870s, pieces of equipment to show what the trucks, grips, cables, and other parts of the cable cars look like up close.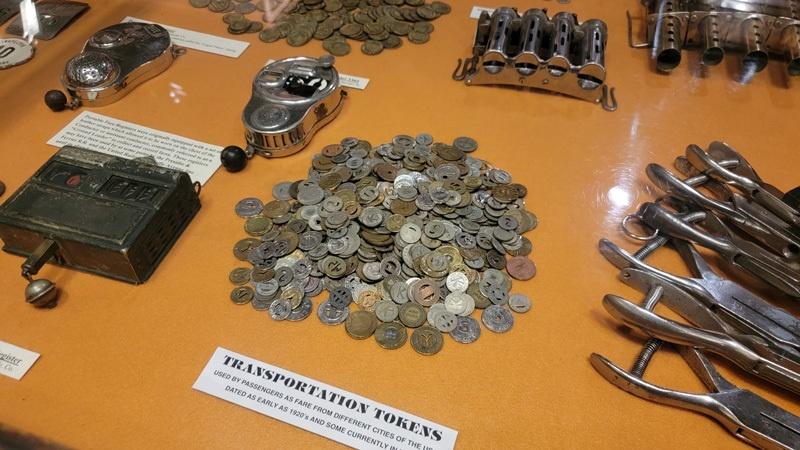 Additionally, you will find a wide variety of artifacts collected from the nearly 150 years of cable cars operating in San Francisco including tokens,
Finally - and potentially most fascinating for history buffs like myself - there is a large portion of the museum dedicated to the fight to restore the cable car system.
After 100 years of constant operation, the costs to maintain the system had overcome the ability to maintain it properly and in the 1970s things began to wear down and become badly deteriated. For years the future of the system was subject to iintense debate but ultimately the people who loved the cable cars and wanted to keep them won out.
In 1982, service was suspsned while the entire system was re-built and reopened in 1984. This wasn't an easy process but it was ultimately the right choice and something that the residents today can look at with pride.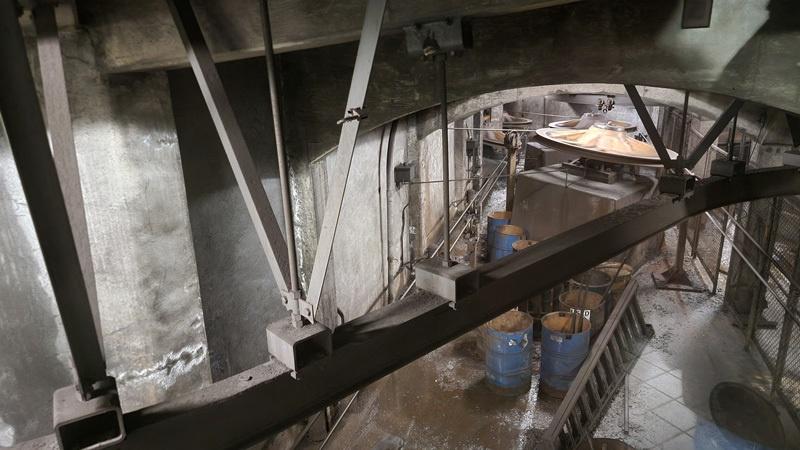 Before departing the building completely, guests should also go downstairs to see what the cable system looks like under the streets.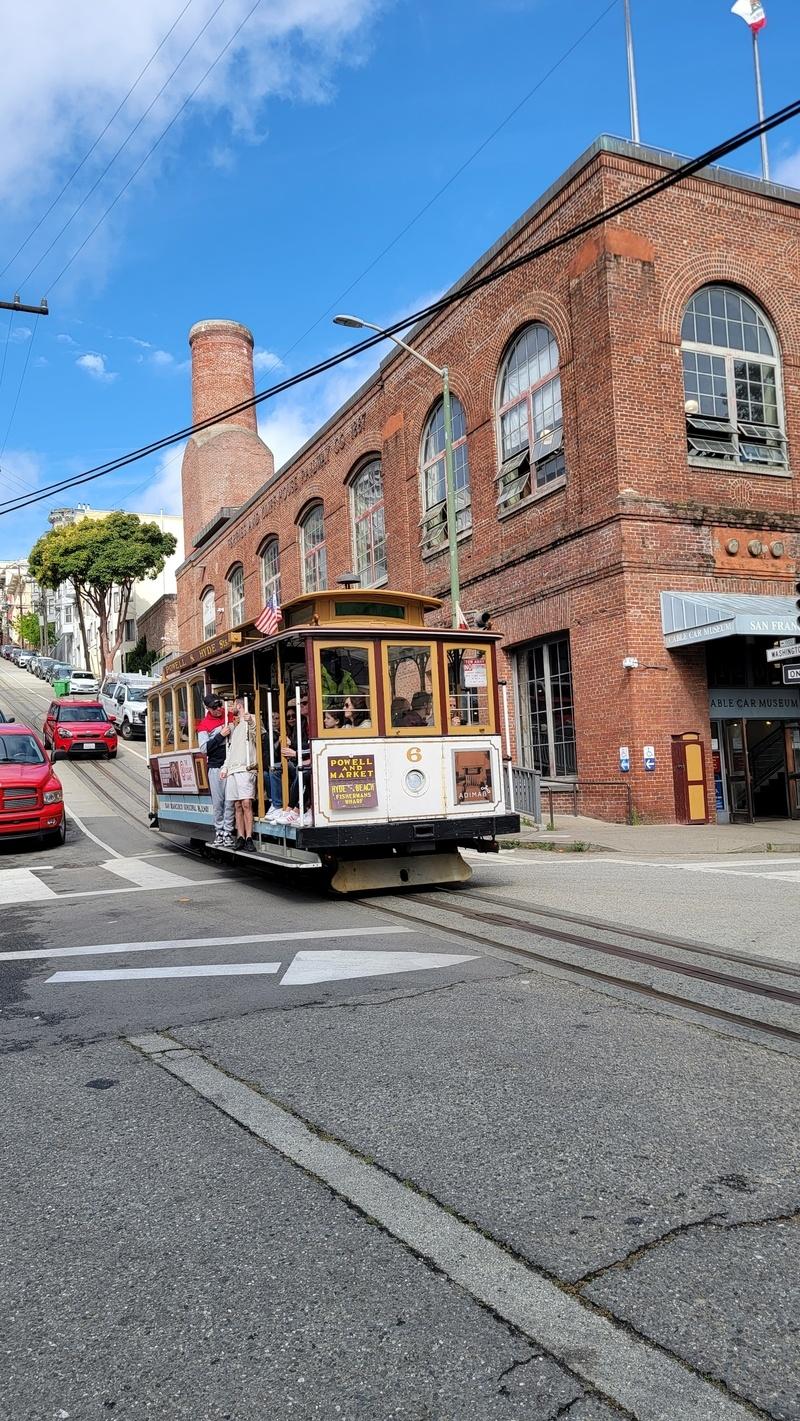 How To Get To The Cable Car Museum From Cruise Ship Pier?
There are several different places where cruise ships dock in San Francisco
Fisherman's Warf Area
Pier 27 is the primary dock and has the newest facilities
Pier 35S is closer to Fisherman's Warf
This is generally where larger cruise ships dock, including vessels from Princess, Holland America Line, Celebrity, Disney, and Carnival. However, depending on the port load, you may also find smaller ships using Pier 27 or Pier 35S
Bayside Area
Piers 30-32 is occasionally used by smaller vessels such as expedition cruise ships as well as small ship luxury lines. In 2022, this included vessels from Silversea, Oceania, Regent, Scenic, Windstar, Swan Hellenic, and Viking.
The quickest way to reach the San Francisco Cable Car museum would be to take a rideshare or taxi. You can also walk (1.3 miles), though it is easier to do this on the return since you will be mostly walking down hill. However, if you are are at one of the piers located in the Fisherman's Warf Area you could walk over to the Powell / Mason Cable Car Turnaround (about 1 mile from Pier 27, slightly less from Pier 35).
This is an ideal opportunity to complete your San Francisco cable car experience since you could ride it all the way to the museum.
How Much Does It Cost To Ride The Cable Cars?
San Francisco's cable cars are run by the same SFMTA organization as the rest of the city's public transportation system such as Muni and Bart. You can pre-pay using MuniMobile or Clipper Card systems. You can also purchase fare in cash.
A single cable car ride ticket costs $8 and is a great option if you just want a quick taste of the experience - for instance taking the cable car one direction and walking or taking a rideshare or taxi back to your ship.
If you are visiting San Francisco and want to be able to explore more of the city than just a single ride on one of the cable cars, a 1-Day Visitor Passport is a great option. This allows for unlimited Muni rides (includes buses, light rail Metro trains, historic streetcars, and cable cars). Pricing is $13 for MuniMobile and $24 on Clipper Card or a Paper Passport.
How Much Are Tickets To The Cable Car Museum?
San Francisco's Cable Car museum is free!
The museum is closed on Mondays but open Tuesday-Thursday 10am-4pm and 10am-5pm on weekends.
While the city is one of my favorite places in California to visit on a cruise, I'm often surprised at how few people take time to visit the museum. It is a fantastic location to learn about history, technology, innovation, and through the tale of the struggle to restore the cable cars to their former glory, the power of the people of this city to bring something back that most people probably thought was impossible to recover.
So, next time you are on a cruise and you see San Franisco on your itinerary, don't feel compelled to spend all day driving around in a tour bus ... take a quick walk, a fun ride, and immerse yourself in one of the most unique experiences you can find in the city.