Modern, stylish, family-friendly, and tropical vibes describe the Royal Caribbean Navigator of the Seas ship perfectly. This newly refurbished ship has state-of-the-art technology, private cabanas, massively enhanced suites, an indoor and outdoor suite lounge, delectable restaurants, a thrilling water park, the longest water slide at sea, mini-golf, and so much more that will make your vacation one to remember.
One of the most exciting aspects about this ship is it sails out of Los Angeles and has excellent itineraries to choose from that will make the entire family happy. In addition, this is the first RCL ship to be homeported in California in more than a decade. President and CEO of Royal Caribbean International, Michael Bayley, said in a statement, "California was calling us home again, and what better way to reintroduce RCL than to bring our next-level cruise vacations to the City of Angels and make it a year-round adventure."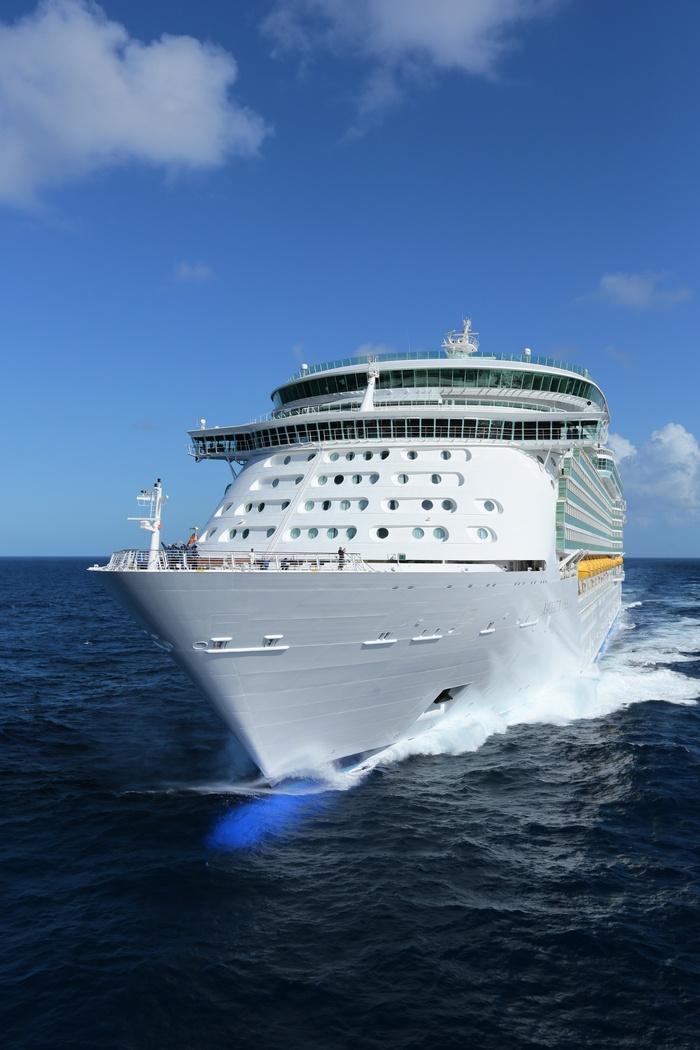 What To Expect On Navigator Of The Seas
Navigator Of The Seas is a Voyager class ship from Royal Caribbean that launched in January of 2002 and was christened by tennis legend, Steffi Graf who serves as the ship's godmother. At the time of it's launch, Navigator Of The Seas was the world's largest cruise ship and today sits at 139,999 gt (far shy Wonder of the Seas at 236,857 GT, which is planned to launch in 2022). Navigator is also smaller than Norwegian Bliss (168,028 GT) who will also be docking in San Pedro, offering Mexican Riviera cruises from Los Angeles. However, she is slightly larger than Carnival Panorama (133,868 GT) that will be sailing out of Long Beach on the other side of the bay.
Passenger capacity is 3,990 which puts it just below Norwegian Bliss and Carnival Panorama, which also sail out of Los Angeles.
Like most cruise ships, Navigator of The Seas has a minimum age policy requiring anyone younger than 21 to be accompanied in the same stateroom by an adult who is 21 years of age, or older.
On board Navigator Of The Seas guests will experience an essentially new cruise ship because it was completely overhauled in January of 2019 with a $115 million dollar "Royal Amplified" process that added new dining, drinking, entertainment, and other features to help it compete with newer ships.
One Of The things we are excited about with this is that while some vessels have reduced loyalty member and suite perks, Royal Caribbean has actually enhanced them. For instance, the Suite Lounge on Navigator Of The Seas is huge with tons of natural light indoors and even an outdoor space as well. Additionally, several areas outside are also reserved just for suite guests.
Like the subsequent ships from Royal Caribbean - including Freedom Class, Oasis Class, and Quantum Class ships, Navigator Of The Seas features a Royal Promenade. However, as the Voyager Class Ships were the first to feature this design element, it can be a bit more crowded than what you'd find in later versions.
From our perspective, the combination of features here makes Navigator Of The Seas one Of The best options for guests looking to take a cruise from California who would normally go to a luxury cruise line like Viking or Crystal but maybe want a shorter voyage with friends and family members who perhaps can't afford the time or money for a luxury cruise from Los Angeles.
Health and safety protocols related to cruise travel are still evolving and regional travel restrictions are as well. However, we expect all of Royal Caribbean's existing health and safety protocols to be in effect. However, you should always work with your travel advisor to ensure you are up to date on the US center for disease control travel advisories and those of California and other counties you might be visiting on the voyage.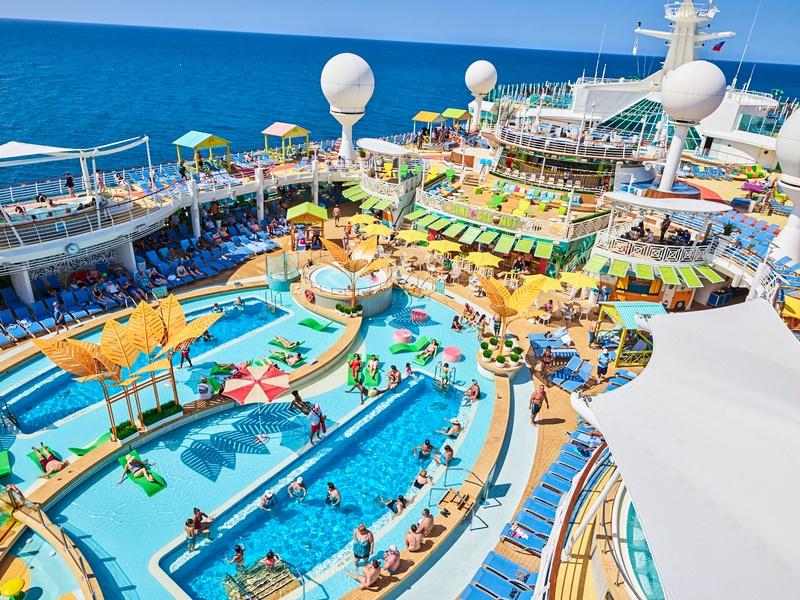 Is Navigator Of The Seas a good ship?
Our opinion is that Navigator Of The Seas is absolutely one of the best ships to cruise from Southern California. Los Angeles has been blessed with three fantastic cruise ships this year and when you include Holland America Line's Koningsdam out of San Diego that offers folks looking for a cruise from California four world-class cruise vacation planning options to choose from.
Whether Navigator Of The Seas is a good ship for you depends on what you are looking for. Without a doubt, if you are a passionate fan of the Royal Caribbean brand and experienced sailing with them in other parts of the world then you will love this ship.
Additionally, families looking for short weekend getaway cruises to Mexico but want something a bit more sophisticated than Carnival will find that Navigator Of The Seas is a good ship for them too.
With options such as an ice skating rink, playmakers sports bar, flowrider surf simulator, water slides (especially the Blaster Aqua Coaster - the longest waterslide at sea!), and even complimentary tacos at El Loco Fresh, I'd have to say that Navigator of The Seas is more than just a good ship!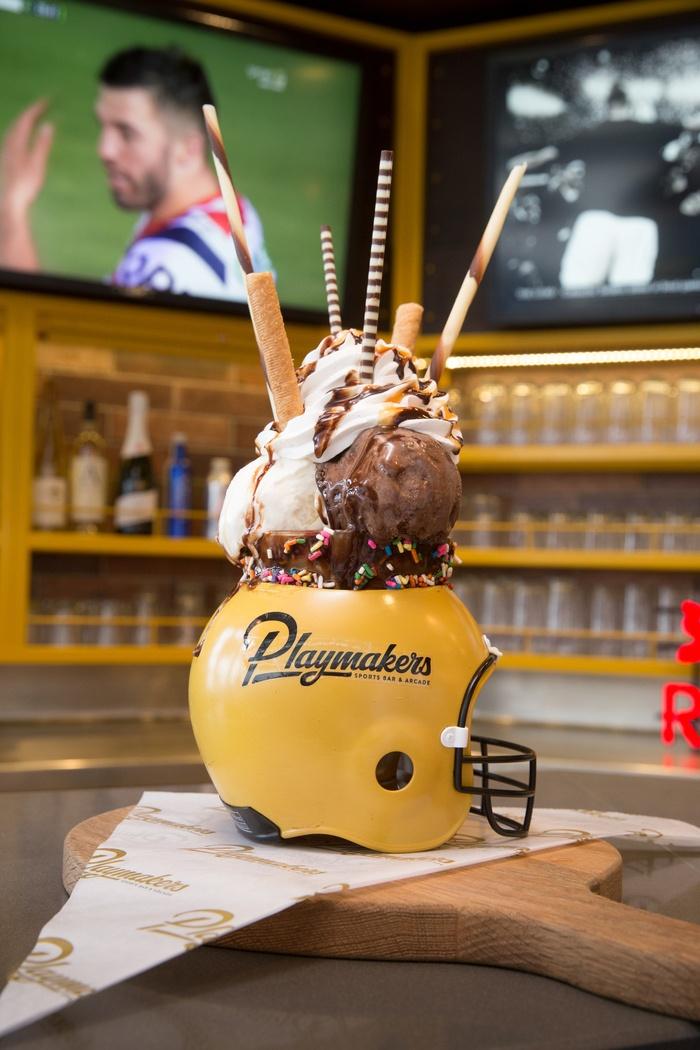 When was the Navigator Of The Seas refurbished?
Navigator Of The Seas completed it's Amplified refurbishment process in January of 2019.
Highlights that were added during dry dock include new water slides, "To Dry For" Blow-dry bar, a completely reimagined lido deck and pool deck area, new bars and dining options such as The Lime & Coconut which offers a rooftop deck that is perfect for people watching, and The Bamboo Room tiki bar as well as tons of other features.
Royal Caribbean Cruises From Los Angeles Again!
The Navigator Of The Seas offers 3, 4, 5, and 7-night cruises from Los Angeles.
Navigator Of The Seas Cruises From Los Angeles
3 Night Ensenada Cruise – This cruise sails from Los Angeles to Ensenada, Mexico.
4 Night Catalina and Ensenada Cruise – Hop onboard in Los Angeles and sail to Catalina Island, California, and Ensenada, Mexico and return to port in Los Angeles.
5 Night Cabo and Ensenada Cruise – This cruise visits Cabo San Lucas, Mexico and Ensenada, Mexico.
7 Night Cabo, Vallarta, Mazatlan Cruise – This cruise visits Cabo San Lucas, Mazatlan, and Puerto Vallarta, Mexico.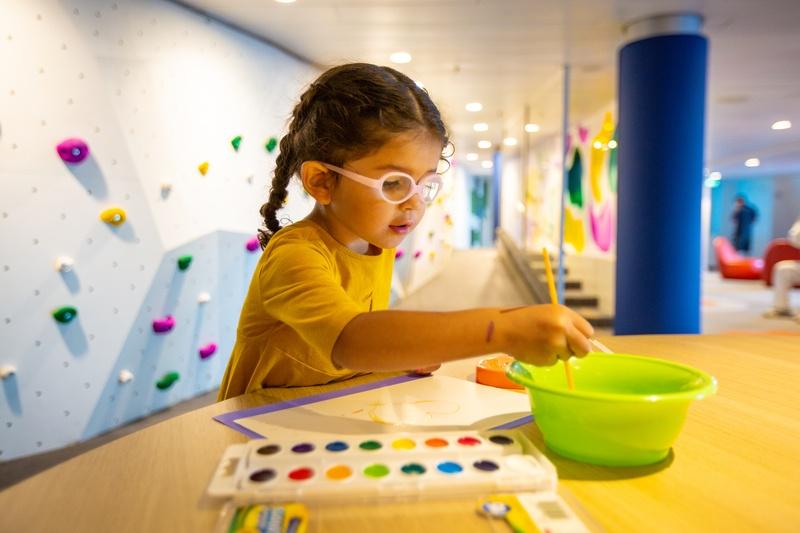 Navigator Of The Seas May Be California's Best Ship For Families With Kids
While Carnival is traditionally the family-friendly option that most cruise fans from Southern California look to, Royal Caribbean is the leader as far as we are concerned. While Carnival has a great reputation for being the "fun ships", vessels like Royal Caribbean Navigator Of The Seas combines sophisticated adult fun with first class family fun in a way that most other cruise lines simply fail to do.
This family-oriented ship is kid-friendly and designed to keep everyone entertained. The award-winning Adventure Ocean Kids Club has been reimagined and designed to allow kids to choose their adventures. The fun and exciting program is separated by age ranges to ensure optimal fun directed towards the specific interests of each age group. The activities are decided for each cruise and can be discussed at the front desk.
All children's activities are monitored closely by trained professionals who include both males and females." "Both genders ensure that all areas such as education, recreation, and safety will be taken into account during any activity while ensuring they stay up-to-date about new developments from Florida state standards.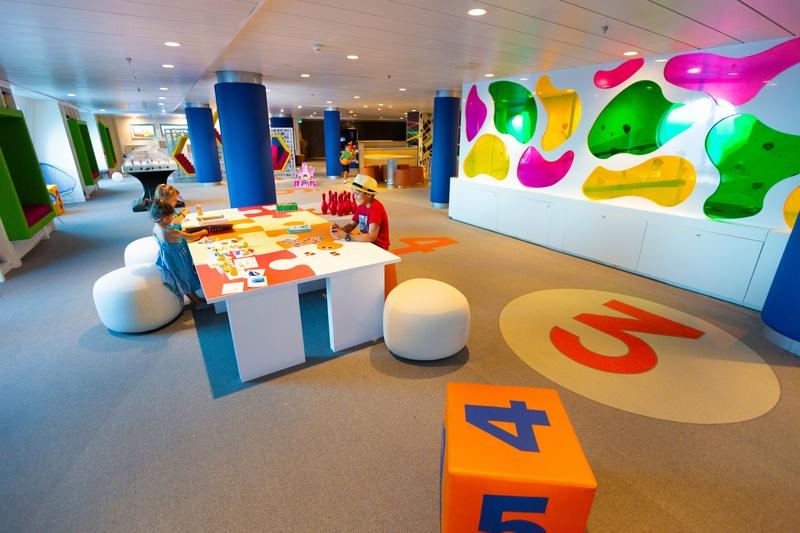 Royal Caribbean Kids, Youth And Teen Programs:
Royal Caribbean offers one of the best programs for families with infants, kids, and teens at sea. While this is true for their facilities, the trained staff make it even better. Here's what to expect.
Royal Babies & Tots 6 mos – 36 mos
With lots of toys and activities to keep your little ones occupied, the Royal Babies and Tots nursery is a great way for parents on vacation with children under three years old to spend some quality time together.
Adventure Ocean Drop Off Programming
Aquanauts 3-5 years
Explorers 6-8 years
Voyagers 9-11 years
The large room for children six months to 5 years old has vibrant décor, carpeting, plenty of room to play, access to toys, and a specially designed bathroom made just for kids.
The general play area for children up to 11 years old is a large space that features a rock climbing wall, colorful décor, tables and stools, televisions, video games, and movies.
Teen Program
Teens 12-14 years
Teens 15-17 years
Tweens and teens ages 12 to 17 will enjoy their own urban loft-style room with televisions, tables, and chairs for arts and crafts, books, a large screen to watch movies, a pool table, and a video game nook with video rockers.
Even More Activities Families Will Love To Do Together
Challengers arcade teen area features classic video games, skee ball, virtual reality Jurassic Park, and more. The arcade is a separate charge and can be purchased ahead of time.
While your children will have tons of fun in the kid's programs, there is one family attraction onboard that kids and adults like the best, and that is the water park!
Relax and enjoy the amplified pool deck, or tap into your adventurous spirit and grab your kids for The Blaster aqua coaster. This waterslide has five waterjet blasters that propel two people through drops, dips, and a long stretch of the slide that suspends over the ocean.
Don't forget about getting swept up in the waterslide Riptide. This headfirst mat racer features an exciting curve that goes off the side of the ship and makes you look down towards the ocean for a thrilling ride you will never forget.
Finally, it would be impossible to talk about Navigator of the Seas or any other Royal Caribbean ship without talking about the flowrider surf simulator. This is a staple of any Royal Caribbean ship and is a fantastic opportunity for dads to bond with their sons, daughters, or maybe even a smack down between mom and dad to show off who's the best surfer at sea ... after all, this is Southern California and we know there are as many women as men who love to play in the waves!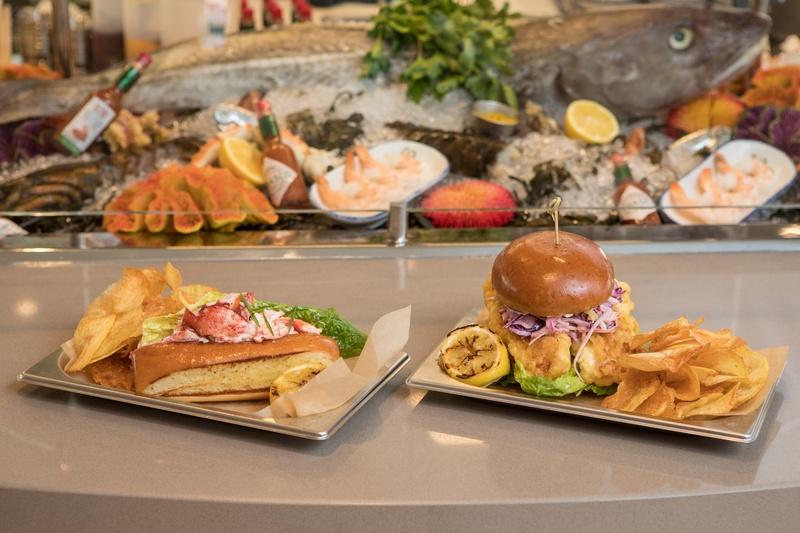 Navigator Of The Seas Dining Options
Navigator offers one of the best varieties of delicious food options, restaurants, bars, and quick pickups on any cruise from California. Our go-to choice on any Royal Caribbean ship is always is Chops Grille Restaurant, so it is nice to be able to have that close to home again. It's an elegant steak house with fantastic food your entire family will enjoy.
Navigator Of The Seas offers a wide variety of complimentary, included dining options such as Cafe Promenade where you can grab a quick bite to eat, as well as specialty restaurants like Hooked Seafood, new to Navigator, where you can get some tasty lobster rolls.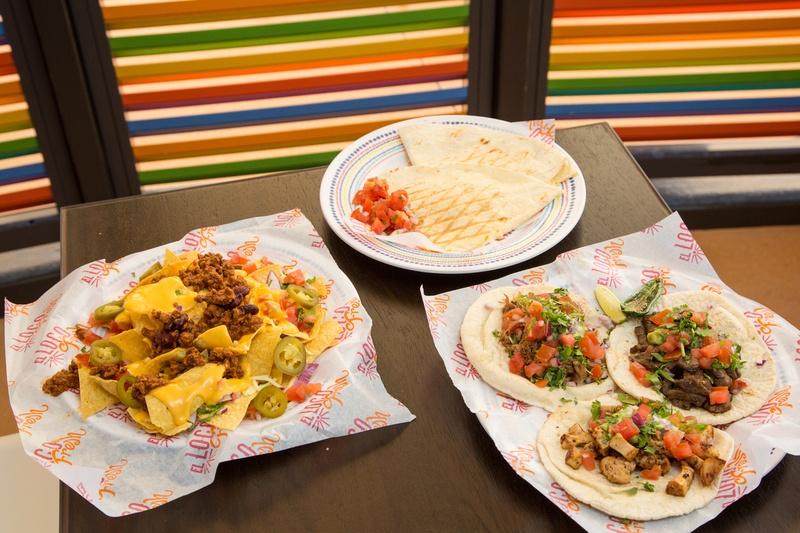 Dining Onboard Navigator Of The Seas:
If you have ever sailed with Royal Caribbean before, you'll notice some familiar dining venues below, others are relatively new restaurants that will make this cruise exciting even for experienced cruisers.
Hooked Seafood
Jamie's Italian by Jamie Oliver
Johnny Rockets Express
The Lime and Coconut island bar
The Bamboo Room
English Pub
El Loco Fresh
Izumi Sushi and Hot Rocks
Café Promenade
Windjammer
The Main Dining Room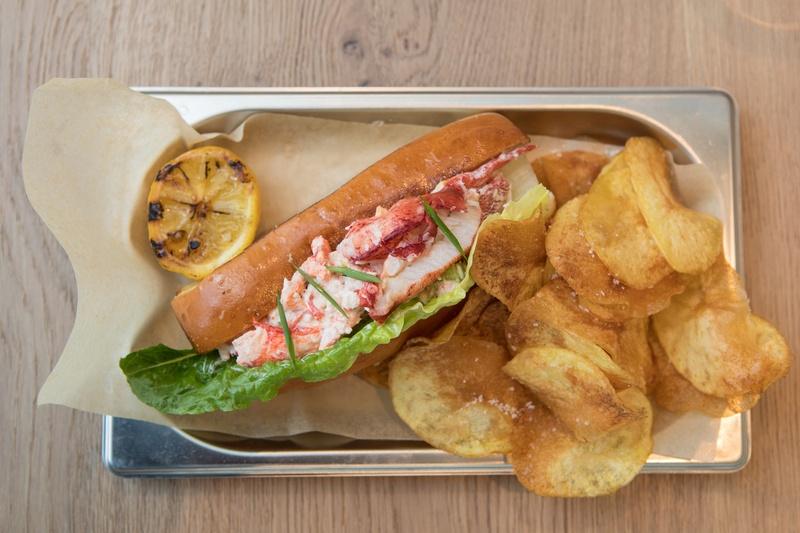 Hooked Seafood and Jamie's Italian by Jamie Oliver are our two picks here with Jamie's offering up Tuscan-inspired cuisine featuring seasonal ingredients and homemade pastas. On the other hand, Hooked Seafood is where you'll want to go if Maryland Crab Cakes, Maine Lobster Rolls, or Fresh Shucked Oysters are what you are craving.
Bars Onboard Navigator Of The Seas:
Food is great, but cruises are legendary for their bars and drinks too. Thankfully Navigator Of The Seas doesn't disappoint here either.
Playmakers Sports Bar & Arcade
English Pub
R Bar
The Lime And Coconut
The Bamboo Room
Your Royal Caribbean favorites are back as well including the Viking Crown Lounge, Schooner Bar, Diamond Club, and Suite Lounge.
We are particularly excited about Playmakers Sports Bar & Arcade since this is THE PLACE to go if you are looking for some sports action on dozens of screens while washing down wings, burgers, or a five-scoop Touchdown Sundae with some ice cold draft beer.
After all that food and drink, you might want to hit the fitness center. Don't worry ... Royal Caribbean has a great area for you to burn off some calories too!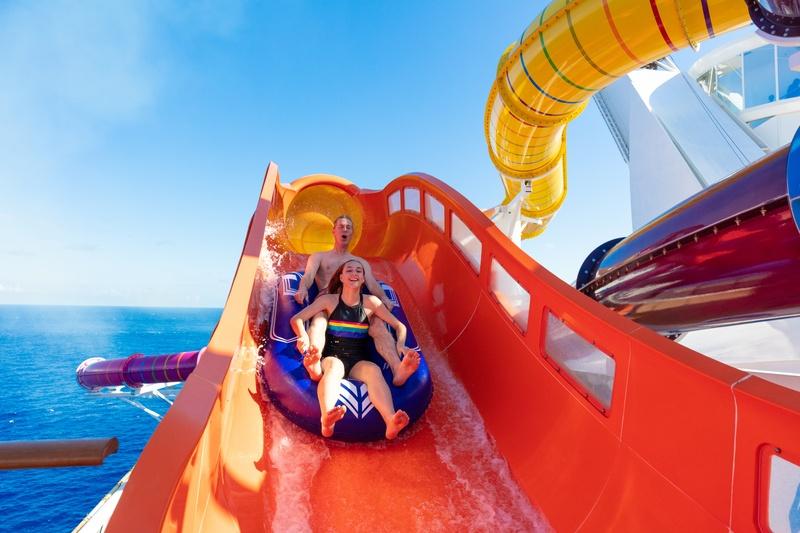 Navigator Of The Seas Activities And Entertainment
The entertaining options will keep you busy as you sail to your next port of call. Check out the following list of things to do and enjoy while you are onboard.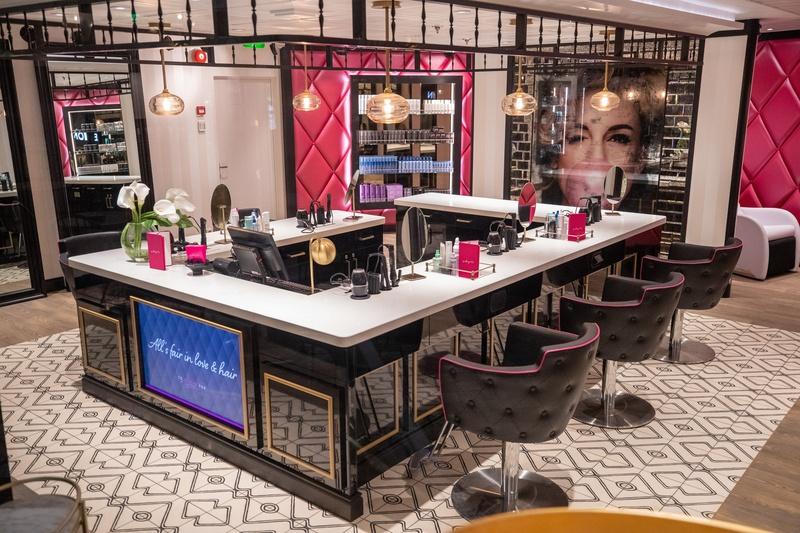 Blow Dry Bar
To Dry For is a new addition to Navigator Of The Seas and is perfect for getting glammed up for a night out on the town or heading off to the photo gallery for some glamour shots on formal night.

Royal Escape Room: The Observatorium
Are you smart enough to solve the puzzles and escape before the timer runs out? You and your team better be creative, there's only 60 minutes to uncover hidden clues, solve teasers, and work through puzzles to complete this escape room challenge.
Mini Golf
Navigator Dunes is new for Navigator Of The Seas and has been moved from the back to the front of the ship following the refurbishment. It is now one of the newest mini-golf courses at seas and features plenty of challenges from VW microbus obstacles, "water" hazards, and other challenges.
Laser Tag: Battle for Planet Z
Two forces are facing off and you've been recruited to be part of a robot civilization or the alien scouting party seeking refuge from a meganova. If you love lasers and running around in a glow-in-the-dark arena then this is the place for you.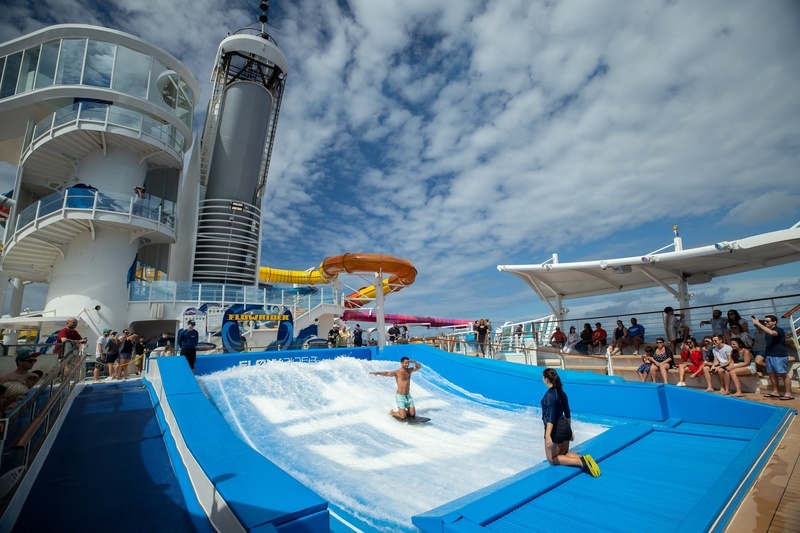 Of course, there are plenty of other activities onboard too, including favorites like: bingo, trivia, art auctions, Cupcake class, Fitness classes, Guest lectures, Wine tasting, Culinary classes, Jewelry making, Scrapbooking, Dance classes.
One thing is for sure, you won't be bored on a Navigator Of The Seas cruise!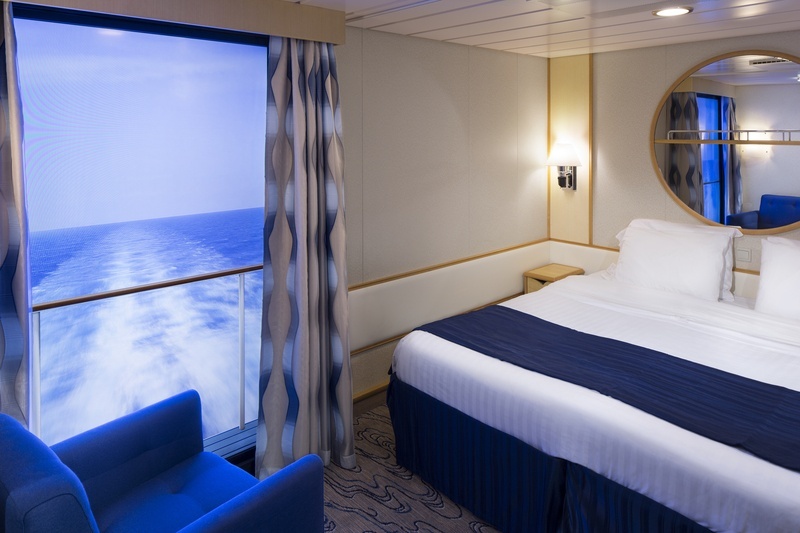 Rooms & Suites on Navigator Of The Seas
Cabin accommodations are available in four categories: interior, outside, balcony, and suites/deluxe. All categories include basics such as comfortable bedding, private bathrooms, a television, vanity, hairdryer, 24-hour room service, voom surf and stream, nightly turndown service, a daily stateroom attendant, and a telephone.
Standard Cabins and "Interior With Virtual Balcony"
The standard cabins feature comfortable bedding, a small sofa, storage bins under the bed, a full-length mirror, television, desk area, and soft carpeting. The ship also has accessible rooms, but you need to book them quickly because there are only a few.
One of the things we really like is the "Interior with Virtual Balcony." Inside cabins that don't have windows have a virtual balcony instead. It's so cool and really helps make the room feel larger and less claustrophobic.
Promenade View Interior Cabins
The ship also has a "Promenade View Interior," which looks into the ship's Royal Promenade. This unique view makes you feel like you are part of the action.
Navigator Of The Seas Suites
Suite guests have access to the expanded suite lounge and cabanas. Suite amenities can also include bathrobes, a whirlpool, and sitting areas depending on the category of your suite.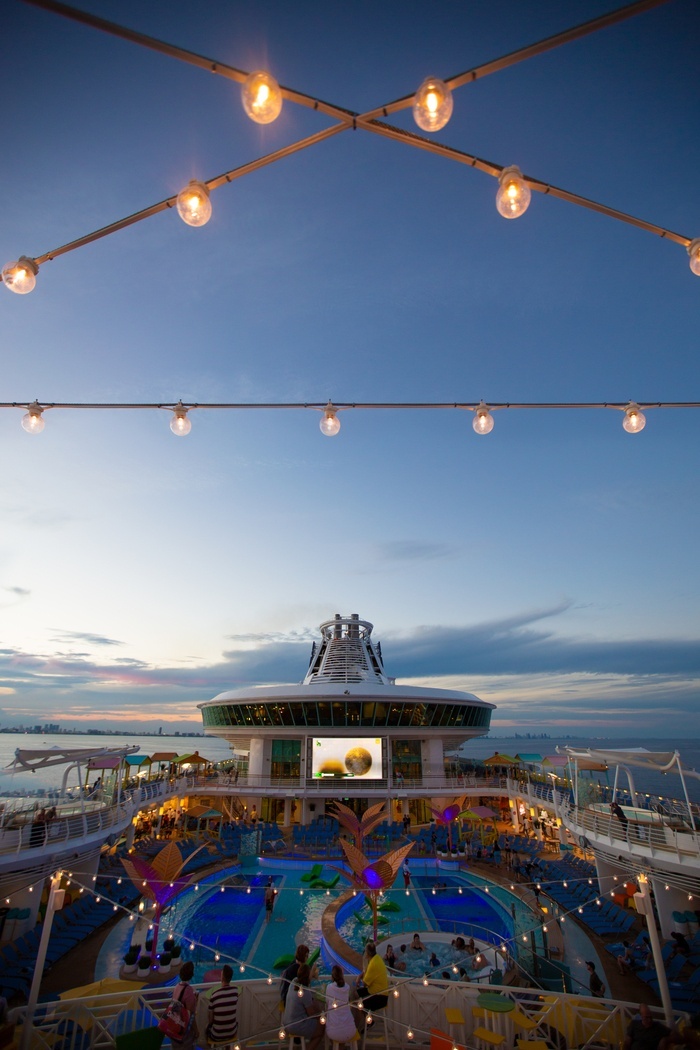 Final Thoughts On Navigator Of The Seas Cruises From Los Angeles
Overall, the Navigator Of The Seas is an excellent option for couples and families. This is a challenging time for cruise travel but the future is bright and we appreciate seeing more fantastic ships like Navigator of the Seas offering cruises from Los Angeles.
The ship offers a great combination of luxurious accommodations and there are plenty of amenities that make you feel pampered. In addition, you and your family will never get bored on this modern cruise ship!