This is the first of our new Cruise Stories feature and we look forward to hearing (and seeing photos of) your incredible cruise experiences sailing the Pacific waters. We're going to start things off with an interview from myself, representing my other site, ManTripping.com as I share the story of Heather and I's adventure on the first cruise out of San Diego follow the COVID restart.
Our hope is to share more of these cruise stories featuring real people, friends of Cruise West Coast as well as submissions from our community of cruise fans. If you want to take part in this, please contact us and share a bit about your favorite west coast cruise.
Let's get started and share more about one of my favorite cruises!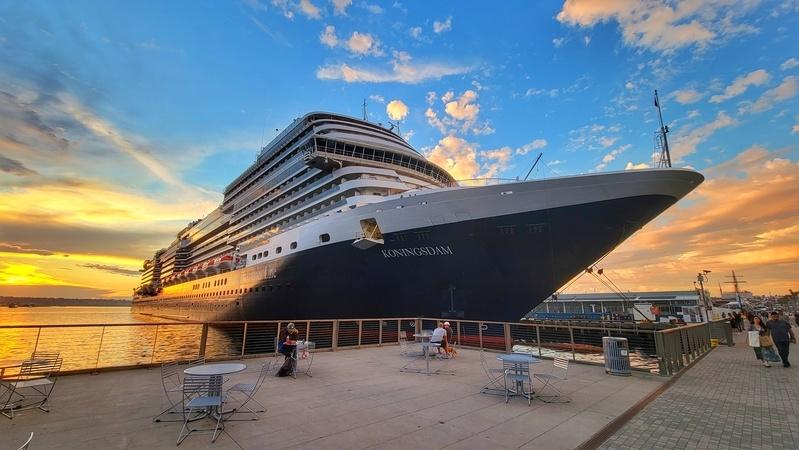 Tell Us About Yourself And Why You Picked This Cruise
My wife and I love to cruise and during the pandemic we watched the cruise ships off the coast of San Diego and occasionally coming into port to resupply. During this time we dreamed of being able to book a cruise again and Holland America Line Koningdam was the first to sail from San Diego so we wanted to get on board!
What Do You Love About Cruising?
For me, cruising is all of the best things that I love about road trips and staying in a great hotel except that I don't ever have to unpack my bag till it's time to get off the ship at the end of the cruise. Waking up each day in a different place and being able to meet new people on a shared journey to fantastic places. What's not to love about cruising?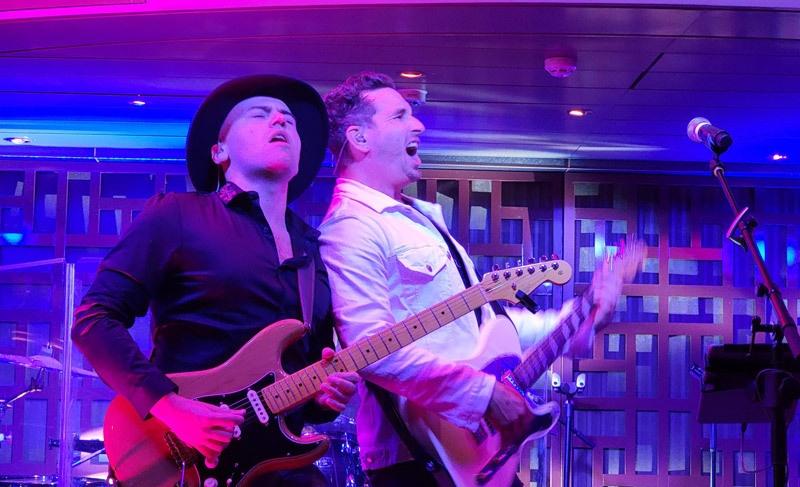 Tell us About Your Cruise?
Our cruise was in the fall of 2021. This cruise was a Coastal California cruise to San Francisco, Monterey, and Santa Barbara as well as Ensenada from San Diego but due to COVID concerns and other issues we weren't able to visit Monterey or Santa Barbara and got an overnight in San Francisco and a visit to Catalina instead.
What Did You Like Most About The Cruise?
There were so many thing that I loved about this cruise - the food, drinks, and music on Koningsdam were absolutely fantastic and despite the reputation for Holland America Line being "newly wed and nearly dead" ... we found it to be a pretty lively and fun group. Additionally, it was simply nice to get back out on the water again and much of the cruise was just a celebration of being able to cruise once more.
Was There Anything You Wish You Had Known Before Taking This Cruise?
I wish I had known how great the Holland America Line history "show" that they held on the first night was. Luckily they repeated it but it was absolutely a must do for anyone who loves history and cruises.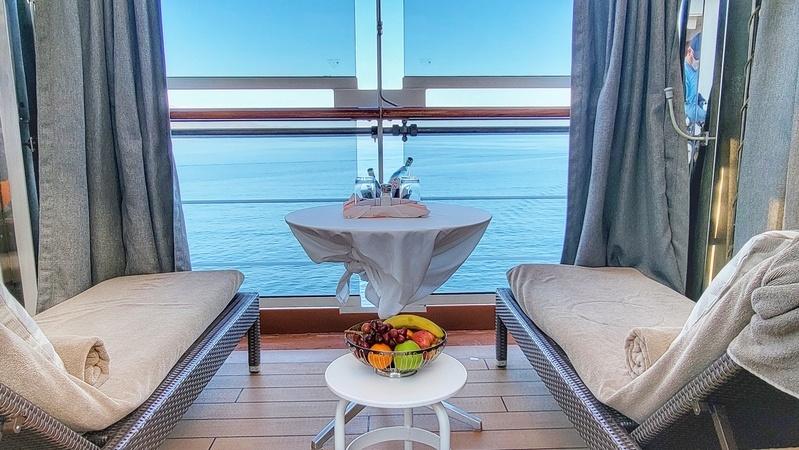 Are There Any Things You Wish You Had Done But Didn't?
I wish we had gotten off in Catalina. I had forgotten how much fun it was just to walk around town there and check out the restaurants even if you aren't planning to do any other excursions. We decided to book a cabana for the day in the Retreat area, where on port days it was only $45 for a couple. This was incredibly relaxing and private while attendants made sure we always had food and drinks. We could have gotten off and gone ashore for an hour or two and then come back but we didn't.
Were Any Of Your Excursions Particularly Exciting?
We did our own wine tour to Sonoma by renting a car from an agency in the Fisherman's Warf area a few blocks from where the cruise ships dock. Our only mistake there was that it was a MUCH LONGER walk coming home to the ship with totes full of wine, hahah.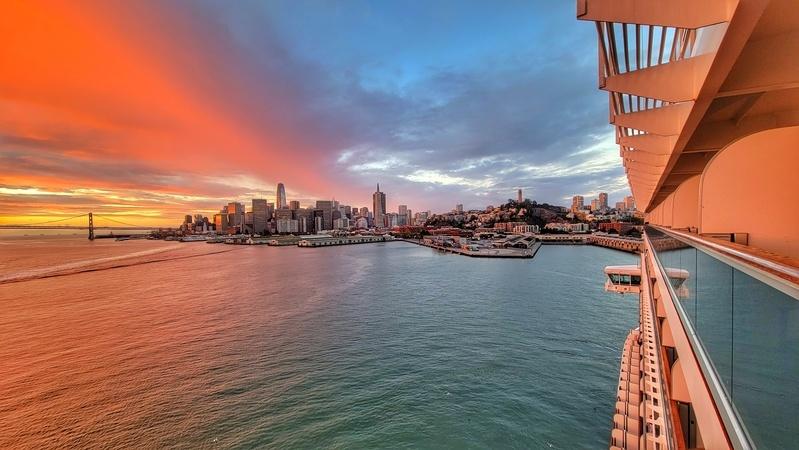 What Was Your Favorite Port To Visit?
San Francisco because it was nice having the flexibility of an overnight stop instead of needing to fear getting back to the ship before it departs. Also coming in and seeing the sunrise was fabulous. I can't wait to go back again sometime soon and explore more.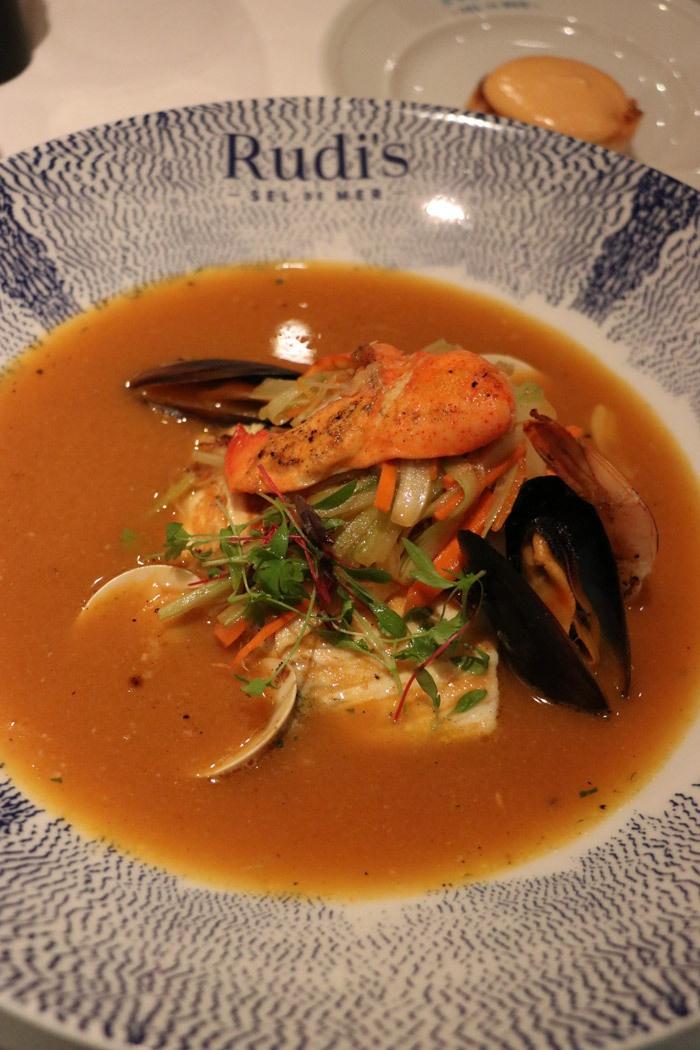 What Was Your Favorite Food and/or Drink You Had On The Ship?
I have two favorites - Split Pea Soup from the Grand Dutch Cafe as well as the Bouillabaisse Marseillaise from Rudi's Sel de Mer. This was just absolutely perfect and one of the best dinners that I've had on any cruise.
Do You Have Any Other Cruises Planned?
I'm heading to Alaska on Norwegian Encore next month! Heather and I sailed on her during the innagural in November of 2019 and it was an incredible experience. Though, OH BOY! I don't think any of us had any idea what was going to be happening to the cruise industry over the following couple of years. It will be nice to see her again and grab a beer in District Brew House!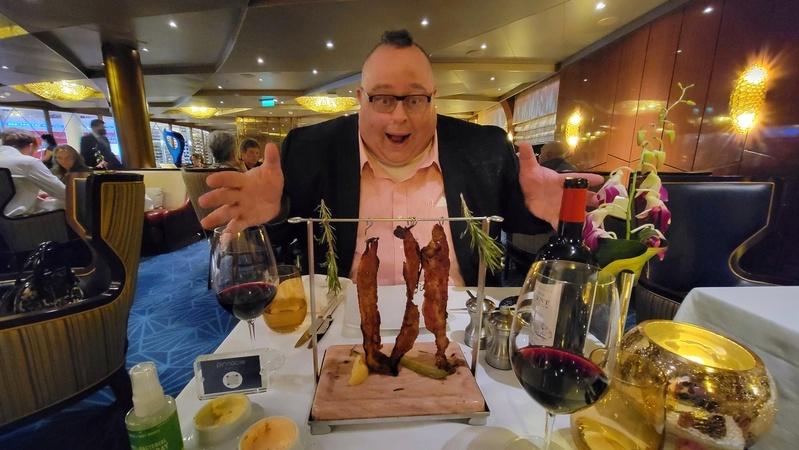 Tell Us More! Do You Have Anything Else To Share?
This cruise was sailing at less than half capacity so it was incredibly nice to have no lines or challenges to find a seat a show or specialty restaurant. It will be a vastly different experience next month when I'm sure we'll be sailing at full capacity!