Repositioning cruises have historically been a great option for folks that love sea days and saving money. While some repositioning cruises are historically unpredictable in terms of when they will happen, repoisitioning cruises from Vancouver (as well as Seattle) are pretty easy to predict since they happen each year at the end of the Alaska cruise season.
Why Do Cruise Ships Relocate From Vancouver?
Simply put, it's too cold to sail to Alaska during the winter and it's too far to sail to Hawaii the way many cruises do from Southern California ports where there are already 4 or sometimes 5 sea days between ports. Since Vancouver is farther north, this journey would be even longer. Though there have been Hawaii cruises from Vancouver on occasion, this is not a regular occurance. One notable cruise that does this is Holland America Line with a 16-day circle cruise to Hawaii from Vancouver and back.
So, without attractive winter cruise itineraries, cruise ships must head to other home ports for the winter season. These ports can include Southern California, Asia, Australia, and Panama Canal cruises on the way to spend the summer sailing the warm Caribbean waters.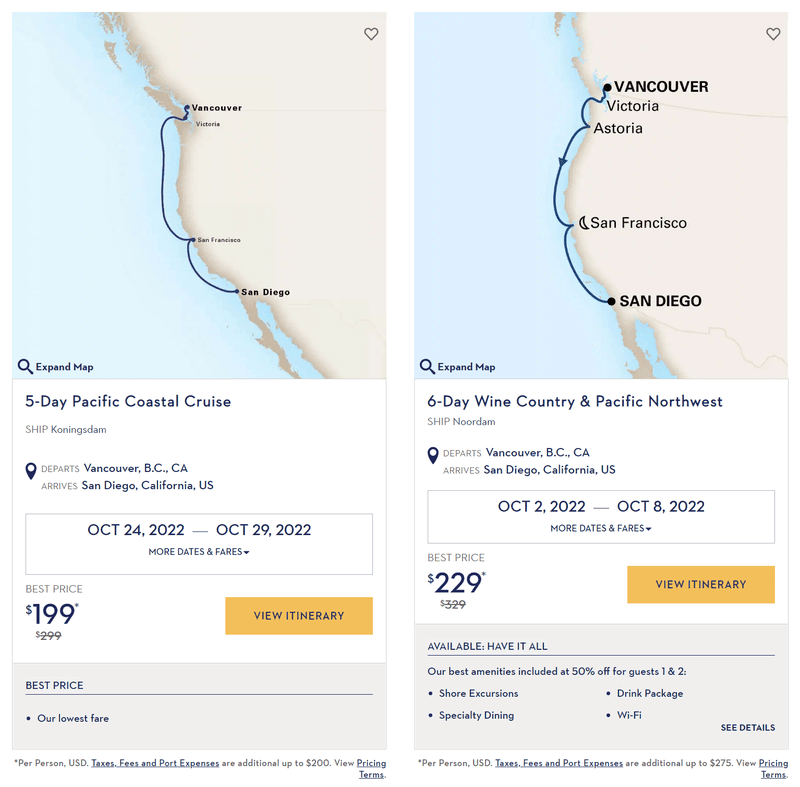 Example Vancouver Relocation Cruise Itineraries
One of the biggest thing that is common to nearly all repositioning cruises is that you will have a large number of sea days proportional to the overal length of your cruise. For instance, you may have a 5 day cruise from Vancover to San Diego with only a stop in San Francisco. At the time of writing, that itinerary is priced starting at only $199 on Holland America Line's Koningsdam at the end of October. However, Holland America Line offers other similar options such as their 6-day Wine Country cruise on Noordam that stops in Victoria and Astoria as well as San Francisco before ending up in San Diego.
Norwegian Cruise line offers an alternative though. Instead of simply running their ships south as quickly as possible from Vancouver, they have NCL Jewel doing an Alaska cruise that visits Juneau and Ketchikan before heading to San Francisco and Los Angeles.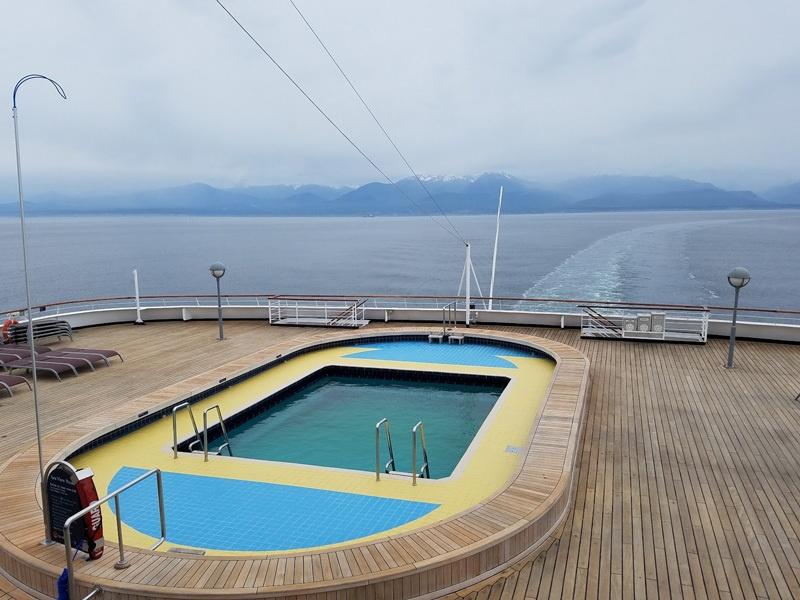 What To Expect On A Repositioning Cruise From Vancouver?
As we mentioned above, each cruise line that sails from Vancouver during the summer Alaska season has a different response to what to do next. However, the consistent thing between all of them is that you will likely have new crew as well as some crew that are at the end of their contracts and looking froward to heading home. Additionally, even the seasoned crew will not nessisarily be experts in the area of the world where they are headed and routines that may have worked in Alaska - entertainment and food for instance, might not be fully "in gear" for repositioning cruise.
Weather also is not going to be ideal. While summer can be quite warm and enjoyable in the waters of the Pacific Northwest, spring and fall can be chilly, overcast, and sometimes rough waters.
Not all is bad though, these cruises are a fantastic opportunity to get very cheap cruises and they will also be less full too.
Additionally, you will usually find that the guests are a bit older and there are no kids on board. This is because it is quite expensive to fly a full family to / from Vancouver for a relatively short cruise.
Finally, while you usually sail point-to-point in a circle, these cruises start and end in two diferent cities. This means that you will need to plan to do two one-way flights or if you live in an area you can't park a the cruise port since you aren't returning there. This isn't a big deal with some careful planning but it is something that you need to take into consideration before choosing a repositioning cruise like this from Vancouver.
So, is this the right cruise for you? Only you can answer that. I personally enjoy the experience since I live in San Diego and it's a cheap way to spend some time at sea and just relax. I'm not really concerned abuot the ports as much as I'd look forward to enjoying some good music, food, drinks, and those cool sea breezes from my balcony.