A full transit Panama Canal Cruise is one a bucket list cruises that many people dream of doing one day. Unlike most other cruises in North America, a Panama Canal cruise is going to be a very long voyage and so picking the right cabin is extremely important. While each person will have their own perspective in terms of what is most important to them, one of the biggest questions that we get is, which side of the ship should I be on?
Inside and Ocean View Are Great Budget Options!
There are a few different ways to respond to this question. However, I want to make sure that we don't ignore the incredible value opportunity presented by doing an inside cabin or an ocean view cabin on a Panama Canal cruise. While spending two weeks or more in a cabin like this may be more than most people will want to endure, it is a fantastic opportunity for folks that want to try something new on a budget. For instance, right now you can find cruise deals on inside cabins starting at under $500 pp (not including taxes, fees, gratuities)!
For the rest of us though, this question of picking the best side of the ship is a discussion about suites and balcony staterooms ...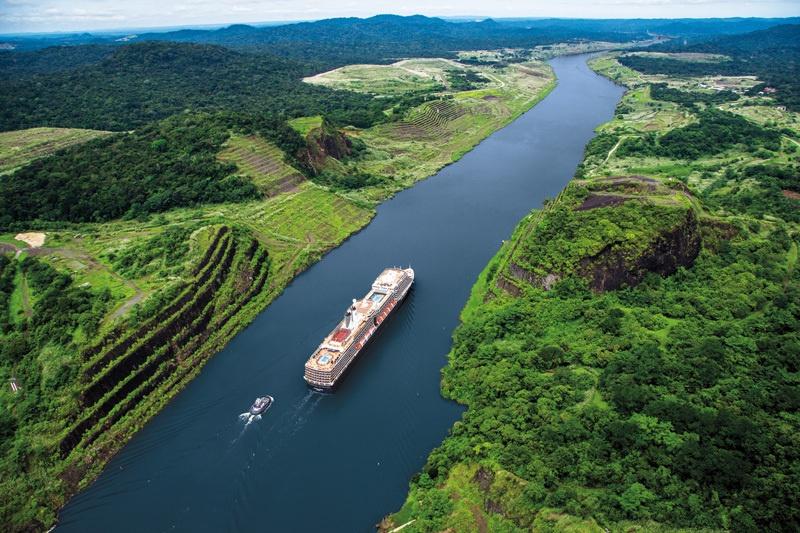 All Balcony Cabins Are Great For A Panama Canal Cruise
This question is somewhat challenging to answer definitively since there is no single correct answer. The reality of the situation is that you will have LOTS of time to see the sights no matter which side of the ship your cabin is located on. Additionally, considering that your cruise ship will only spend one day in transit through the Panama Canal ... and almost always during day-light hours, there will be ample time to experience both sides by visiting observation lounges or venturing to the top deck should there be something on the other side of your ship that you want to see.
A typical Panama Canal cruise will only take approximately 8-10 hours for a full transit from the Caribbean Sea to the Pacific Ocean and so you'll have plenty of time to enjoy everything comfortably.
Heather from Flow Voyages prefers to address this question in a broader sense when her clients ask for her recommendation. Instead of just looking at the transit day, she suggests that clients consider the entire voyage. This includes the time spent in the Caribbean and the much longer portion of the voyage up the coast of Central America to a west coast port such as San Diego, Los Angeles, or San Francisco.

Port Is Best For Pacific-Bound Panama Canal Cruises
As discussed above, there is ample time during the transit to see the sights from both sides of the ship by venturing out to open decks and observation lounges. However, there is one major exception to this statement. At the end of your transit through the canal, many people like to relax on their private veranda with a drink and maybe some snacks from room service as they float by Panama City.
One thing to note is that the new Panama Canal locks opened in 2021 and these are the ones used by most large cruise ships now. Unlike the smaller, older locks you will not have mules that pull the ship along and so this is one aspect that makes the discussion less important than it once was. However, on the new locks, some people prefer to now observe the operation from the starboard side instead.
However, for many cruisers, the greatest advantage of being on the port side of the ship is actually after the Panama Canal transit is over. By selecting a port-side cabin, you will be able to have several days of sunsets and afternoon sun to enjoy on your balcony as the ship sails north.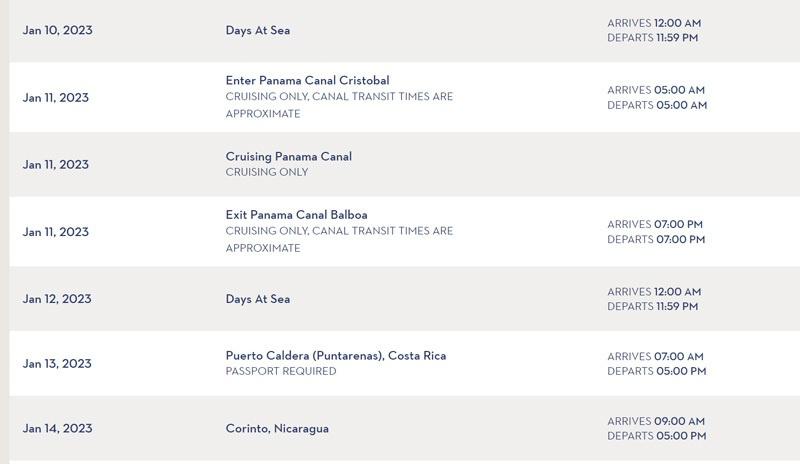 If Panama Canal Views Are Critical To You, Do Research Before Your Cruise
These recomendations are general advice and suggestions. There are many parts of the canal transit experienec that are worth observing and so we suggest that you plan to spend as much time as possible on the top decks or depending on your cruise ship, a lower deck where you can quickly cross from one side to the next.
Additionally, each ship will have a slightly different iterary and while some cruise lines (such as Holland America Line) will publish approximate times for entering and exiting the Panama Canal, you should plan to ask crew members for their recomendations and current timing as well.
Many ships will also open the bow area to guests in a similar way that they do on cruises to Alaska so that you can see both sides at once. This is especially cool during lock operations.
Either way, you should always work with a travel advisor who can help you find the right ship and itinerary.