Cruises are a great time to go shopping and bring back souvenirs and mementos of exotic destinations and experiences to share with family and friends ... or even just to bring back fond memories. This is especially true when you take a Mexican Riviera Cruise since each of the cities that you'll visit offers a blend of true hidden gems crafted by artisans as well as cheap - but fun - trinkets and souvenirs to bring back with you.
As with anything in life, each person must make their own judgement when it comes to shopping in a foreign country. Vendors catering to cruise passengers in Mexico span the entire spectrum from relatively safe and sanctioned vendors found in the cruise center marketplaces found inside the gates, to ones found on the streets of Cabo, Mazatlan, and Puerto Vallarta. Compared to other parts of the world, the Mexican Riviera is a pretty safe place for tourists and generally speaking, even the non-tourist areas are much nicer than what you might find in similar spots found on various Caribbean islands as well as even parts of the Mediteranean as well.
Just remember to always be a savy shopper and if something looks too good to be true ... it probably is. As long as you have fun and stay safe though, shopping can be a fun way to spend some time in Mexico's Pacific coastal towns on your next cruise!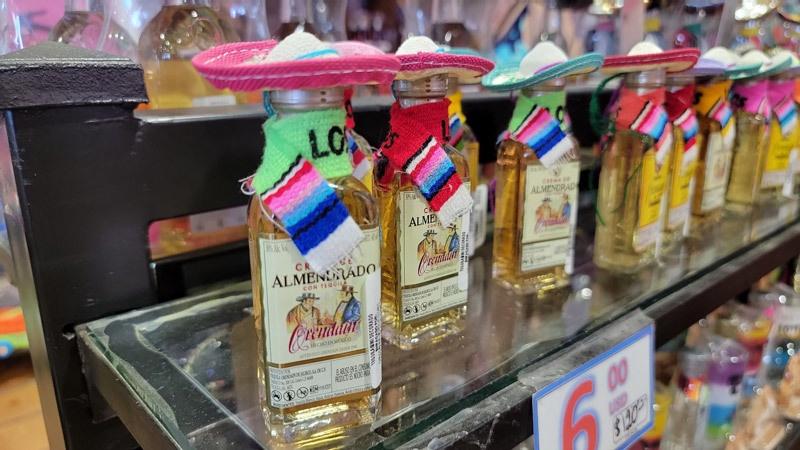 Unlike a Caribbean Cruise where you are going from one island nation to the next, on a Mexican Riviera Cruise the entire voyage is taking place in one country - Mexico. While some people might think that means each stop will be "more of the same", each port that you stop at will offer it's own personality and unique opportunities to shop for local specialties.
Salsas and Hot Sauces
From touristy bottles with somewhat vulgar labels to hand bottled hot sauces packaged by Mexican chefs and someone's abuela who decided to expand beyond her kitchen, you'll find salsas and hot sauces around every corner of every cruise port from Ensenada to Puerto Vallarta.
While most Americans think of salsa as simply chopped tomatoes and onions and served with a bowl of chips, Mexican salsas have a rich diversity. Some of our favorite spots to buy home made salsas on your cruise would be Mercado Pino Suarez, Mazatlán's Central Market or look for craft markets that are set up near the cruise ports too.
Jewelry
Mexico has a rich tradition of both beaded jewelry as well as silver work. Especially along the Malacon in Puerto Vallarta as well as in jewelry shops found in Cabo and La Paz you find some beautiful pieces that blend the history and traditions of ancient Aztec and Mayan culture with Spanish continental designs.
You will also find less expensive pieces of silver and beaded jewelry that are wonderful for souvenirs at most craft markets as well as individual tables setup throughout most of the cities.
Hand Blown Glass
Hand blown glass has been a Mexican tradition for more than 500 years. These artisans are among the most skilled in the world when it comes to creating everything from vases to drinking classes.
If you are looking to shop for glass items on your Mexican Riviera Cruise, make sure to visit the Glass Factory in Cabo San Lucas where you can watch artisans create these works of art and then buy their art to take home.
Pottery And Ceramics
Talavera Pottery is a Mexican traditional art that they adapted from Spanish artisans with influences from other European and Indigenous cultures. Today, the most popular form is painted with blue and white designs. However, other colors are often used and the patterns and artistic designs can be quite ornate.
Among the various artistic items that you can buy on your cruise, Talavera Pottery and other ceramic items are among the least expensive - though you can certainly find very expensive pieces too. However, you should always be a smart shopper since you may see an vendor selling items that aren't actually theirs and might have been manufactured as far away as China.
Mezcal and Tequila
Mezcal and Tequila are the iconic spirits of Mexico and you will often find prices that are far cheaper here than they are back home. Similarly you will find many brands that are new and unique to less sophisticated buyers.
However, tequila's home is in the state of Jalisco and that means Puerto Vallarta is one of the best places to find it. However, that doesn't mean you should ignore Cabo San Lucas or La Paz either. Virtually anywhere that you have wealthy ex-pat Americans living will have an excellent tequila selection available in liquor stores.
In fact, if your goal is simply to taste - as opposed to - buy bottles of, then Cabo is where you should head for the ultimate mezcal and tequila tasting experiences.
Tequila though is only one half of the story. Mezcal is the wider form of agave spirits and while we look to Puerto Vallarta as the place to go for both, you can find agave distilleries in Mazatlán as well.
Wine
Wine? Yes! Baja Mexico has some of the best wine on the West Coast of North America. With two separate wine regions located just west of Ensenada, wine lovers will absolutely want to take a cruise to Ensenada and buy some wine. While you can buy bottles directly from the vineyards on an shore excursion, you can also find bottles in shops downtown. Many of the more popular vintages are not available through distributors in California they will cost two or three times the price back home in the United States.
Be careful though, when you buy wine on your cruise, just like with any alcohol, the cruise security team will confiscate it and keep it safe in the liquor locker until the last night of your cruise.
Also, be aware that there are duty free limitations on bringing alcohol back into the United States. This limit is one liter per person or you will charge duty taxes - even if the total value is below the $800 limit per person. This discussion gets complicated really quickly so don't expect you can purchase cases of wine or tequila in Mexico without paying taxes or being asked to prove it is for personal consumption.
Coffee
Oaxaca and Chiapas are the two primary growing regions for coffee in Mexico and both are located on the Pacific Coast. While neither of these is close to the most southern port that most Americans will visit - Puerto Vallarta - you can often find coffee from these regions in shops throughout your voyage.
Holland America Line does sometimes stop in Puerto Chiapas on their Panama Canal Cruises, so if you are looking for fantastic local Mexican Coffee that might be something to consider.
Tee Shirts And Hats
Our list of things to buy on your Mexico Cruise wouldn't be complete without mentioning shirts and hats! Here, like everything else on your list, there is quite a variety of price points and options. We frankly love shopping for hats and shirts with funny sayings on them and we enjoy taking photos of American tourists walking back to the boat wearing sarapes, bandoleers, and sombreros.
While those items are more of a caricature of modern Mexican culture, there is a certain level of humor in watching our fellow travelers look silly as they stagger back to the ship after a day spent drinking tequila and eating tacos.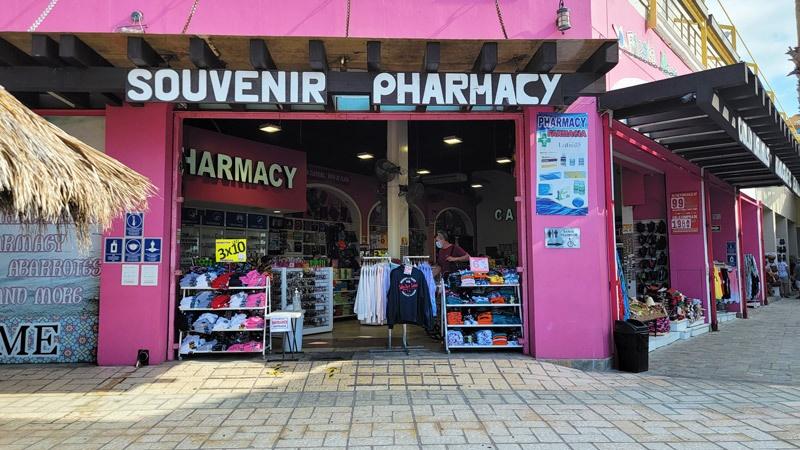 Here's Some Things You Should NEVER Buy On a Mexican Riviera Cruise
While these cruises offer a tremendous opportunity to go shopping, there are a few things that you should avoid buying for on a Mexican Riviera Cruise.
Pharmaceuticals
Virtually every town that you'll visit on the cruise, from Ensenada to Cabo and Mazatlán will have drug stores easily available for tourists to shop at. While some folks are looking for discount Viagra and Cialis, others are simply seeking diabetes medicines, EpiPen's, and inhalers for their asthma that are available here at a fraction of the price.
While you can certainly buy cheap drugs in Mexico, it is very easy to buy the wrong thing and this can be very dangerous to your health.
"Mexican Vanilla"
True, authentic vanilla can be a great purchase in Mexico but the tourist shops where you will most likely find it are not going to be offering the real thing. Instead, you will often find that so-called "Mexican Vanilla" actually is made from a toxic substance called coumarin, a product closely related to the blood thinner warfarin.
Luckily, the people I know who have bragged about getting cheap vanilla on their cruises to Mexico never had any adverse reactions to the products that they bought. However, if it doesn't cause health problems ... cheap Mexican Vanilla that you see in stores is probably not authentic.
Illegal Drugs
This should be an obvious one but there are plenty of opportunities to buy illegal drugs in Mexico. While most downtown areas are very safe, if you find yourself on an excursion that takes you out of the tourist areas it is very likely that you can find illegal drugs here. Despite the reputation of Mexico a country where laws don't work the same way they do in the United States, an American possessing illegal drugs will not be treated with a slap on the wrist. Plus, the cruise ship may not allow you to get back on board. So, just don't be stupid.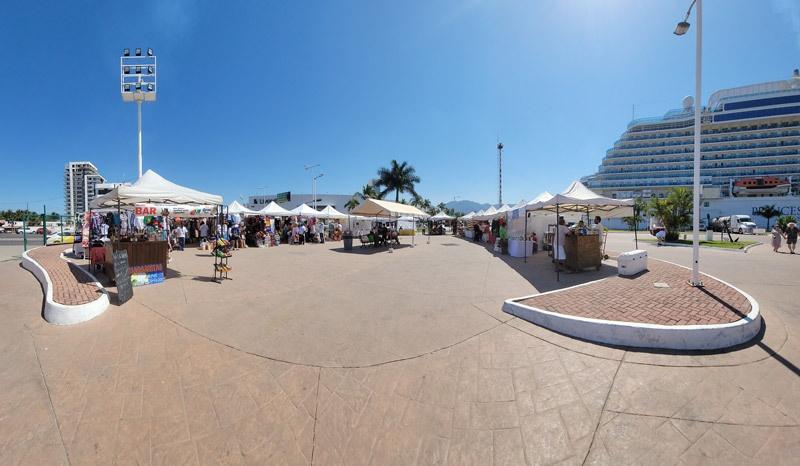 Official Cruise Marketplaces vs Independent Shops In Town
I always enjoy visiting the shops found inside the cruise center gates before heading into town. While these vendors are always vetted by the authorities and many of them are selling the same things regardless of destination, there are often some gems to be found. For instance, if you are looking for a cheap margarita in Puerto Vallarta this is probably a pretty good place to start before wandering into town.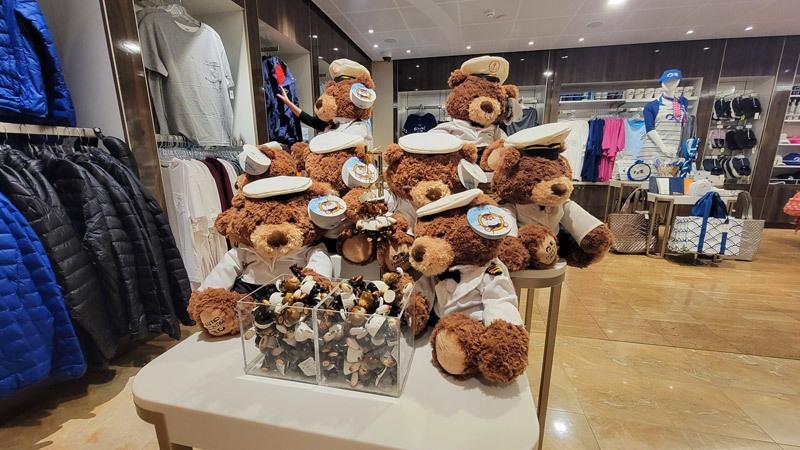 Don't Forget About Shopping On The Ship Too!
There are some great deals to be found on cruise ship shops occasionally, but more importantly - make sure to always visit the merchandise shop on board. Each line calls this store something different and has different items but this is the perfect place to buy a souvenir such as a stuffed Stanley the Bear on a Princess Cruise, a ship model, logo items, and occasionally something special to commemorate an event such as an innaugural voyage or a milestone such as Carnival's 50th Birthday this year and Holland America Line's 75th anniversary of sailing in Alaska.
Additionally, if you are looking for deals on duty free alcohol, cigarettes, or jewelry - make sure to check ship prices on the first day and compare against port prices. Sometimes you can find better on shore while other times there are promotions that the ship will run where it is a much better deal ... or simply less hassel to buy your items on the ship.
Shopping can be a wonderful thing to do on your Mexican Riviera Cruise. If you have something specific in mind then you should definitely plan ahead. Talk with the onboard shopping guide or ask your travel advisor for tips and advice on where to find the best stuff.
Above all, have fun and enjoy your cruise!