There's only one major cruise line brand that I've never sailed with, Celebrity Cruises. However, they are now investing in the west coast market with cruises out of San Pedro, Los Angeles on the Celebrity Solstice through the end of April before heading north to Alaska for the summer. This is the first time that the company has had a ship sailing out of Southern California in nearly 20 years and we were excited just with that fact. However, I was really intrigued by their claim to truly be a cruise line for foodies. Despite this, aside from fancy photos ... I wasn't convinced. However, after spending most of the day onboard Celebrity Millenium during a port visit in San Diego, I'm very excited to learn more about the brand and hopefully share more about them with you guys in the future.
Celebrity Millenium itself is headed through the Panama Canal and off to San Juan for the winter, though it too will be back on the west coast for Alaska cruises in 2023.
While this is not a ship review of either vessel, before sharing my observations collected during our tasting tour of Millennium, I do want to share a few thoughts on the general ambiance and what to expect when sailing on Celebrity.
From a positioning stand point, they sit somewhere between Holland America Line and Norwegian, possibly most similar to what Princess tries to be. Though while Celebrity has focused on improving their food and beverage offerings as well as modernizing and making itself a chic upscale brand, Princess seems to be eroding and chasing a more mass-market crowd.
While there are kids clubs, a Celebrity cruise seems more geared towards people looking for a quieter, more relaxed experience. Instead, the ambiance is one where guests can be surrounded by thought provoking art, great food, and fantastic drinks - all without feeling like they are "compromising". For instance, our dinner at Blu was comparible to a fine dining restaurant on land, without any need to add qualifiers like, "pretty good for a cruise ship".
Additionally, one of the areas that I tend to judge cruise brands is by the way that they maintain their ships. Celebrity Millenium was launched in June of 2000, so that makes her just over 22 years old - nearly ancient by cruise ship standards. Despite this and a few dated elements, she was in PERFECT condition. This is especially true of the hull which showed signs of being painted recently and everything inside and out was very clean with minimal wear.
Now On To The Food!
It is challenging to make a fully accurate assessment of an entire cruise line's food program by a single experience. After doing numerous similar ship inspection tours like this though, I can tell you that there are certain things that carry through across each brand - even if some ships are better than others.
Here on Millennium I observed three very important things about how Celebrity Cruises looks at dining ...
The first observation is that like the rest of the ship, this experience isn't about gimmicks or "fun" like you'd see on Carnival, Norwegian, and even somewhat on Royal Caribbean. Instead, the overal feeling was somewhat like a W Hotel where they are focused on delivering a chic, trendy, luxury experience for a contemporary audience that enjoys fine dining as part of their daily life and not just as a special event reserved for a cruise.
The one exception is Le Petit Chef which apparently is marked as something for kids but I really enjoyed. During our preview of this dining experience it featured a tiny virtual chef preparing our dinner via projection and when he's done - poof - your actual course appears in front of you delivered by a waiter.
Second, as I guess you'd expect from a cruise line called Celebrity, there's absolutely a stratification that was clearly evident between "basic" customers and then Concierge, AquaClass, and Retreat (suites). Our lunch was in the AquaClass-exclusive restaurant Blu and it was excellent. It was comparible to what we've had at both the Haven (NCL) and Yacht Club (MSC) dining rooms so I'm very curious as to what Luminae (Retreat Class) is like.
Third, while I didn't have a chance to actually taste the food, we did a very quick walk-through of the buffet. Based on what I observed there, it would appear that this attention to detail and sense of creativity when it comes to the cuilinary program isn't something reserved only for the most elite guests on the ship. For instance, there was a hummus station with a variety of different types of everyone's favorite chickpea spread and a few steps over was a very nice cheese display. Likewise, when I walked by the Asian station, the vegetables looked fresh and not mushy despite the fact that we went through towards the end of lunch time and on other vessels it isn't uncommon to see veggies looking wilted and dried out at that point.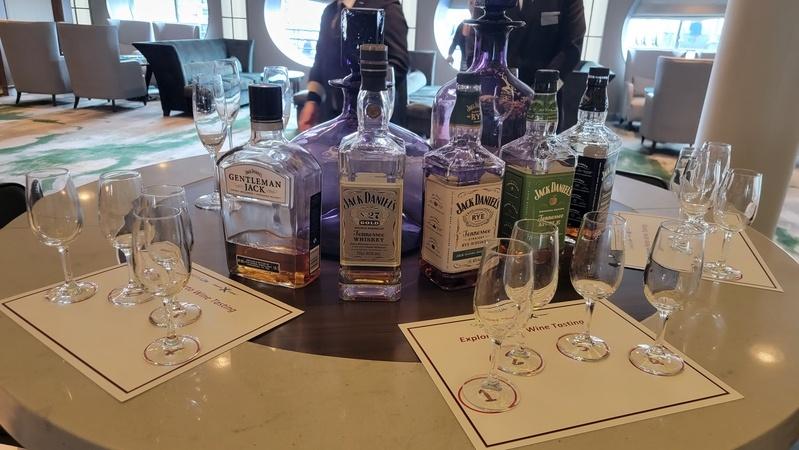 Don't Forget The Drinks!
The beverage program that we expereinced reflected the same philosophy as we saw with the food. While you're not going to see a bunch of fun gimmicky bars with themes, there's a subtle elegance here that reflects the rest of the experience. This includes nice touches like the martini bar having a frozen countertop that makes it something unique vs what you might find at home but at the same time familiar to anyone who frequents upscale cocktail bars on land.
In the observation deck area they did feature cocktails inspired by constellations and at the pool bar you will find all of your favorite frozen cocktails, so that was nice to know that there's some creativity and fun still available on the ship.
Their wine program is something that I've heard quite a bit about but sadly we weren't able to fully experience it. However, there were a few quick observations that I was able to make based on our tour.
First, the fact that they have parntered with crystal manufacturer Riedel and promoted that fact during our talk means that they have customers who are sophisticated enough about their wine consumption to know that premium drinking vessels do make an impact on both the presentation and enjoyment of fine wines.
Second, each of their dining rooms has an actual som - not just a wine steward. This again tells me that they are treating wine as something that is critical to the experience of enjoying a great meal and not simply a matter of something to merely wash your food down. This was something common among other lines until just before the pandemic and I'm glad to see a line like Celebrity where it is still an integral part of the experience.
Third, most people on a Celebrity cruise will have one of two beverage packages and their basic package has a comparitively low threshold of including drinks under $9 vs $12-15 on other cruise lines. However, in comparison to Norwegian who falls short with regards to wine, the selection of wines by the glass was quite good in this price range and even better if you have the premium package.
For folks who truly love wine, the list was extensive and all of the world's major wine regions were represented well. I even spotted a Mission Hill Cabernet Sauvingon from Okanagan Valley, British Columbia on the list and perhaps most impressively - while there were vintages listed under "Napa" ... they also had representation from some of Napa Valley's sub-appelations like Rutherford as well. This again shows that details like this are important to their customers and wine lovers like myself will appreciate that attention to detail.
Finally, the preview tasting that they presented was at a level of sophistication that I have not seen on a cruise ship. One tiny example is that I've simply given up on correcting folks who call "Jack" a Bourbon. Here however, the crew member presenting their Jack Daniels tasting correctly, referring to it as a Tennessee Whiskey. I saw a similar level of education and precision when the crewmember discussed their wine tasting and Macallan Scotch tastings.
For any wine and spirits snob, these are truly basic levels of education but it is sadly something that escapes the training of crew members in most other cruise lines.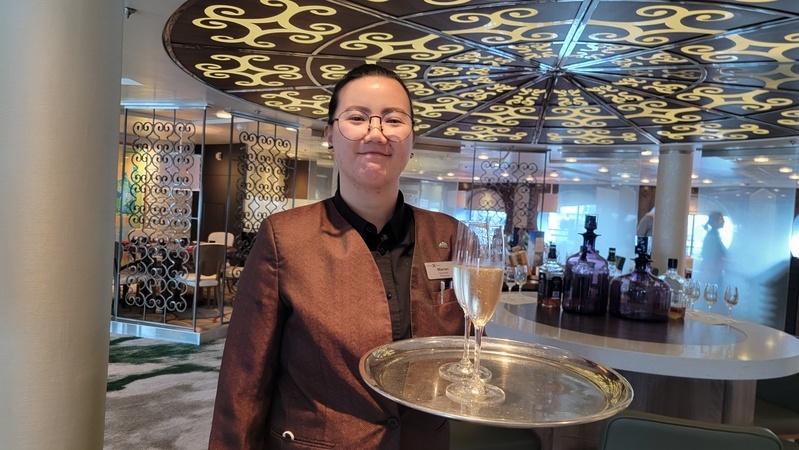 I Can't Wait To See If My Observations Hold True On An Actual Celebrity Cruise
As I mentioned above, it is challenging to make statements based solely on a single ship inspection filled with various presentations. However, it would appear that everything related to food and beverage on the ship is designed around a guest who has a certain level of sophistication and wants to enjoy the things they appreciate in their daily lives, at sea as well. This is a vastly different point of view than a vacationer who looks at a cruise as an opportunity to enjoy a lifestyle that they can't experience otherwise.
This is by no means looking down at Carnival, Royal Caribbean, or any of the other mass-market brands because sometimes it's fun to just live in a fantasy world designed to emulate something that you know isn't quite real but is fun anyhow.
However, I think this is why I might have failed to appreciate the the brand previously. Bumpercars and celebrity chef restaurants with themes sell crusies easily but Celebrity's strength is much more subtle and demands to be experienced to appreciate it. As I mentioned in the video above, the true luxury experience in today's leading resorts comes not merely from bullet points and features listed on a website, but from the experience delivered by the staff.
That appears to be exactly what's happening here as well.
Hopefully we will be able to sail on Celebrity soon and share a more complete review of food and drinks on Celebrity cruises!