There are a lot of things that folks who love cruising do to make the adventure even more fun. While some folks look to pineapples, a much more wholesome and family-friendly game has developed in the past few years around hiding rubber duckies on cruise ships and then sharing your finds with others on social media. In fact, entire online communities have evolved to embrace this activity and frankly ... it is one of those things that is as fun to give as it is to get!
I first started hearing about hiding "cruise ducks" during the pandemic when friends shared that it was one of the things that they missed most about sailing on Carnival. In all honesty, despite Carnival being where my wife and I started cruising - at that point I had not stepped on the deck of a Carnival cruise ship in many years, except for the occasional trade event. Now I was curious though!
With months of time to research and read epic tales - duck tails? - from passionate cruise duck hunters and spreaders, I quickly discovered that the tradition has spread farther than just Carnival. In fact, as the restart continued, we participated across a wide variety of cruise lines ranging from hiding ducks in the ultra-luxury MSC Yacht Club to Holland America Line and even on a Viking Ocean cruise. Of course we also did it on Princess, Carnival, and our most recent voyage on Norwegian Encore during our Alaska cruise.
What we discovered is that the hide and seek fun is universal. While it clearly skews younger and kids are more likely to be the recipients of the toy ducks, even when an adult may be the one that spots it first. Our of all the crazy changes we've seen to cruising since the re-start, cruise ducks are hands down one of the most wholesome and welcome additions to our pre-cruise planning process. It also gives you that extra bit of incentive to explore every aspect of the cruise ship rather than simply running from one place to the next.
How Did the Practice Of Hiding Cruise Ducks Start?
While it is debated that the practice of hiding and finding ducks on a cruise ship started earlier, the practice exploded in popularity due to the efforts of Ashley Davis and her 10-year-old daughter Abby Davis who took a seven-day Carnival Cruise in 2018 and decided to spread 50 ducks out across the ship.
From there the practice spread like wild fire with folks of all ages taking part.
Today, while there are thousands of smaller discussions happening in individual roll-call threads and cruise forums, there are more than 131,000 people in the main Cruising Ducks group on Facebook. You can also follow the hashtag #CruisingDucks on Instagram as well as other variations.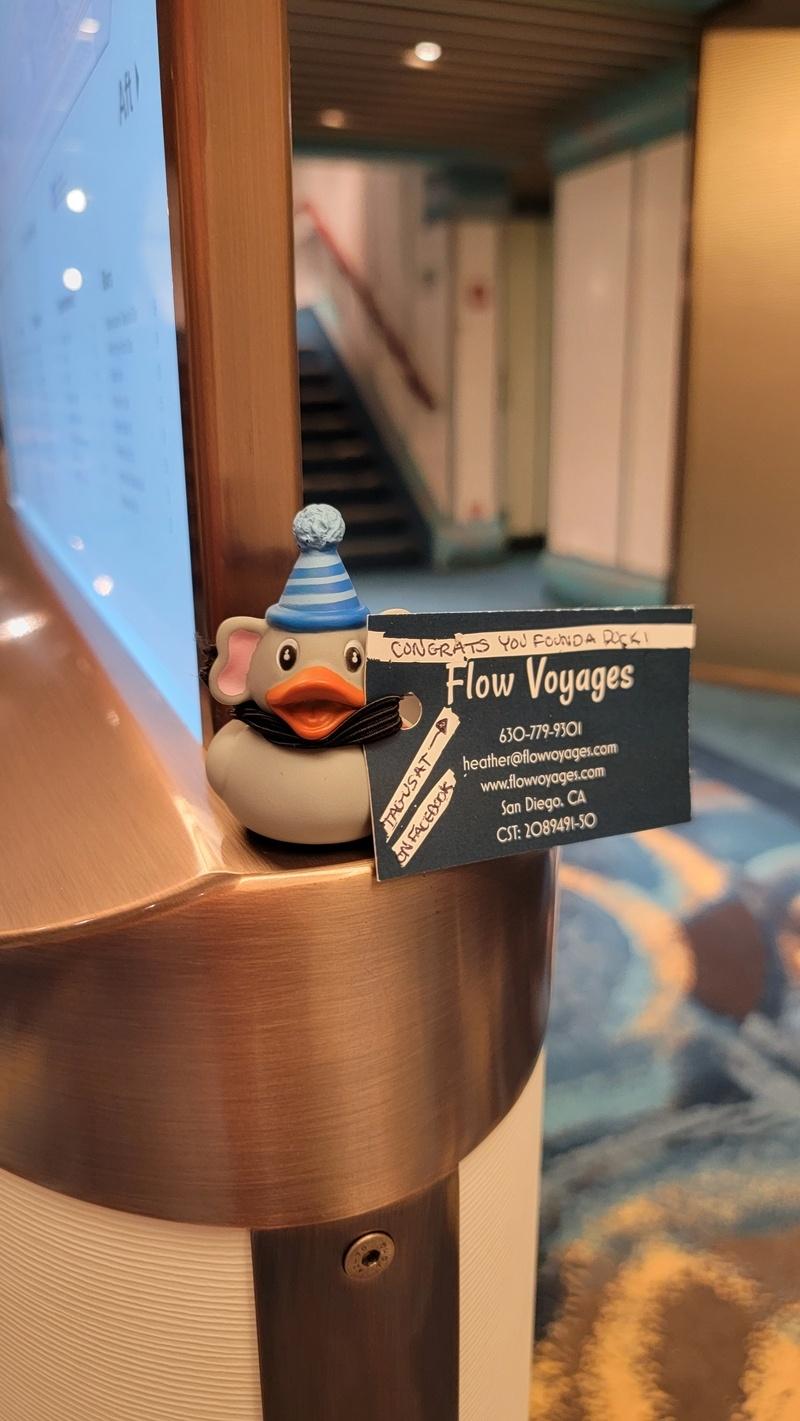 How To Find Ducks On Your Next Cruise
The easiest way to join in the fun is simply to become a duck hunter yourself and the tradition is even more fun when you practice catch and release. In otherwords, when you find a duck hidden somewhere on your ship - either add your own tag or write a quick note to pass on to the next person. This keeps the fun going so other people can have the excitement of finding a duck.
However, there's no reason why you can't keep what you find. It's your duck but I do think things are best when you can continue spreading the fun and it ends up in the hands of a cruise duck collector or a kid who is excited just to find something fun and new. It's sort of like the trinkets you get at Mardi Gras - some are mass produced and fun to find, while others have more care taken to create unique ones. Treat these ducks accordingly.
I just emplore you to not toss them in the trash and certainly don't throw them overboard!
With that being said, here are some tips to help you maximize your efforts when it comes to hunting for those elusive ducks.
Explore The Ship - No, really. EXPLORE ... don't just walk around from bar to bar with your head down looking at your phone. Look up, look down, look to your side and everywhere in between. Some folks try to find the most hidden spots to place their ducks while others will simply place it on the back of a chair in the atrium or tuck it in between trays at the buffet.
Look On Roll-Call Threads For People Dropping Hints - While Cruise Critic was once the default source for roll-call threads, today I always look on Facebook for a group that matches the sailing that I'll be on. Beyond simply getting tips (or sharing hints of where Heather from FlowVoyages and I have hidden ducks!), these groups are a great way to meet new friends and ask questions as well as share photos.
Some Cruises Will Have More Ducks Than Others - I have not been on a cruise since re-start where there was no cruise duck activity but it should be obvious that certain cruise lines attract more "fun" people than others and hiding cruise ducks is all about fun. That's probably why cruise lines like Carnival, Royal Caribbean, MSC Cruises, and Norwegian are going to be better places for ducks than smaller ships like Viking or adult-only cruise lines like Virgin Voyages.
As A Crew Member If They've Seen Any Ducks - Ok, so this is sort of cheating but many of the crew have probably seen ducks hiding in different places and left them there for guests to discover. In fact, according to some officers that I've spoken with, most crew are very aware of the cruise ducks game and have been instructed to not throw them away. You might get lucky and meet a crew member who saw one recently who can direct you to where they think it might be.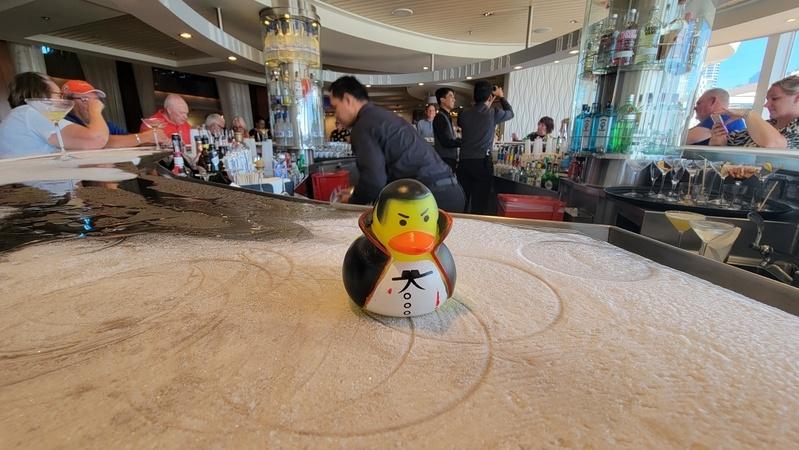 What To Know If You Want To Hide Ducks On A Cruise
So first off, there's no regulations on packing cruise ducks in your luggage and hiding these ducks on the ship. However, cruise lines expect you to follow safe practices at all times and that includes avoiding placing them in areas of the ship that are off-limits to the public, places that might be dangerous to access (high ledges for instance), areas of the ship where it might interfear with operations (don't jam it into a door), and absolutely never in a place where the duck could blow overboard. Additionally, you should avoid hiding ducks in shops since the act of placing or picking something up could be misinterpretted.
You should also always be aware that while adults enjoy finding ducks ... this is a family friendly activity that kids enjoy too. This means that you should hide ducks in places where kids can find them or adults can spot and queu their children to look in a certain spot. Additionally, it should go without saying that you must avoid anything with an adult context when it comes to your duck's passport or design.
Buying Ducks For Your Cruise
Most folks go for the cheap, mass-produced rubber duckies that you can find at party stores such as Oriental Trading or Amazon but for those looking for something special, don't be affraid to pick up a few collectable prizes or even make your own. If you search Etsy, there are plenty of examples of crafters who are making some pretty awesome alternatives to the classic rubber duckie that we all know and love.
Classic Ducks Are Good But Unique Ones Are More Fun
Sure, the classic bathtub-style rubber duckie is going to be a fun treat to discover but the practice of hiding and searching for cruise ducks is about finding something special and creating smiles. So, consider spending a few dollars more to find ones in different fun shapes, colors, and themes.
Considering you can find rubber duck toys for your cruise on Amazon starting at only $8 for a 10-pack of assorted styles, this isn't going to break anyone's vacation budget.
Adding A Passport To Tell The Finder Who Placed It
It is optional to put a passport on your cruising ducks but it makes the activity better since people can contact you and share your ducks on social media while tagging you to say thanks. As the practice of hiding ducks continues to grow though, I am seeing an explosion of cruising ducks that have business cards attached to promote social media influencers, travel advisors, even real estate agents. There's nothing bad about this but if your objective is to randomly convert someone who finds your duck into a new client ... well ... there are probably better ways.
That being said, this is exactly what we do ourselves. However, we do it for fun and while getting a new client or reader would be wonderful ... it's also more of a practical consideration since we have business cards already and I'm reluctant to print custom tags just for the ducks.
You need to make that call for yourself but adding a passport tag is a really important part of the cruise ducks practice since otherwise the person who finds it won't know who to thank when they find your duck hiding somewhere on the cruise!
Final Words On The Cruising Ducks Phenomena
Right now I feel like this trend is right at the edge of turning into something big that will be part of cruises for decades to come. Currently it is a realtively small number of people on each ship that are hiding the ducks and most of the people searching for them are simply looking for good natured fun. However, things can change and I'm sure there will be someone who tries to ruin the party for everyone.
Until that happens, please do what you can to be both a duck hider and a cruise duck hunter in the most family friendly and responsible way.