Carnival advertises super cheap cruises from Long Beach - many less than $50 per person, per day. How much will that cheap cruise actually cost once you add everything up?
Ok, so let's take a look at that cheap cruise fare deal that you see advertised - or maybe you might have even received it in our weekly newsletter. No, we're not trying to trick anyone with a deal that's too good to be true - but there are a lot of costs the new cruiser might not expect. Some people look at this as nickel and diming cruise passengers but that's just the way the industry works. While some cruise lines such as Norwegian are working to make their offers a more inclusive package, even those "Free At Sea" deals have hidden costs you might not expect.
Ultimately, each cruise line will have its own nuances. That's why it is critical to always review the fine print, plan your budget ahead of time, and work with a Travel Advisor who can help you understand all the costs. Let's take a look at how to determine the total cost of your cruise and why we love cruising out of San Diego and Los Angeles instead of spending thousands of extra dollars to sail from Florida!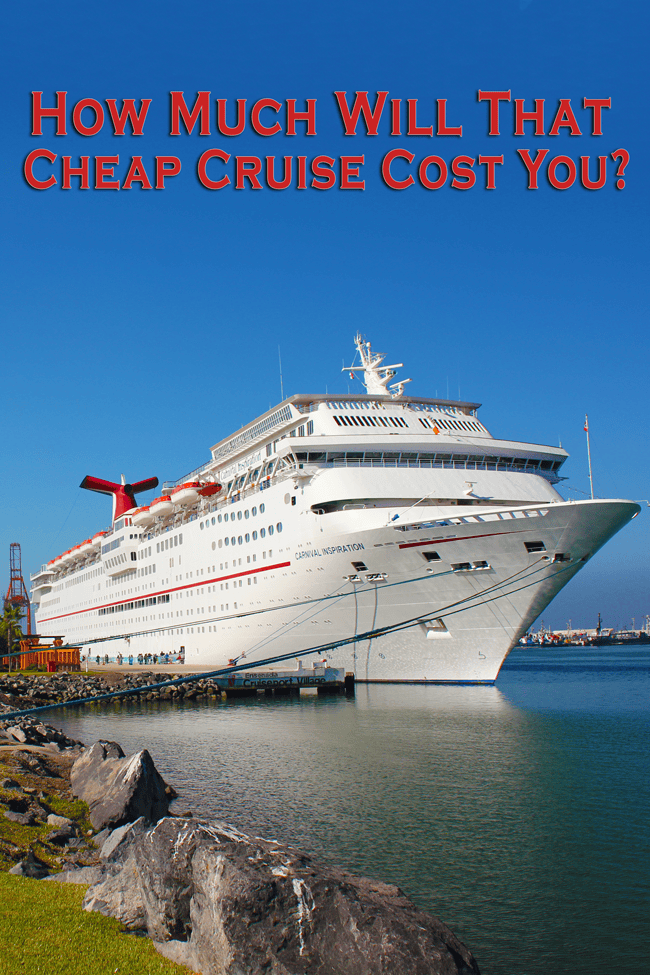 As an example, I'm going to use a cruise deal offered by Carnival for a four-day cruise from Long Beach with stops in Ensenada and Catalina Island. The price is advertised as $229, assuming double occupancy.
The Advertised Cruise Price:
The price you see advertised is almost always a base price in an inside cabin with zero flexibility on room location and no special offers included. This is a GREAT opportunity if you just simply want to get out of town for a few days at the cheapest price possible. However, even this price will have taxes, fees, and gratuities added to it.
Taxes and Fees:
Every cruise fare has taxes and fees added to it. Cruise lines are generally good at disclosing this clearly during the booking process, however on cheap 3 and 4-day cruises to Mexico paying an extra $100 per person can be as much. In this case, the Taxes, Fees and Port Expenses are $105.64. That $229 cruise fare has now jumped almost 50% to $324.64.
Discounts Can Lower Your Cruise Price:
Occasionally you'll find discounts for people with certain affiliations such as first responders, military, loyalty club members, past guests, and people from certain geographic locations. Don't assume you'll get a deal but sometimes you can save a few dollars here.
Pick A Room:
Understandably, moving from an interior cabin to Ocean View or a Suite can increase the price significantly. In this case, an Ocean View is only $50 per person extra so that might be a good deal if you need natural light or are claustrophobic. On the other hand, a suite is $709.00!
What new cruisers might not understand though is that this $229 rate only includes a "Upper/Lower" room that features a single twin bed and either an upper pull-down Pullman bed or a sofa bed. For couples looking to sleep in the same bed this requires an upgrade of at least $2.50 per person per day. We're going to do that since I enjoy spending time together with my wife and I'm sure most of you do as well with your partner.
Pick Your Deal Options:
Because I'm booking this rate well in advance of the sailing date I qualify for the Early Saver Sale (yay!), however, if you want more flexibility there are other options available too that raise the price from $239 to $260 or even $339. Let's select the Early Saver Sale and move to the next step.
Pick Your Room Location:
Lucky for us, on this particular cruise, we can select what part of the ship without any additional fees. Sometimes though, you'll find that moving from the middle of the ship to the aft or forward can add additional fees of $5, $10 or more per person per day.
Pick Your Deck Number:
Unfortunately, our luck was limited, while you can select a room on Deck 5 Main and Deck 4 Riviera, Deck 6 Upper requires an additional $1.30 while Deck 7 Empress is $2.50 more per person, per day. This might not be a big deal for most people but if you would like to be closer to the action and able to easily walk up the stairs to visit the pool, casino, shops etc. then a higher deck might be worth the extra money. Additionally, if you want a certain position such as being very close to an elevator or to avoid being below a busy part of the ship then different floors might have other advantages. Let's select Deck 7 Empress and add an additional $2.50 pp/pd. Our cruise fare is now $249 + taxes ($105.64) and a total for two people is now $709.28.
Gratuities Are Not Optional (even if they appear to be):
I hate the word "gratuities" and "tips". They aren't optional, you need to tip the crew since that is ultimately where they make the bulk of their money from. Most cruise staff are extremely hard working and while I wish cruise lines would just pay them a fair wage and allow us to reward excellent service with a true tip, that isn't how things work on a cruise. In this case, Carnival's Standard Stateroom gratuities are charged directly to your account so it is seamless. However, this might be a surprise if you aren't expecting it. Currently, this fee is $13.99 per person, per day for standard staterooms on Carnival and $15.99 for suites. This adds up to $55.96 for our four-day cruise.
This brings our cruise that started out at $229.00 to $410.60 ... almost double what we thought we were going to pay based on the advertised rate. While this isn't a huge amount on a cheap Carnival cruise to Mexico, the same factors apply to most advertised cruise fares including much more expensive ones to Alaska and Hawaii where you might find that your fare quickly balloons to a much larger number.
What Else Will You Need To Budget For on a Cruise?
Beyond the charges above, other fees and expenses are purely discretionary. However, even though I try my best to minimize costs I always end up spending more than anticipated. Let's take a look at some sample expenses and feel free to adjust them to your spending habits as appropriate so you can create the correct budget for your family's cruise.
Transportation To the Cruise Port - are you flying, driving, taking a taxi etc? Let's just assume we're driving so I'm going to add $20 here to keep it easy.
Cruise Terminal Parking - Four days at $23 dollars: $92
Drinks - Six drinks per day at $10: $120
Souvenirs - Let's buy a shirt and hat at Hussong's Cantina in Ensenada: $50
Specialty Dining - Carnival's 3 and 4-day cruises don't have a steak house but we do love coffee drinks and some Black Forest Cake: $50
Art Auction - I got lucky and won a free piece of art at the art auction, but it costs money to have it shipped home: $29
Shore Excursions - Let's rent a golf cart on Catalina Island and explore on our own ($100), buy lunch plus some drinks at a bar in Avalon ($120) and in Ensenada, we're going to do Carnival's Guadalupe Valley ATV Adventure excursion ($94.99pp): $409.98
Extra Tips - Our waiter on the ship was really awesome, he always brought our food super quickly and was so much fun to talk with, let's give him something extra ($20). Same with our stateroom attendant, she always made sure our room was cleaned up and I loved the fact that she always left a towel animal on our bed let's take care of her too ($20): $40
There are probably other expenses that will add into the cost of your cruise such as your dog sitter etc. but let's not go crazy. With these conservative costs, we've added an extra $810.98 (for two people) to the total cruise fare for a total of $1,632.18!
That is a big number when you consider that we started out with only $229.00 in mind. However, take it into consideration that if we were to do 4 days (3 nights) in a resort on land that just the hotel would come to at least $700 and that doesn't even include food or entertainment.
Cruises can be a great deal but especially if you've never cruised before it can be deceivingly cheap. If you aren't sure what to do, make sure to work with a Travel Advisor who can help you prepare a budget and help finance your trip to make it more affordable by bundling everything together into easy monthly payments.