We just came back from our second Alaska cruise with Norwegian Cruise Line. Our first was in 2018 aboard Norwegian Jewel but this time we were on Norwegian Encore, the newest (at the time) ship in their fleet and one that we knew that we loved sailing on in the Caribbean. However, I was a bit nervous about cruising in Alaska on such a huge vessel when my "Alaska Cruise Expert" friends all said that smaller vessels were better and as a new-comer that NCL wasn't going to be the best option. Well ... all I can say is that Heather and I had an absolutely incredible time on both of our Alaska cruises but Encore really surprised me with how good it was for cruising in this part of the world!
Everyone is entiteld to their own opinion about different things and ultimately that's why there are so many different options when it comes to cruises. For me personally, I have no loyalty to any indvidual cruise line and at different times I like different expereinces.
This is an important thing to remember since I would hate for someone looking for a fun, freestyle cruising experience to book an Alaska cruise on Princess thinking that the only good options were Holland America Line and Princess Cruises. I'm sure they have a fantastic experience and in the case of Holland America Line, more than 75-years of expertise cruising those icy waters.
However, a cruise is about having fun! Please don't select a ship just because someone tells you that they are the experts or you will have just spent an enormous amount of money on an experience that isn't right for you or your family.
Now to be clear - I'm not bashing Holland America Line. I love cruising with them. In fact, Heather and I just booked a cruise on Koningsdam for Christmas next month. They offer an excellent experience... but one that is much different than what we enjoyed about sailing in Alaska on Norwegian Encore. Similarly, sailing on Carnival is a great option for an Alaska cruise with the family.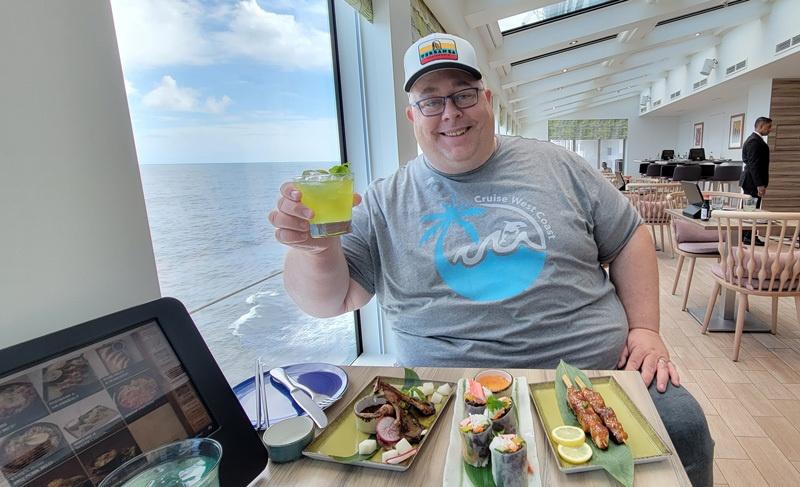 Plenty Of Food & Beverage Options
This is something we love about Norwegian Encore (as well as sister ships, Norwegian Blis and Norwegian Joy as well). There are just so many fantastic food and beverage options that we never felt compelled to have the same thing twice - though we did end up dining in Food Republic multiple times.
Just like any Norwegian cruise, their Free at Sea deal makes it so that virtually everyone has the drinks package and at least one premium dining option included.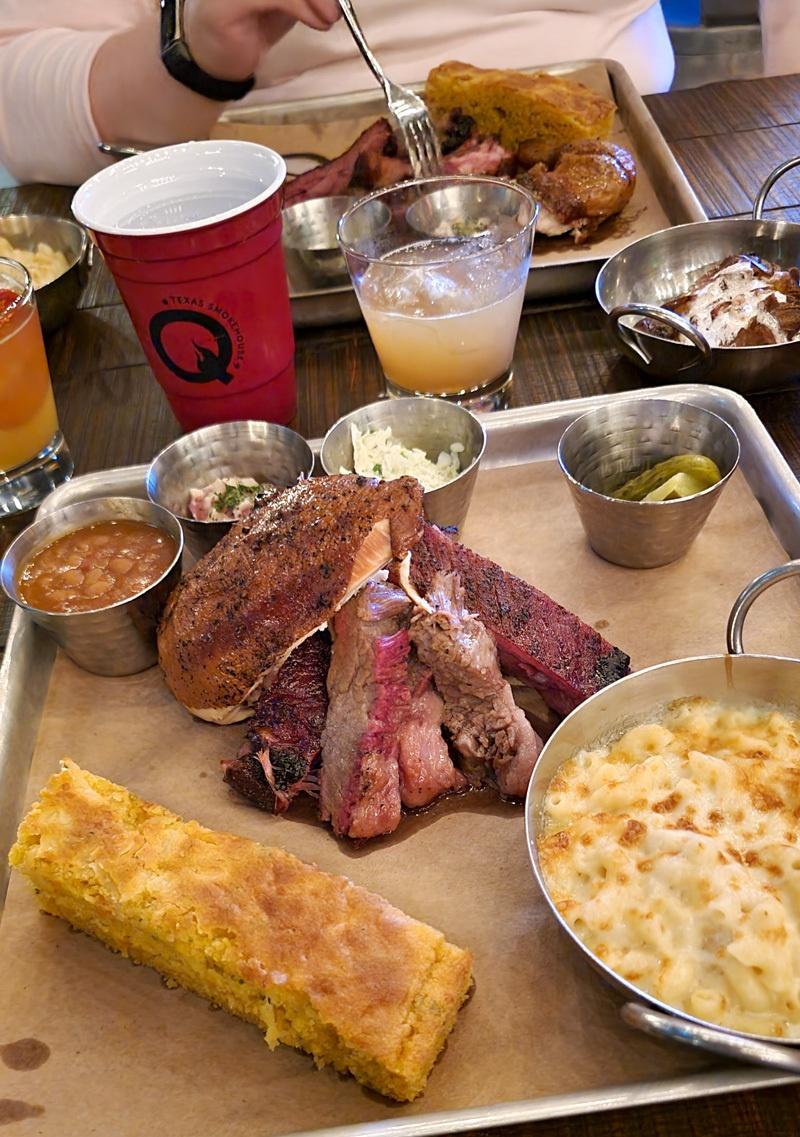 While Norwegian's beverage package really isn't free once you pay for taxes and gratuities, the fact that it is included vs making it look like a massive bonus charge does create a different atmosphere on board the ship. While everyone can enjoy a drink without thinking about it, this thankfully hasn't created issues like it has on some cheaper lines such as Carnival.
For me though, it does create an environment that is fun and relaxed as I enjoy a cocktail or some craft beer while looking out at the ocean searching for whales.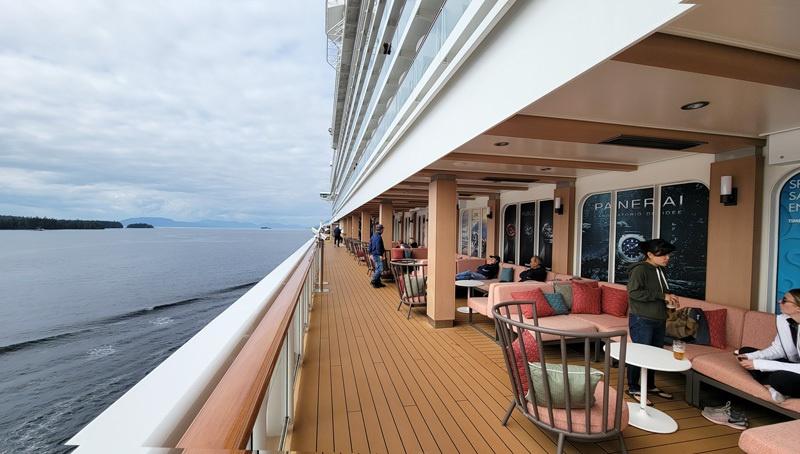 Plenty Of Spaces To Enjoy The Outdoors
This is where Norwegian Encore really shined. While there's no debate that this is a huge ship, that also means that there were plenty of places to enjoy some time alone outside with priceless views of Alaska passing by.
From the waterfront where - on warmer days - you can enjoy dinner at Cagney's, Los Lobos, Ocean Blue, or La Cuicina alfresco to simply relaxing in one of the many comfortable couches this was something that made an Alaska cruise on Encore unique.
On those days where you don't want to be outside but still want to enjoy the visual splendor of Alaska, Encore once again offered some fantastic options.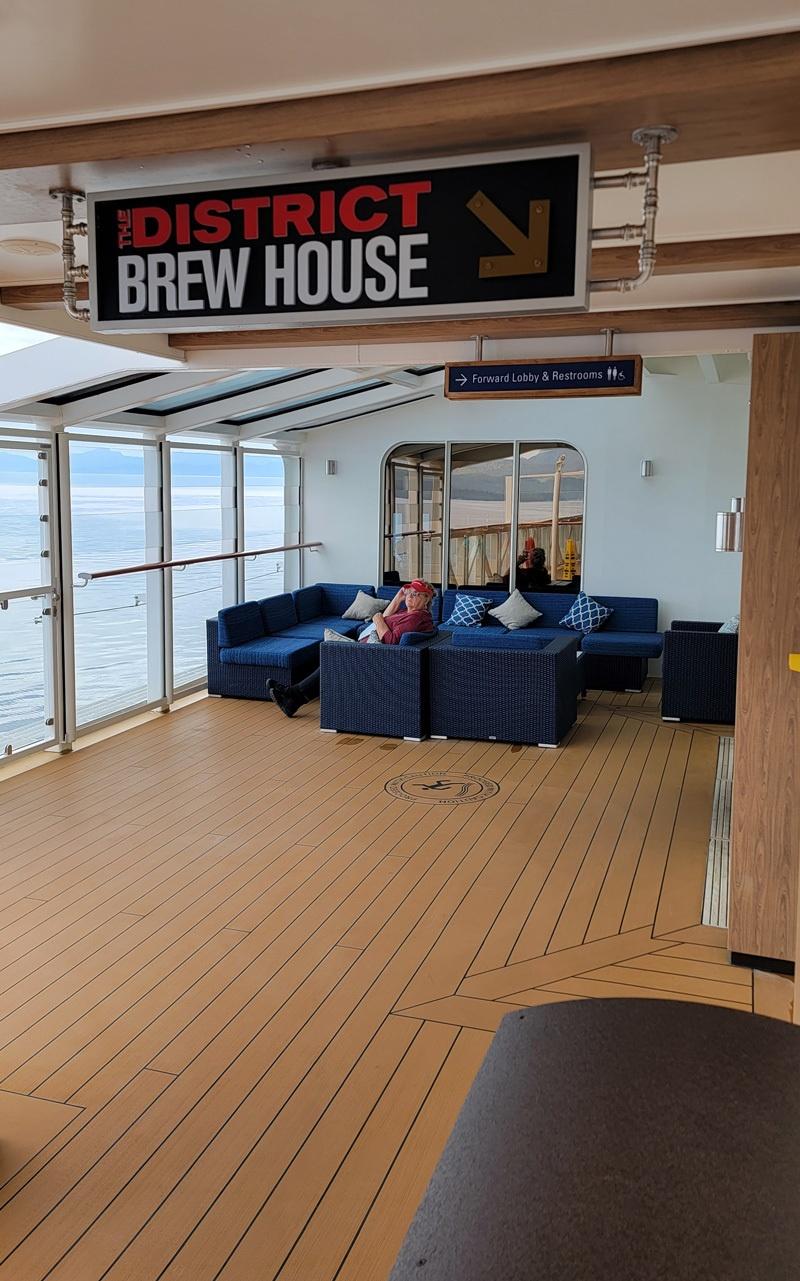 For example, both The District Brew House and Food Republic offer a glassed in space where you can relax in warmth while getting an excellent view of the water as well as islands that are passing by. The same is true upstairs in the Observation Lounge as well as the Haven-exclusive Horizon Lounge.
Even if all you wanted was simply an outdoor space that was protected from the wind, they had those spaces like the one above that you could relax in and enjoy the world go by.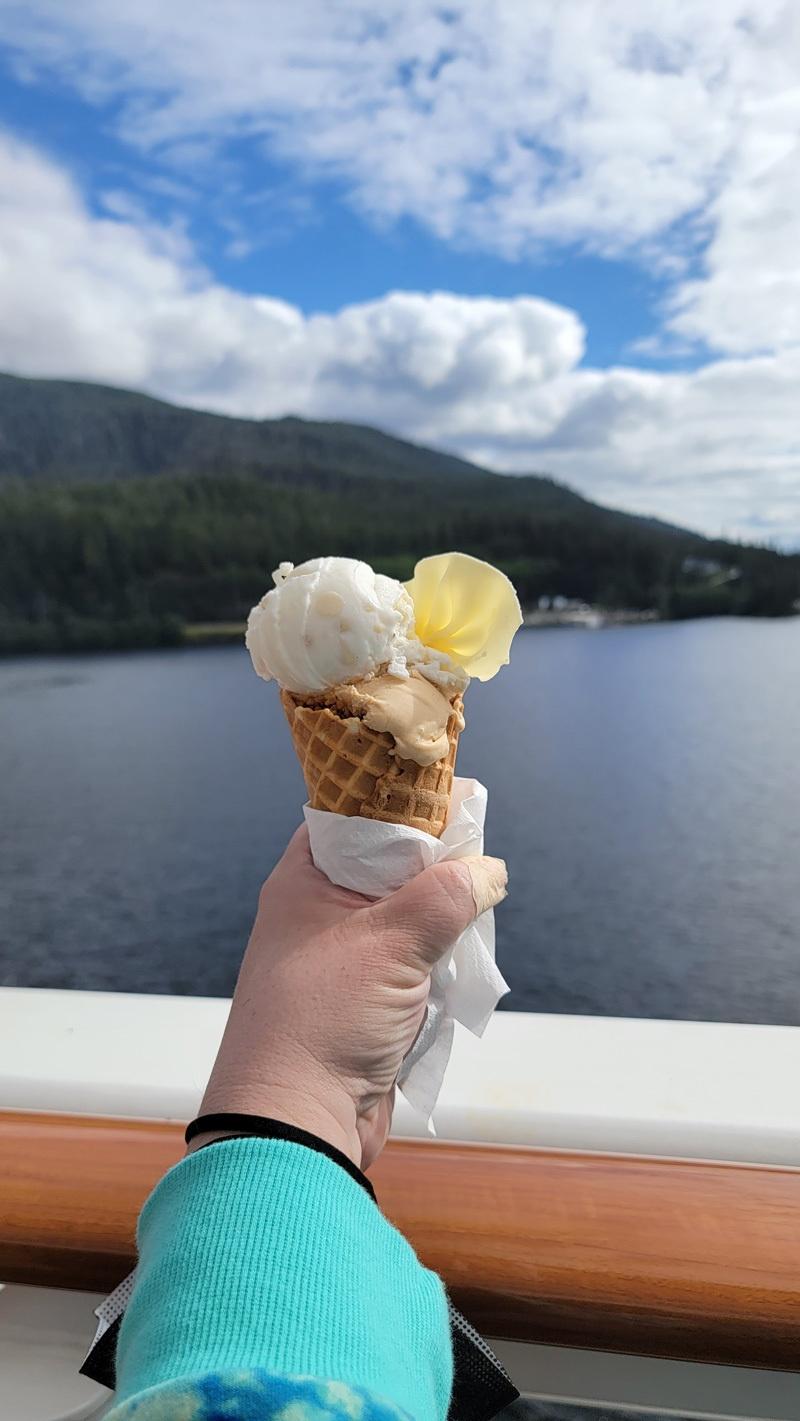 Freestyle Cruising Works Well In Alaska
Alaska is a different cruise environment than the Caribbean. Here, most people will be wearing jeans and long sleave shirts and when they get back from shore excursions it usually isn't following a day of relaxing on the beach where you have to change out of wet swim wear.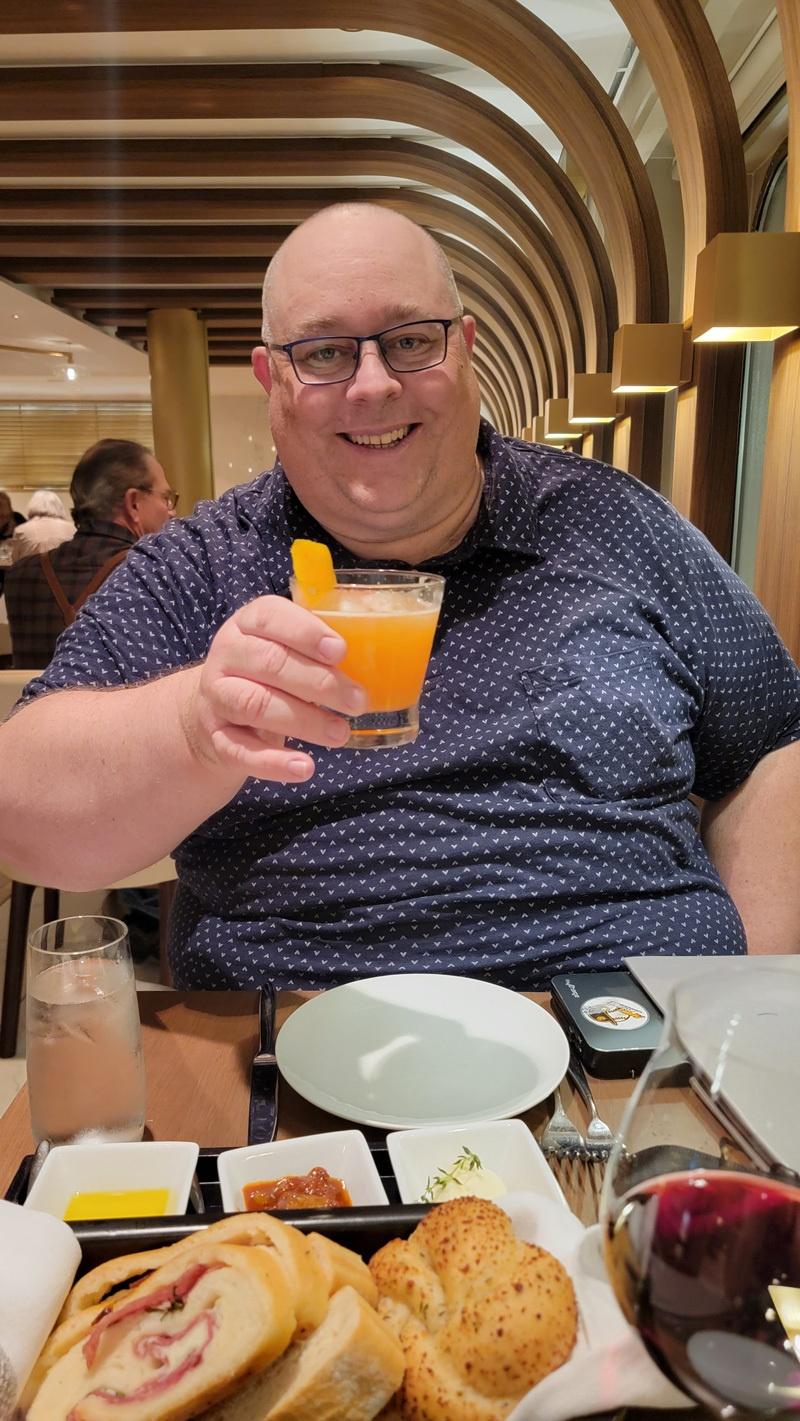 As a result, I feel like the general dress is already more "smart casual" and there isn't really a need to change into something fancier just to go to dinner. Some folks may disagree with that and I respect others desire for dressing up just to go to dinner but that's what I love about sailing on Norwegian ... there is far less discussion over what is or isn't acceptable for the dress code.
Similarly, sometimes you want to eat earlier and other times you want to eat later, cruises in Alaska sort of lend them selves to being a more casual affair where we like to base our dining times around if the sunset is going to be exceptional that night or if there happen to be a bunch of whales around at the moment and you don't want to stop watching for them.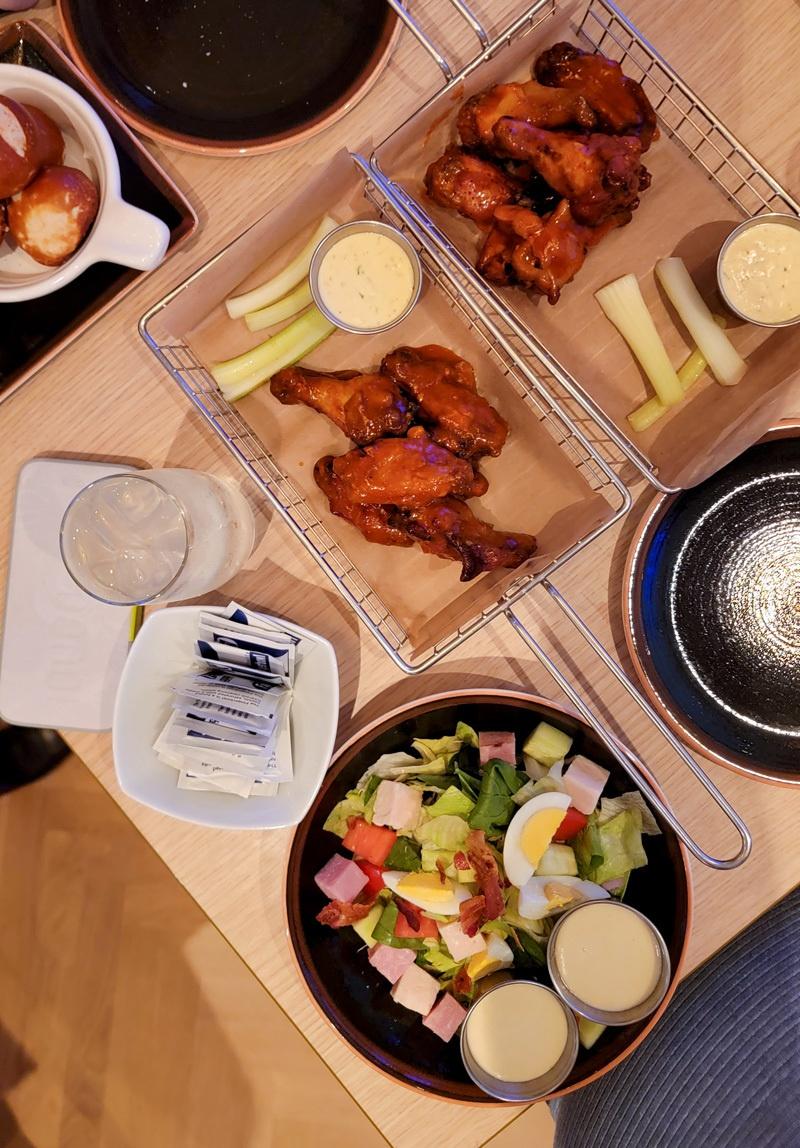 Heck, there were some nights where all I wanted to do was just eat chicken wings and drink beer in The Local instead of doing dinner at all.
Those kind of things are perfectly ok when you are on a Norwegian Cruise!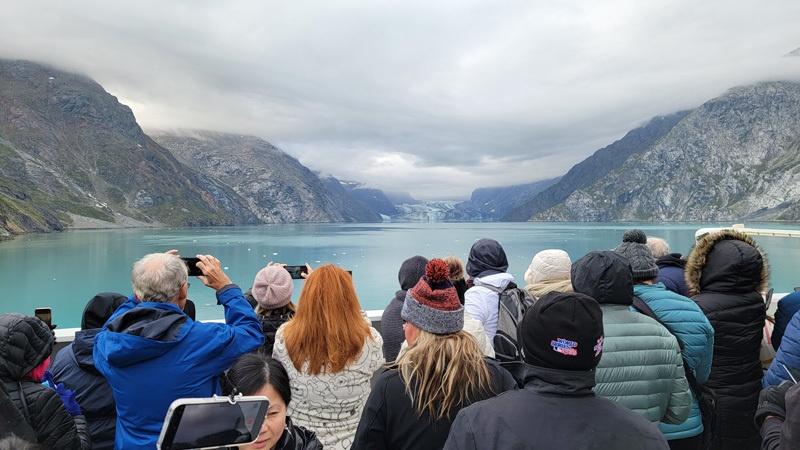 Cruising Glacier Bay On Norwegian Encore
Getting back to my thoughts earlier regarding programming, while there are certainly things that Norwegian could have done to be more immerseve as an Alaska cruise experience, our day spent cruising Glacier Bay was an absolutely fantastic experience. I had been told that bigger ships couldn't get as close as smaller ships to the glaciers and that some other lines would have better guides to show guests different things to look out for.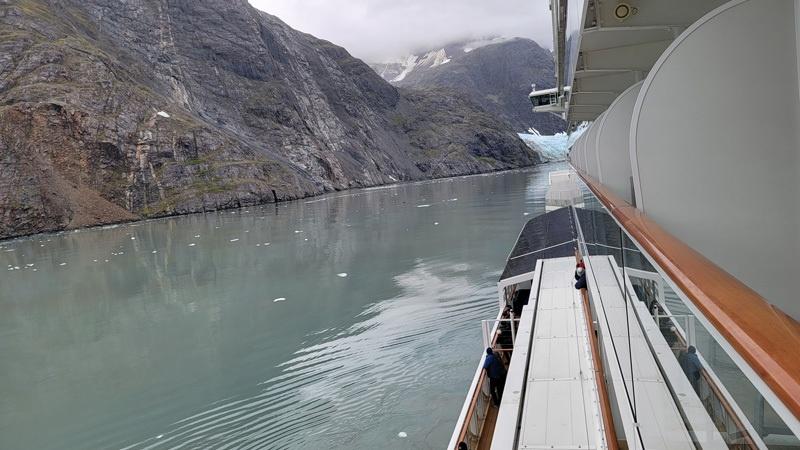 I can't comment on other cruise lines but when we entered Glacier Bay, a National Park Ranger did join our vessel and narrated the entire passage.
Throughout the entire day the ranger would be sharing stories, trivia, and history of the space through the ships's PA system. This meant that no matter where you were enjoying the view, you wouldn't be missing out on anything. Additioanlly, they allowed guests out on the bow and even provided hot chocolate, coffee and other snacks to enjoy during this time so that we all kept nice and warm.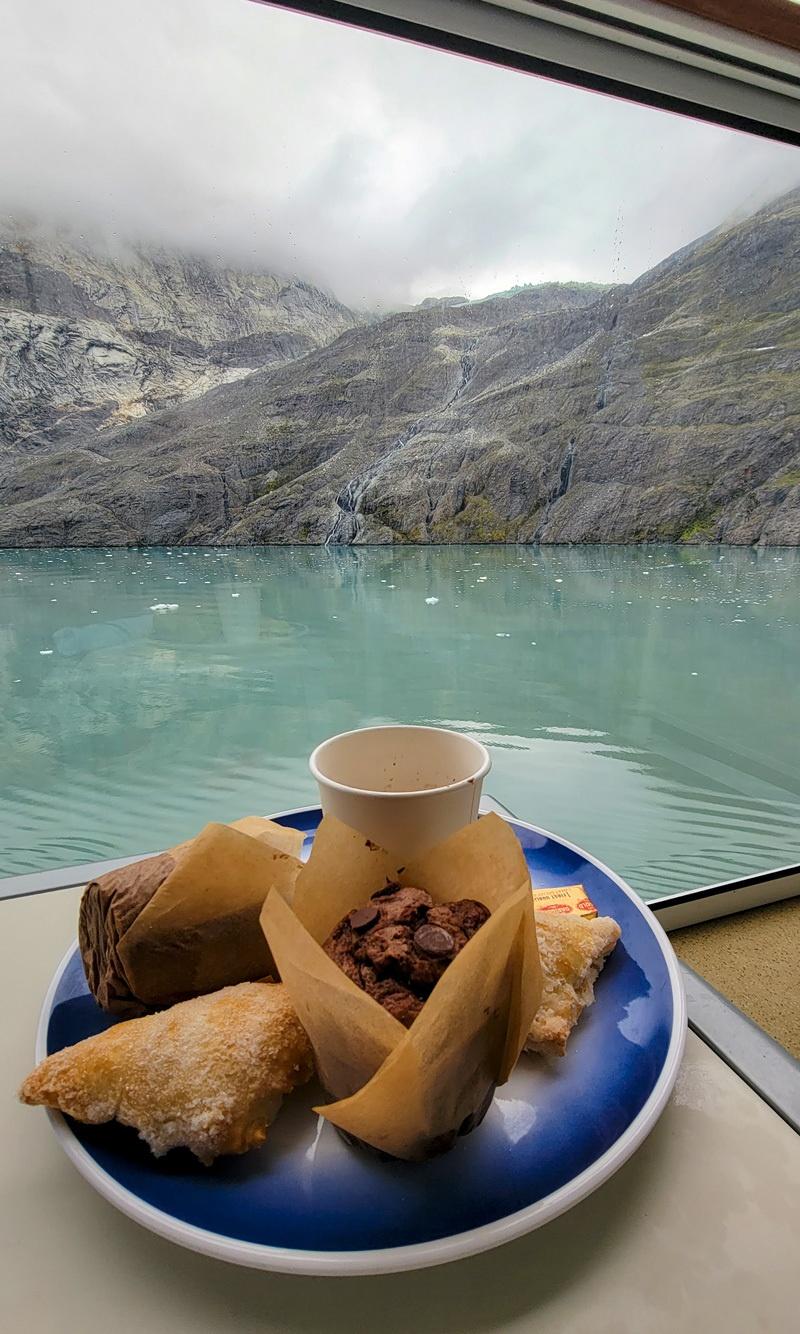 Our ship got closer to the glaciers than i would have expected for such a huge vessel and spent plenty of time for everyone to get more than enough photos. In fact, I have litterally hundreds of photos across my different cameras that will probably never be shared but that's ok ... it was an incredible day filled with wonderful sights and opportunities to meet new friends who were sharing this experience with us.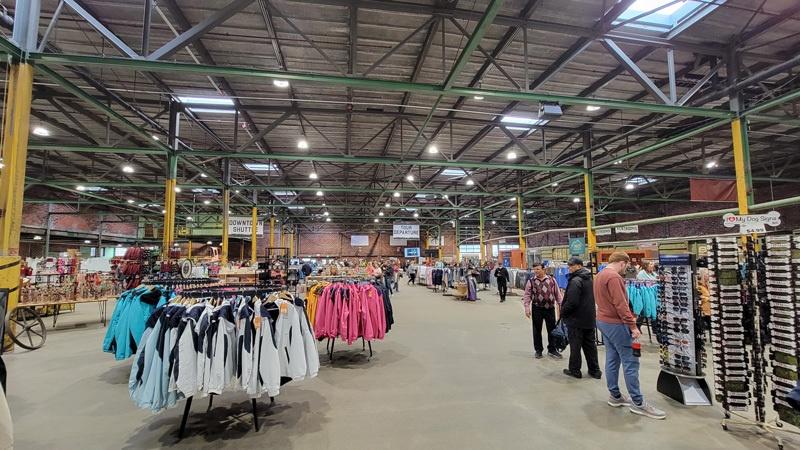 What We Didn't Love About Encore In Alaska
The biggest thing that I didn't like about our Alaska cruise with Norwegian Encore was going to Ward Cove instead of downtown Ketchikan like we did previously. This is a new port that Norwegian has built since Ketchikan was getting simply too crowded.
To be completely fair, we had a great time and simply treated it as if it was a new port ... and not "sorta Ketchikan". Other folks that were looking forward to Ketchikan though found this visit an inferior option compared to what they had experienced on previous Alaska cruises.
No matter what cruise you take, it is very important to consider your itinerary and if there is a port that you don't want to miss - consider other options. However, in most parts of the world there's really only one port for a destination. In Ketchikan though - there are two options. The first is located right downtown where you can easily walk to shops, restaurants, and attractions. The second is Ward Cove - which will almost certainly develop into a great port with plenty of options at some point.
However, let's face it ... when you go to Ketchikan you want to go to Ketchikan and here it means that you need towalk through a gigantic gift shop and then wait to take a 20-minute shuttle bus ride to downtown. From a practical perspective, this takes an hour of time away from the prescious moments you have to explore this fantastic town.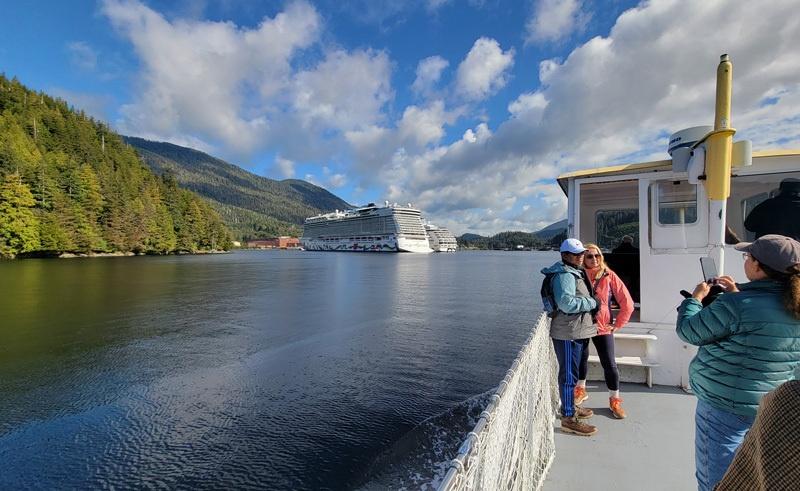 The other option obviously is to treat this as "not Ketchikan" and pick one of the many excursions that leave right from here. This is exactly what we did. The Lighthouse, Eagles and Totems tour was an excellent tour and there are many other fantastic options as well.
The second thing we didn't like about sailing with Norwegian in Alaska was that they didn't do a good job at offering special expereinces on the ship the way some other cruise lines do. For instance, Norwegian generally isn't focused on lectures or enrichment and the ship is too big to source local salmon for dinner like I've heard Princess and Holland America Line both do.
If that is important to you then it is something important to consider. However, those lines aren't going to have Broadway shows like Kinky Boots or the same relaxed "Freestyle Cruising" atmosphere that attracts us to continue sailing on Norwegian.