While drinking fine wines and visiting wineries to do tastings is a goal for many oenophiles, there's a whole other world out there once you begin actually creating your own wines. While many cruise ships offer art lessons and some even feature cooking classes, a very small number allow you to move from "wine drinker" to "wine maker" ... or blender anyhow. In fact, if you were to visit some of the more presitgeous California wine regions such as Napa, Sonoma, or Paso Robles you would expect to pay hundreds of dollars per person for a similar experience. This might just be one of the few experiences that is actually less expensive on a cruise ship!
Your experience begins with a brief overview of what you will be doing during the roughly one hour session and then the som team plays a brief video by the head winemaker from Chateaux Ste Michelle. During this video, guests will learn the basics about winemaking, blending, terroir, differen varietals, and the fundimentals for why the generally similar glasses of red wine in front of you will shortly come together to create your own very unique Bordeaux-style blend.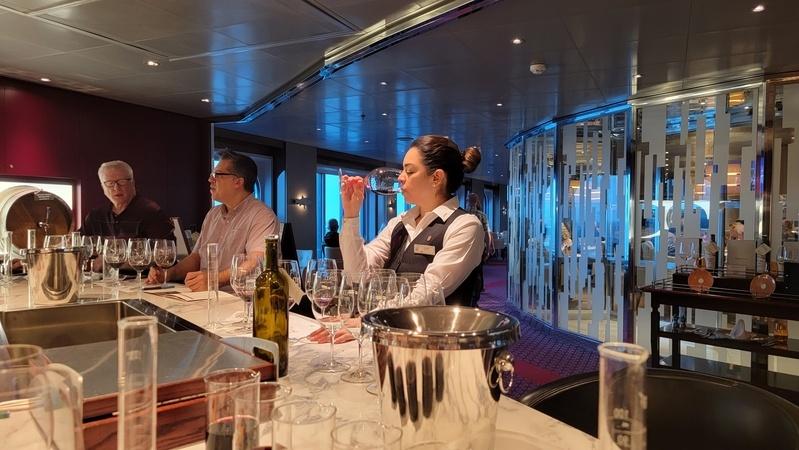 While I can't help but think that this activity might be more popular if it had a California wine branding on it, Washington State wine is actually quite excellent. It also makes sense that Holland America Line would partner with a home-state brand as well. In fact, Washington State is the nation's second largest wine production area and it's largest AVA, the Columbia Valley is home to 10 sub-AVA's that you may be already familiar with, including: Walla Walla Valley, Red Mountain, Yakima Valley, Horse Heaven Hills, Snipes Mountain, Rattlesnake Hills, Wahluke Slope, Lake Chelan, Ancient Lakes, and Naches Heights.
Unlike Seattle where it is often rainy, cold, and foggy. This part of the state is an excellent growing region with warm sunny days, and more daylight hours during the summer growing season than places like Napa Valley.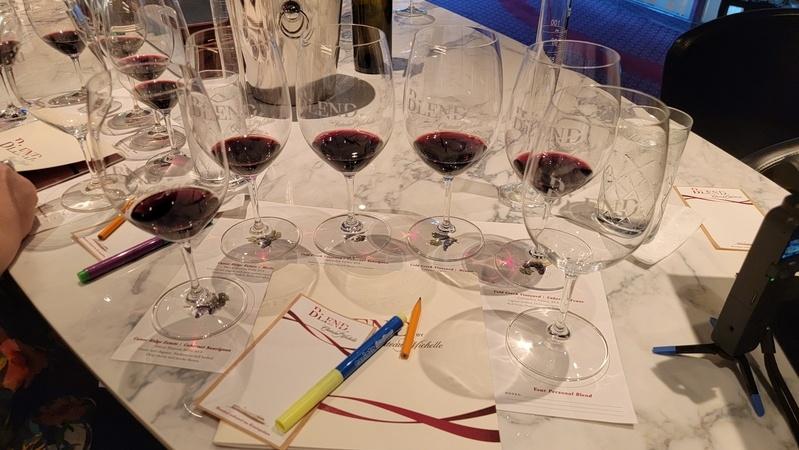 After the video introduction, the pair of wine soms explain the five different wines that you will be blending to create your own unique wine.
These include a pair of Merlot and Cabernet Sauvingon vintages from Cold Creek Vineyard and Canoe Ridge Estate Vineyard as well as a Cabernet Franc from Cold Creek.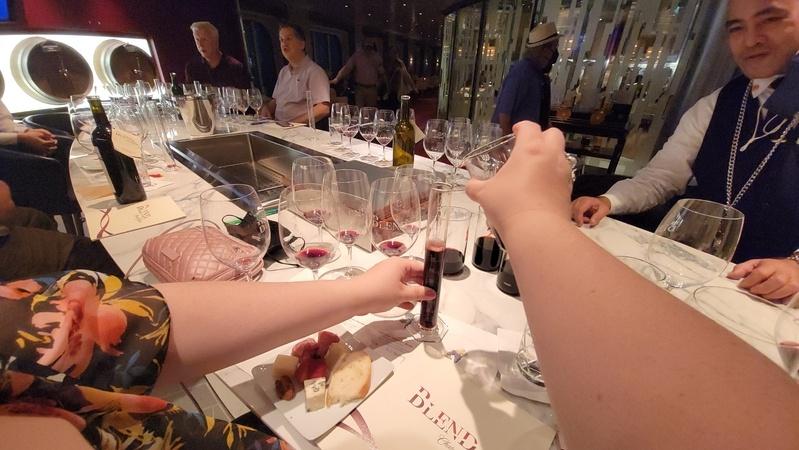 Then the fun begins!
You can taste each of the wines and identify the unique properties - as well as any weaknesses that you might want to overcome by blending with something else that can help compensate for the missing attributes that you seek in the final product.
I did this with my wife, Heather who helps out here as well as being a Travel Advisor at Flow Voyages. Each of us initially created a wine that was what "we liked" but as often happens, she didn't care for mine and I didn't care for hers. We each have very different personalities. However, we then discussed the impressions of the other's creation and with a bit of assistance from the team, we created a third blend that both of us absolute loved.
From that perspective, this was way more than just a fancy wine tasting. It was actually almost like couples therapy since we were truly able to come together and share, discuss, and create something wonderful together.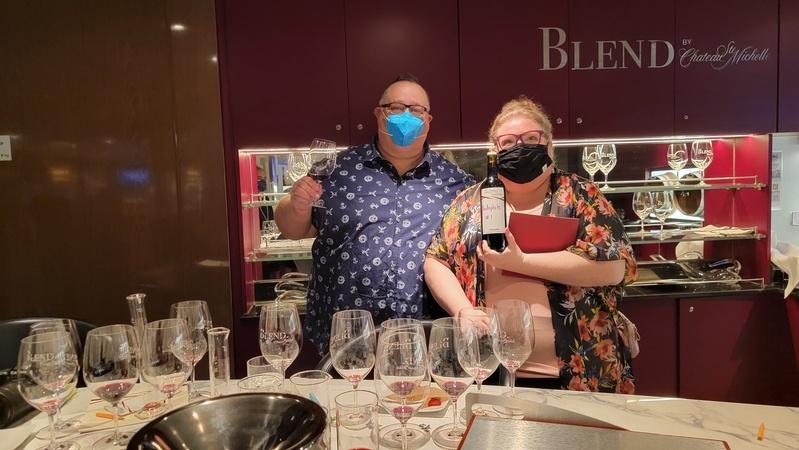 Our "Hodophile #1" Wine Blend:
20% #5 Cold Creek Cabernet Franc
20% #4 Cold Creek Merlot
30% #3 Cold Creek Cabernet Sauvinon
30% #1 Canoe Ridge Cabernet Sauvingon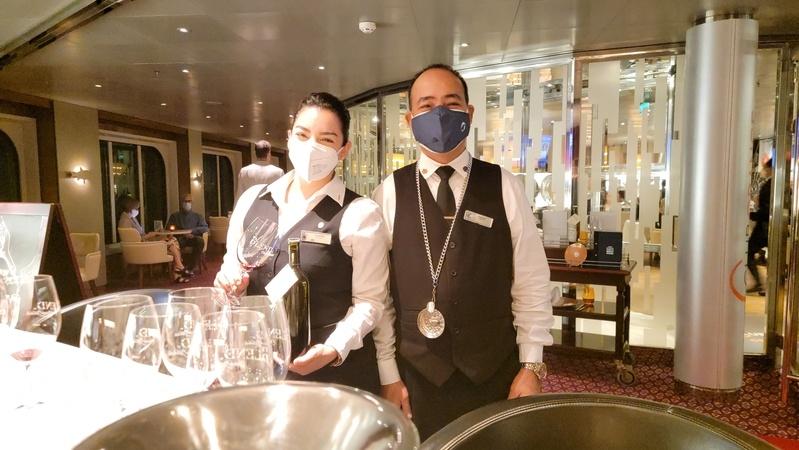 After providing the team with our exact proportions, they then created a bottle for us and we attached our lable to it and were able to take it back to the cabin to take home or enjoy on the ship without corkage fee at a restaurant or bar.
We chose to enjoy it the next night at Canalleto (Italian specialty dining restaurant) where we shared it with the som at that restaurant who provided his feedback and presented it to us as if it was a fine bottle from the ships own cellar.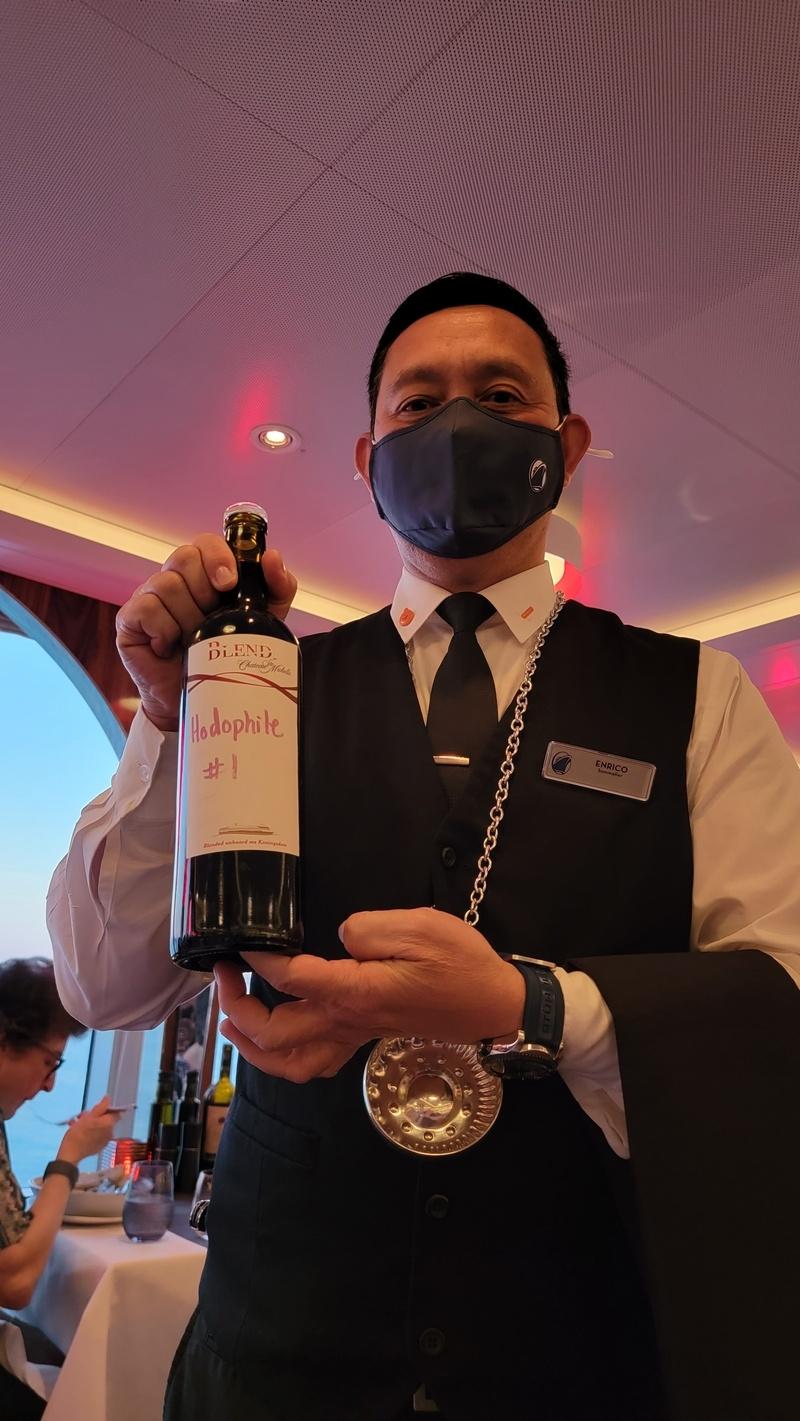 Experiences like this are ultimately what makes a cruise special and memorable.
Holland America Line might have a reputation as being "Nearly Dead and Newly Wed" but the reality is that they have one of the finest wine programs on any of the mid-market cruise lines. Even among premium lines such as their sister cruise line, Princess Cruises, they stand out. Not just with the selection of excellent wines on board but the trained staff and activities designed to engage and educate guests too.
I can't wait to travel again on Holland America Line Koningsdam and see if maybe we can create something even better this time!