Embark on an unforgettable adventure as you set sail on a Mexican Riviera cruise, discovering the breathtaking beauty and enchanting marine life of the Baja Peninsula. From captivating coastal landscapes to unparalleled whale-watching experiences, this guide will reveal insider tips for making the most of your voyage – including when to go, where to find the best whale-watching spots, and how to prepare for this once-in-a-lifetime journey.
Key Takeaways
The Baja Peninsula is home to a diverse range of marine life, including gray whales, humpback whales, and even orcas.
The best time for whale watching on a Mexican Riviera cruise is from December to April when females start calving. Visitors can also spot other species like blue, sperm, minke, and fin whales during peak migration season.
Top whale - watching locations in Baja California include Cabo San Lucas, La Paz, Loreto, Magdalena Bay, San Ignacio Lagoon and Guerrero Negro. Personalized tours offer unique opportunities to intimately interact with these majestic creatures while enjoying the breathtaking scenery.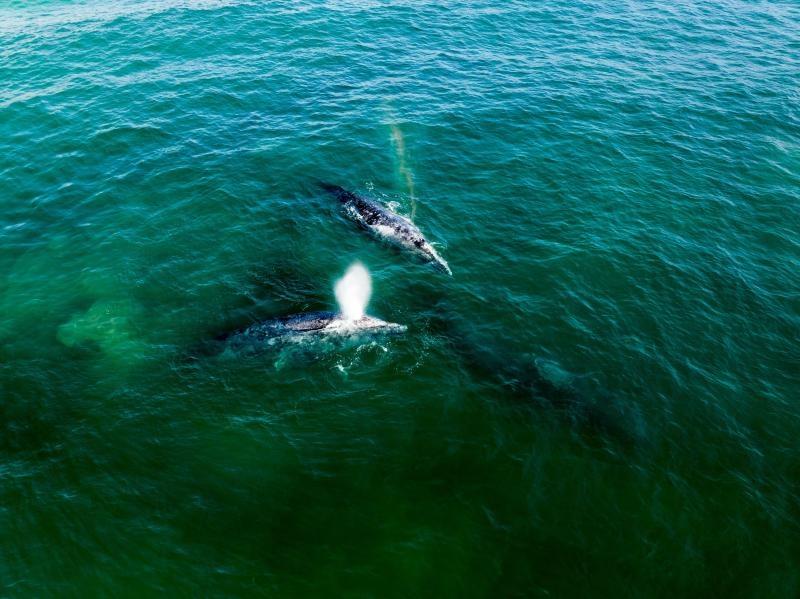 Why Choose A Mexican Riviera Cruise For Whale Watching
Experience the incredible marine life of Baja Peninsula on a Mexican Riviera cruise, with its impressive whale migration patterns and unique whale watching experiences.
Baja Peninsula's Rich Marine Life
The Baja Peninsula, a stunning stretch of land that separates the Pacific Ocean from the Sea of Cortez, is home to an incredible array of marine life.
Travelers visiting this enchanting area can expect to encounter various types of whales, including gray, blue, humpback, fin, sperm, minke, and even orcas (killer whales).
Additionally, other marine creatures such as dolphins, seals, sea lions reside within these nutrient-rich waters. Snorkelers and divers will be enthralled by the vibrant coral reefs teeming with colorful fish species and intriguing underwater landscapes found here.
Impressive Whale Migration Patterns
The impressive whale migration patterns in the waters surrounding the Baja Peninsula draw visitors from around the world seeking a glimpse of these magnificent creatures.
During peak migration season, whales travel thousands of miles to reach their breeding grounds in Mexico's warm coastal waters. Gray whales embark on one of the longest migrations known amongst mammals, journeying up to 12,000 miles roundtrip between their feeding grounds in Arctic seas and their calving lagoons along the Pacific Coast of Baja California.
These fascinating voyages offer a unique opportunity for tourists on Mexican Riviera cruises to observe not only gray and humpback whales but also other species such as blue, sperm, minke, fin, and orcas during different seasons throughout their migratory routes.
In addition to these captivating cetaceans, travelers may encounter marine life like seals and sea lions which inhabit areas like Land's End near Cabo San Lucas or Todos Santos Island off Ensenada's coast.
Unique Whale Watching Experiences
A journey through the Mexican Riviera offers vacationers a plethora of extraordinary whale watching experiences. The Baja Peninsula, renowned for its rich biodiversity, hosts majestic species such as gray whales, blue whales, humpback whales, sperm whales, minke whales and even orcas.
One standout experience is snorkeling alongside whale sharks in Ensenada between October and late April. These gentle giants are not only captivating but also incredibly friendly to snorkelers who dare to venture into their realm.
Another can't-miss adventure takes place at Magdalena Bay where visitors can partake in guided tours tailored towards interaction with gray whale mothers and calves – expect tender moments when these curious babies approach small boats seeking some human touch.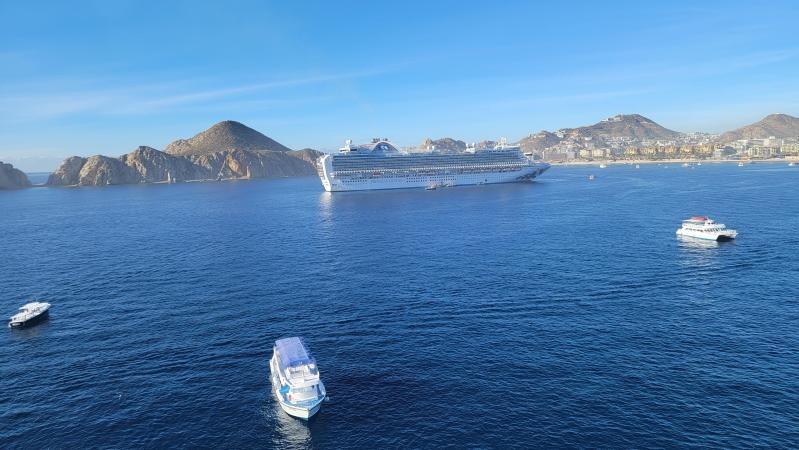 Best Time For Whale Watching On A Mexican Riviera Cruise
The best time for whale watching on a Mexican Riviera Cruise is from December to April, which is the peak whale-watching season when females start calving.
Peak Whale Watching Season
The best time for whale watching on a Mexican Riviera cruise is during the peak season which runs from December through April. During this period, visitors can expect to see gray whales and humpback whales in their natural habitat.
The months of January through March are particularly special as it's when baby whales emerge. It's truly an awe-inspiring sight to witness these majestic creatures breaching and playing in the waters off the coast of Cabo San Lucas and Magdalena Bay.
Weather Considerations
The best time for whale watching in Mexico is during the winter months, between December to March. However, visitors should also consider the weather conditions during their trip.
Though Baja California enjoys generally warm temperatures year-round, it's important to keep in mind that the region can experience temperature variations and cooler weather, especially in the winter months.
For instance, Los Cabos can become windy during this time of year due to its location at the meeting point of two oceans –the Pacific Ocean and Sea of Cortez– so wearing layers is essential for keeping warm on whale watching excursions.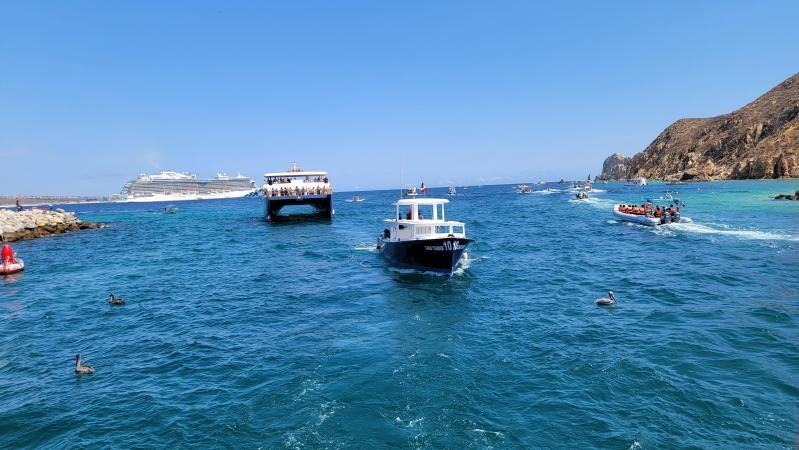 Top Whale Watching Locations In Baja California
Explore the top whale watching locations in Baja California, from Cabo San Lucas to Guerrero Negro, and experience some of the most unique and impressive whale sightings on your Mexican Riviera cruise.
Cabo San Lucas
Cabo San Lucas is a top whale watching destination in the Mexican Riviera, known for its humpback and gray whales. The peak whale watching season runs from December to April, with January to March offering the best opportunity to see baby whales.
Visitors can also spot other species of whales, such as orcas, blue whales, sperm whales, and fin whales. Whale watching in Cabo means observing these majestic creatures in their natural habitat while cruising past iconic landmarks like Land's End and El Arco rock formations.
La Paz
La Paz, located on the southern tip of Baja California, is one of the most popular whale watching locations in Mexico. Visitors can witness blue whales, humpback whales, gray whales and dolphins all along the crystal clear waters near La Paz.
Local fishermen have converted their boats into comfortable whale-watching vessels for tourists to experience this unique Mexican Riviera cruise adventure firsthand. The government has also made sure that tourism interacts with these marine mammals safely and without infringing on their natural behaviors.
Loreto
Loreto is a charming coastal town located in the Sea of Cortez, known as the "Aquarium of the World." Whale watching in Loreto is an unforgettable and personalized experience on a Zodiac boat.
The best time to see whales in Loreto is between January and March when gray whales and humpback whales are commonly sighted. Visitors have a unique opportunity to witness blue whales, the largest animal on earth.
Ethical tours follow strict government regulations to protect the safety and natural behaviors of these magnificent creatures. In addition to whale watching, other marine life like dolphins, sea lions, and sharks may be spotted during these excursions.
Puerto Vallarta
Puerto Vallarta is a popular destination for whale watching on a Mexican Riviera cruise. From December to March, visitors have the chance to see gray whales breaching the surface of the water and showing off their acrobatic skills.
The government in Baja California has implemented laws to protect these majestic creatures during whale watching tours, ensuring that they are not disturbed or harmed. For a personalized experience, zodiac tours are the best option in Puerto Vallarta.
In addition to whale watching, there are plenty of other activities to enjoy such as ziplining through lush jungle canopies or snorkeling in pristine waters teeming with marine life.
While the ones above are common cruise stops for big ships from Holland America Line, Princess, Celebrity, Royal Caribbean, and Carnival - there are some hidden gems that are much less common for cruise visitors to be able to explore. However, occasionally you will see these stops listed as part of an adventure cruise from lines such as Linbad Explorations / National Geographic, Uncruise, or even Scenic.
Magdalena Bay
Magdalena Bay is a top destination for whale watching in Baja California. Also located on the Pacific coast of the Baja Peninsula, it boasts high concentrations of humpback whales and grey whales during their migration season from January to March.
The bay also offers visitors the opportunity to spot other marine mammals like sea lions and seals. Whale watching by Zodiac is highly recommended for a personalized and immersive experience with these majestic creatures.
Some tour operators even offer whale shark encounters, where you can snorkel alongside the world's biggest fish in their natural habitat.
San Ignacio Lagoon
San Ignacio Lagoon is a must-visit destination for whale watchers on a Mexican Riviera cruise. It's home to one of the largest gray whale populations in the world, and considered to be the largest undeveloped nursery and breeding ground for the Pacific Grey Whale. It also offers a fabulous opportunity to view them as the pass in and out of the channel between the lagoon and open ocean. As a result, visitors have the unique opportunity to intimately interact with these gentle giants.
Although it can be challenging for young children or non-mobile guests, personalized tours offer an unforgettable experience that includes touching and petting gray whales.
The region also offers plenty of other outdoor activities, including kayaking, turtle experiences, and deep-sea fishing. Visitors are advised to book with reputable tour operators like Kuyiba and respect the whales' natural habitat during their visit.
Guerrero Negro
Guerrero Negro is a prime whale-watching location in Baja California, Mexico. It's nestled on the west coast of the Baja Peninsula, near the Pacific Ocean, and boasts one of the largest gray whale breeding lagoons worldwide.
These gentle giants migrate annually from Alaska to Baja California between December and April to give birth and mate. Guided tours offer visitors a unique opportunity to observe these magnificent mammals up close in their natural habitat.
Beyond whale watching, Guerrero Negro offers other activities such as birdwatching, desert tours, and kayaking. The town is also renowned for its salt production which is harvested from salt flats along the coast.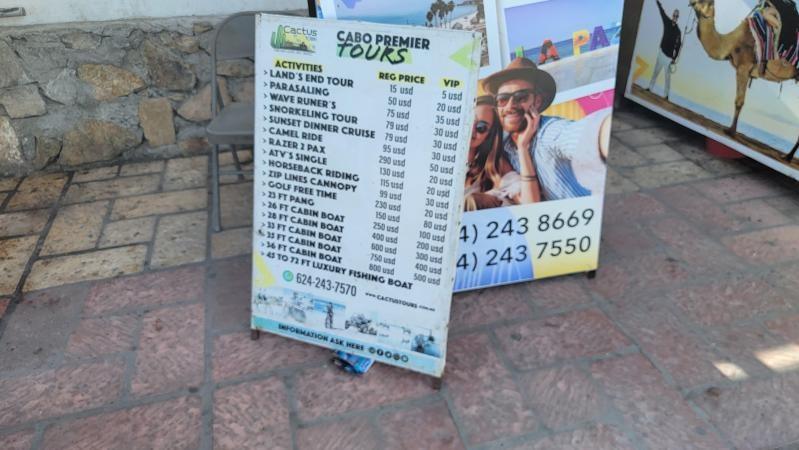 Whale Watching Excursions And Activities
Experience the thrill of seeing these majestic creatures up close with various whale watching excursions and activities, including zodiac tours, sightseeing tour boats, kayaking with whales, private charter boats, and even sailboats to get that ultra-peaceful experience without loud motors to disrupt the experience.
Zodiac Tours
Zodiac tours are one of the best ways to experience whale watching in Baja California. These small, agile boats offer a more personalized and up-close experience for visitors looking to get as close as possible to the majestic creatures.
Zodiacs also allow guests to access areas that larger vessels cannot reach, such as shallow bays and narrow inlets, increasing chances of spotting whales and other marine life like seals, sea lions, and dolphins.
Tour operators like Holland America Line and Princess Cruises offer zodiac excursions with experienced guides who provide informative commentary about the whales' behavior and habitat.
Sightseeing Tour Boats
Sightseeing tour boats are a popular way to enjoy whale watching on a Mexican Riviera cruise. These large vessels provide an excellent vantage point for guests of all ages to witness the majestic creatures in their natural habitat.
The boat's knowledgeable crew members narrate the tour, providing engaging insights into the whales' behavior and migration patterns, adding an educational component that makes it ideal for families with children.
While larger boats are what common whale watching cruise tour excursions will use, in ports like Cabo San Lucas, visitors can alternatively take glass-bottomed boat rides while exploring Los Arcos or adventure out for zodiac tours along Baja Peninsula's coast to get up close with gray whales, humpback whales, and other marine mammals.
Kayaking With Whales
Kayaking with whales is an exciting and unique experience that allows visitors to get up close and personal with these magnificent creatures. Baja California, Mexico offers some of the best kayaking opportunities in the world, where gray whales are often seen from January to April, during their migration southward from Alaska.
Kayaking expeditions are typically something more common as part of a small-ship cruise because it is a long way to paddel out frrom the cruise port. However, there are some tour operators that have a larger boat that can launch and retrieve kayakers once they are out on the open ocean.
When kayaking with whales, it's important to remember that you are a visitor in their natural habitat. It is recommended to book tours with responsible operators who prioritize the safety of both humans and animals.
Visitors should also be aware of proper kayak etiquette around marine mammals to avoid disturbing or harming them.
Private Whale Watching Charter Boats
For those seeking a more personalized and intimate whale watching experience, private charter boats are the way to go. These charters offer an exclusive tour for individuals or small groups, allowing for greater flexibility in scheduling and pacing. We've done this several times in San Diego, Ensenada, Puerto Vallarta, and Cabo San Lucas. Each time has been a unique experience but the attention that we received from the captain and crew were extrodinary.
Private whale watching charter boats can be found throughout Baja California Sur, including popular destinations like Cabo San Lucas and La Paz. Many operators offer bilingual guides who can provide expert knowledge on local marine biology and ensure the safety of all passengers on board.
If you are looking for a first class experience, this is the way to go and your travel advisor can always help find an operator that fits what you are looking for.
Swimming With Whale Sharks
Swimming with whale sharks is an unforgettable experience that should be on every traveler's bucket list. While this is TECHNICALLY not a whale, we're going to mention it here since too many people get confused. These gentle giants are actually fish - not mammals - but can grow up to 40 feet long and weigh over 20 tons, yet they feed only on plankton and small fish, making them totally harmless to humans.
On Mexican Riviera cruises, visitors have the opportunity to swim alongside these majestic creatures in their natural habitat from October through late April.
In addition to swimming with whale sharks, visitors can also enjoy kayaking, deep-sea fishing, and snorkeling while exploring the stunning coastline of Baja California Peninsula.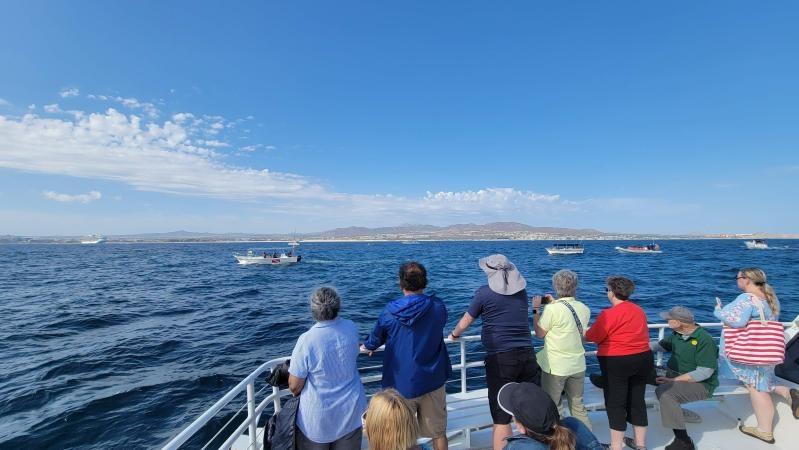 Essential Tips For A Memorable Whale Watching Experience
Pack smartly, wear sunscreen, manage expectations, and practice responsible whale watching. These are just a few of the essential tips for an unforgettable whale watching experience on a Mexican Riviera cruise.
Packing Smartly
Properly packing for a whale watching cruise is crucial to ensure you have an enjoyable and comfortable experience. Firstly, pack clothing appropriate for the climate, which can vary throughout different parts of Baja California.
It's best to bring layers as temperatures can change quickly when out at sea. Additionally, be sure to pack sunscreen and sunglasses to protect yourself from the strong Mexican sun.
When it comes to camera equipment, it's important not to overpack.
Wearing Sunscreen
To enjoy an unforgettable whale watching adventure in Mexico, travelers must wear sunscreen to avoid getting sunburned. With the country's tropical climate, visitors are exposed to intense sunlight that can cause skin damage and discomfort.
Hence, applying a broad-spectrum sunscreen with at least SPF 30 that is ocean-safe is essential during any outdoor activities like whale watching. Additionally, it's useful to remember that waterproof sunscreen needs reapplication after swimming or sweating so they should bring it along while on the excursion.
When choosing a Mexican Riviera cruise for whale watching excursions, passengers get the opportunity to witness some of nature's most powerful creatures up close and personal from the comfort of their ships.
While some portions of cruising allow passengers to take part in various shore activities such as ziplining or surfing, Whale-watching is one activity you cannot miss out on – packed with thrills and excitement! The best time for "Whale Watching" in Mexico is every year from December through March when these magnificent mammals start migrating southward towards warmer waters along the Pacific Coast.
Managing Expectations
It's important to manage your expectations when going on a whale watching excursion in Baja or further south in Puerto Vallarta and Mazatlan. While sightings of marine mammals are almost guaranteed, the behavior and activity level of these animals can vary greatly from day to day.
Some days you may see dozens of whales breaching and playing, while others they may be more subdued or difficult to spot.
To make the most out of your experience, pack warm layers for cooler weather conditions and bring eco-friendly sunscreen as well as waterproof gear such as phone pouches or camera bags. If you are early to rise, grab a cup of coffee and sit on your balcony and just relax. Every winter cruise that I took in the past two years had multiple whale sightings as we rounded the tip of Cabo San Lucas.
However, the activity level was different each time. On some days the whales were breaching and that made them very easy to spot, while other days we had to scan with binoculars to find spouts as they swam along. You will have similar experiences on an excursion too. The difference though is that the captains are all talking with each other and they know exactly where the whales are ... but aside from "seeing them", there's no guarantee of a show.
As a result, it is always critical to be patient while observing the whales in their natural habitat, taking care not to disturb them by getting too close or making loud noises.
Practicing Responsible Whale Watching
Visitors to Baja California should always prioritize responsible whale watching to ensure the safety and protection of these magnificent creatures. This means following guidelines set by tour operators and local authorities, such as maintaining a safe distance from whales, avoiding loud noises or sudden movements that may startle them, and refraining from touching or feeding them.
It's also important to choose eco-friendly tour options that prioritize the well-being of the whales and their natural habitat.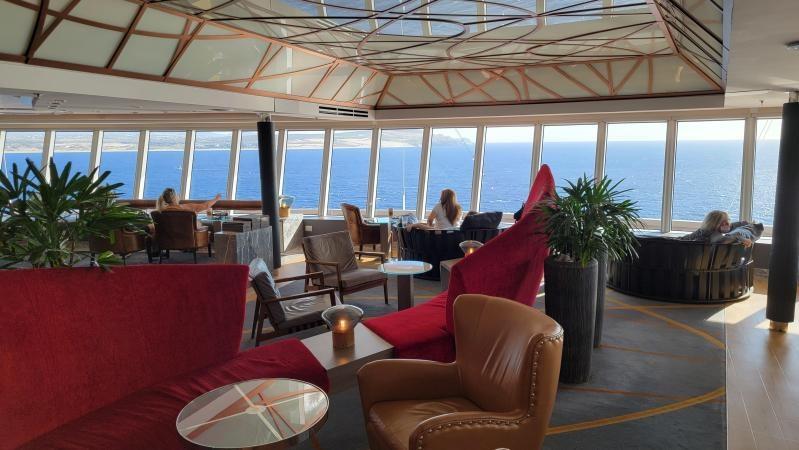 Best Places To Watch For Whales From The Cruise Ship
Wrap your robe around you, grab a hot cup of coffee and watch the whales from the comfort of your balcony or head to the observation lounge with friends for a social atmosphere.
Comfort: Wrap Your Robe Around You And Watch From The Balcony
For a comfortable and cozy whale-watching experience, snuggle up in your robe on the balcony of your ship while scanning the horizon. This option is perfect for those who prefer a more relaxed approach to whale watching without having to leave their accommodations.
Although it may not offer as close-up of an encounter as some other options such as zodiac tours or kayaking with whales, watching from the balcony does provide a serene and peaceful way to take in these majestic creatures.
Social: Get A Cup Of Coffee And Watch With Friends From The Observation Lounge
The observation lounge on a cruise ship such as Holland America Line Koningsdam is the perfect spot to catch sight of whales with friends while sipping tea at the Crows Nest. It's a comfortable and social location for whale watchers to gather, chat and share exciting sightings with others.
Plus, it's an excellent option for those who prefer not to venture out on excursions or are looking for a relaxing way to enjoy the natural beauty around them. Coastal cruises allow travelers to explore multiple destinations in one trip, including ports of call such as Cabo San Lucas and Ensenada that offer incredible opportunities for whale watching during peak season.
Active: Walk Around The Top Deck Looking For Whales
One of the best ways to spot whales during your Mexican Riviera or Baja cruise is by walking around the top deck. This gives you a 360-degree view of the ocean and increases your chances of seeing these magnificent creatures in their natural habitat.
Heather insists that she sees as many whales on the ocean side of the ship as we head into Cabo but I'm a firm believer that I see more on the Baja side of the vessel. This is probably why we usually retreat to the Crows Nest and watch from the observation deck there but I also enjoy the smell of the sea in the morning regardless of how many whales I spot!
Remember that patience is key when whale watching, as there are no guarantees of sightings. However, keeping an eye out for seabirds or other marine life can help you identify where whales may be located.
Conclusion
If you're a lover of wildlife and the great outdoors, then a Mexican Riviera cruise is an excellent choice for whale watching. With Baja California's rich marine life and impressive migration patterns, it's no wonder this region has become a popular destination for adventure seekers from all over the world.
From zodiac tours to private charter boats, there are plenty of opportunities to see these magnificent creatures up close while enjoying the breathtaking scenery. But remember to pack smartly, wear sunscreen and practice responsible whale watching so that future generations can enjoy them too.